Need a cute pencil case to motivate your kids to keep their stationeries organised? And because kids take pride in their pencil cases, the perfect one should be a little piece of their personality on display? Luckily for them, there's a pencil case out there for every whim and fancy. If you don't know where to start, we've pinned down 16 of the cutest pencil cases that are practical for Malaysian school kids. The good news is, they're all easy on the wallet at under RM25!
Cute Pencil Cases

For Kids Of All Ages
Cute

Animal

Pencil Case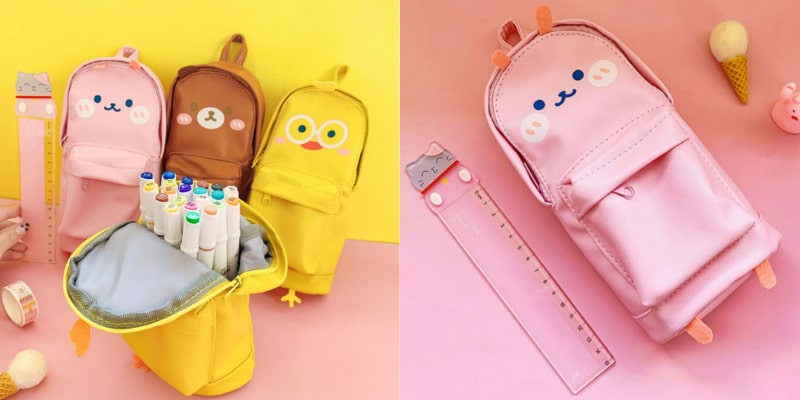 This irresistibly cute animal pencil case is a sight for sore eyes. The bright colours, adorable faces, and little ears and feet will make your kid squee! It's practical for keeping stationeries in order too, with a main compartment and front pocket to store little knick-knacks and candies.
School Bus Pencil Case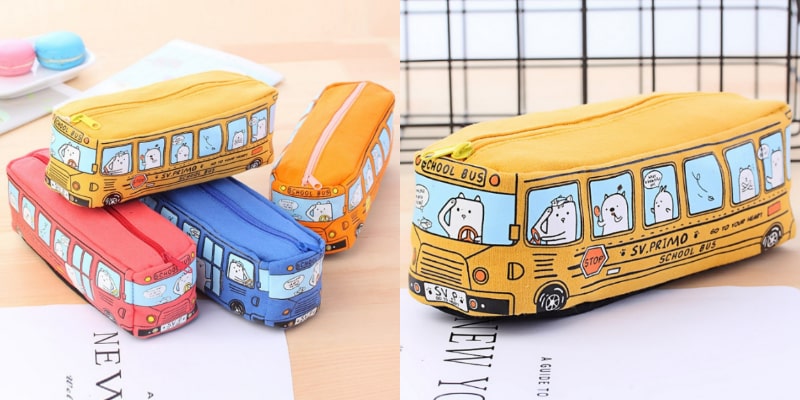 Does your kid enjoy the bus ride to school? Then this bus pencil case will remind them of the yellow Malaysian school bus they so love. It's made of soft canvas and can be gently washed if dirty, since it will likely double up as a toy bus.
3D Animal Pencil Case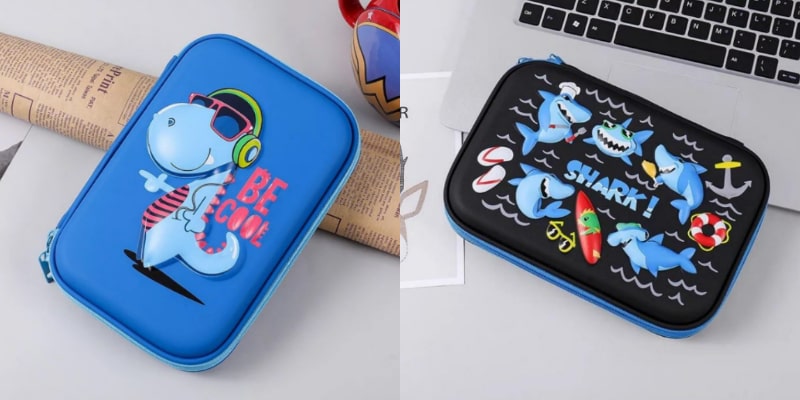 Got an aspiring paleontologist or marine biologist in the house? If so, they might just find favour with these cute 3D animal pencil cases à la Smiggle that feature vibrant dinosaur and shark illustrations. Inside, there's a mesh zip pocket, centre flap, and compartment that comfortably fits a calculator. The case opens up flat, which makes it handy for kids to pick out what they need.
Pins Pencil Case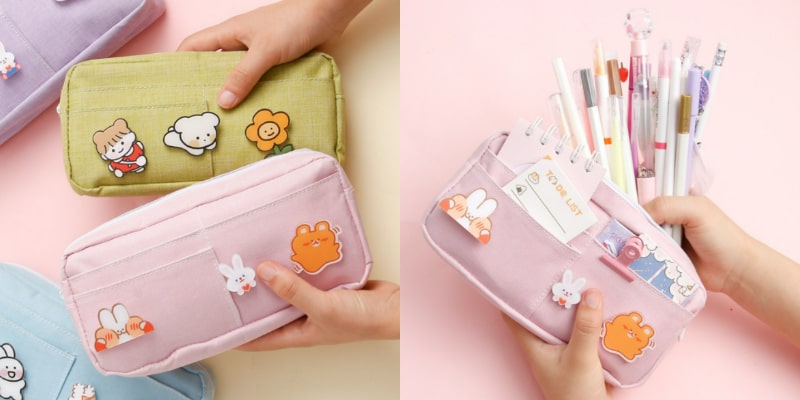 This pastel-coloured pencil case comes with three adorable detachable pins and outer pockets to insert sticky notes and tabs. The spacious main compartment holds a number of stationeries, while the ring zipper is great for attaching your kid's favourite keychain. Choose from solid hues like blue, pink, green, and purple.
Boba Tea Pencil Case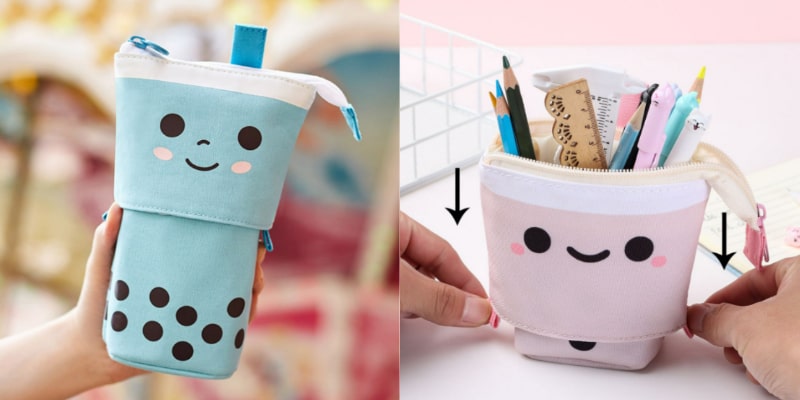 This cute boba tea pencil case is spot on, and Malaysian kids who love the beverage will agree. Details like the floating bobas, straw, and smiley face are bound to brighten up your child's day. Plus, the retractable, upright design is convenient for kids to access their writing utensils or coloured pencils.
Biscuit Pencil Pouch
If your child gets hungry looking at this biscuit pencil pouch, it's entirely by design. It won't feed their hunger, but it will store their stationery supplies! The soft and plush exterior may even work as a pillow or stress "ball".
3D Unicorn Pencil Case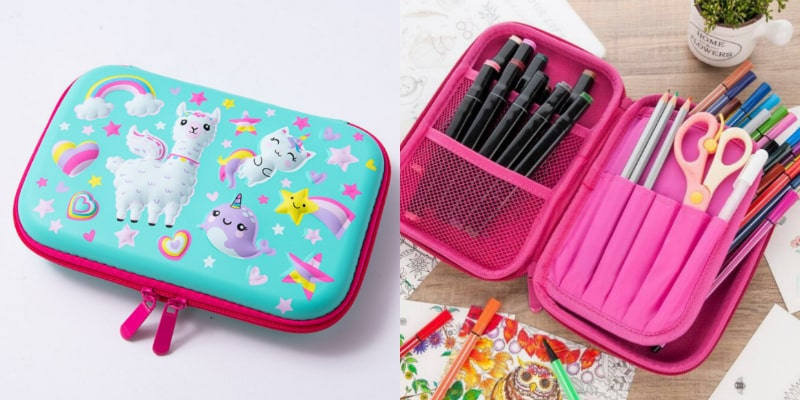 Does your daughter fancy unicorns, rainbows, and all things whimsical? Then this cute Smiggle-style 3D unicorn pencil case will suit her fancy. The EVA PU hard case is lightweight and durable, with mesh and pen pockets to keep stationeries neat and organised.
Strawberry Milk Pencil Case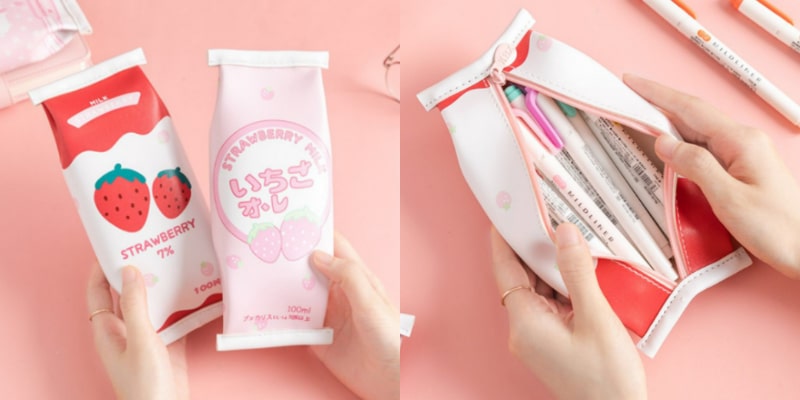 Perhaps a sweet strawberry milk pencil case for your little girl who loves every shade of pink and red? The pouch, although flat, fills up with quite a bit of stationeries and doesn't take up much space in the school bag.
Related: 12 Stylish And Durable Backpacks To Get The Kids Excited For School
3D Rocket Pencil Case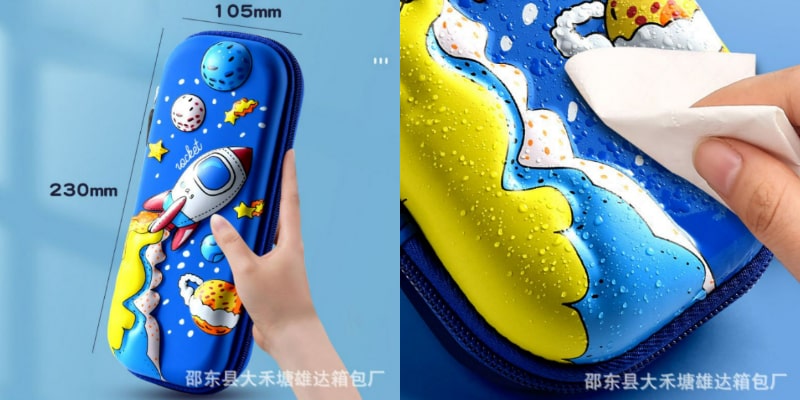 If your child is into outer space, they'll be over the moon with this cute Smiggle-inspired 3D rocket pencil case. The hard case is waterproof and easy to clean, while the interior features a zippered mesh compartment and a flap to keep pencils and pens in place.
Clear Pencil Pouch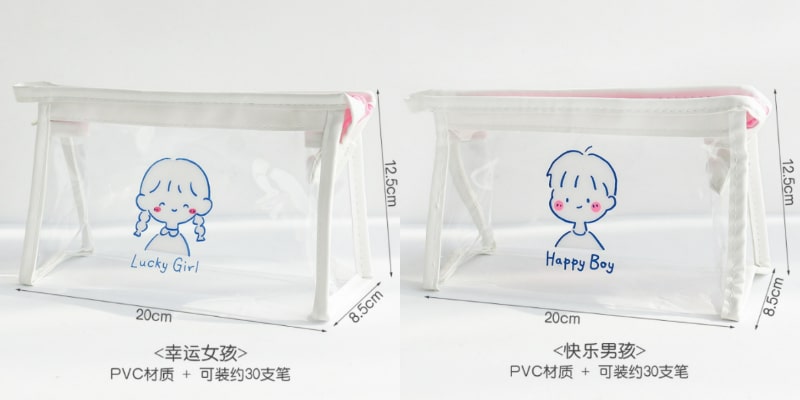 Go back to basics with this minimalist clear pencil pouch. Your kiddo won't have any trouble looking for their stuff with this one. Choose from six charming characters – lucky girl, happy boy, rabbit, bear, sheep, and dog.
Cat Pencil Roll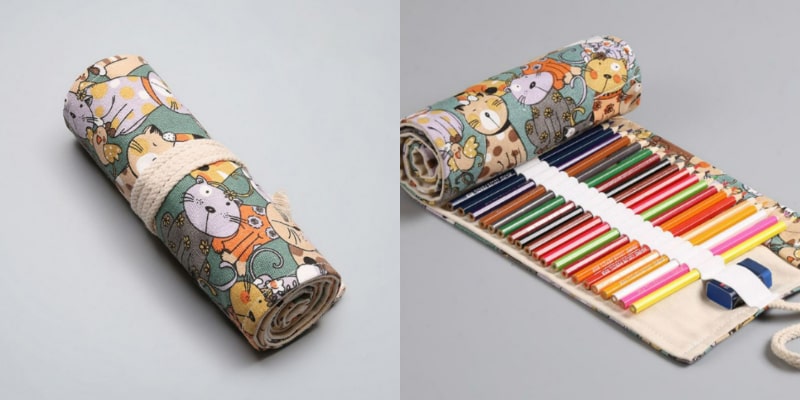 This cute cat pencil roll isn't your typical pencil case. It's more suited for organising your kid's coloured pencils, pens or paintbrushes. It's a real space-saver too, as it can be rolled up and kept away tidily. Depending on your kid's collection of coloured pencils or art supplies, you can opt for 12, 24, 36, 48 or 72 pencil loops. Another plus is that the canvas outer and cotton-linen inner are washable, so there's no need to worry about smudges or grubby hands!
Minecraft Pencil Pouch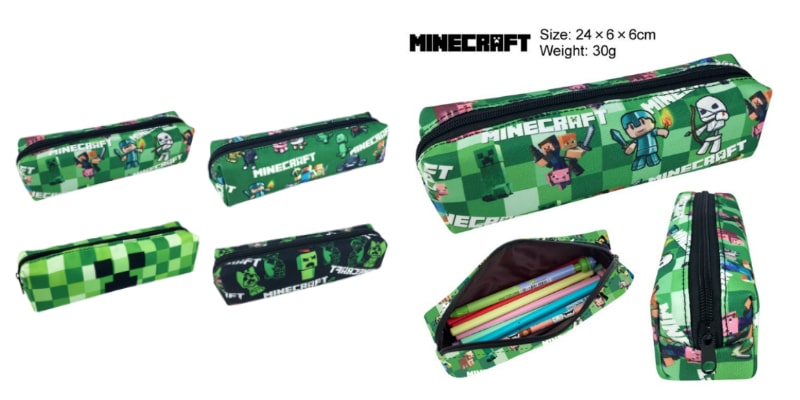 When it comes to pencil pouches for boys, the simpler, the better. But with their favourite game's graphics on it? Even better! Keen gamers will appreciate this no-frills Minecraft pencil pouch, so they can quickly stash their stationeries away and get on with gaming.
Related: Need An Escape? Then These 2022 Open World Games Are A Must-Play
Multi-Layered Pencil Bag
You can hardly call this a case or a pouch when it's really a mini bag, with a handle to boot! In fact, this multi-layered pencil bag comes in double, triple or quadruple layers to fulfil any pencil case needs. The rubber zip pullers are a nice touch, as they're easy for kids to grasp. Available in black, blue or pink colourways, this bag is great for both boys and girls.
Animal Pencil Pouch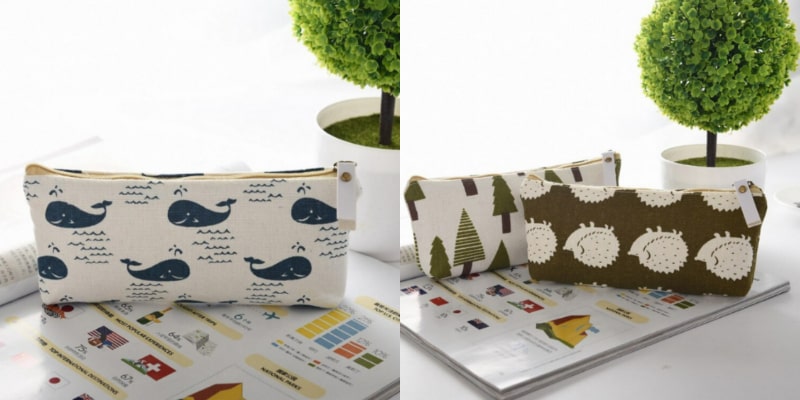 Animal lovers won't say no to this simple but adorable animal pencil pouch, which features porcupine, whale or polar bear prints. The canvas material, which is fully lined inside, is great for long-lasting use.
Panda Pop It Pencil Case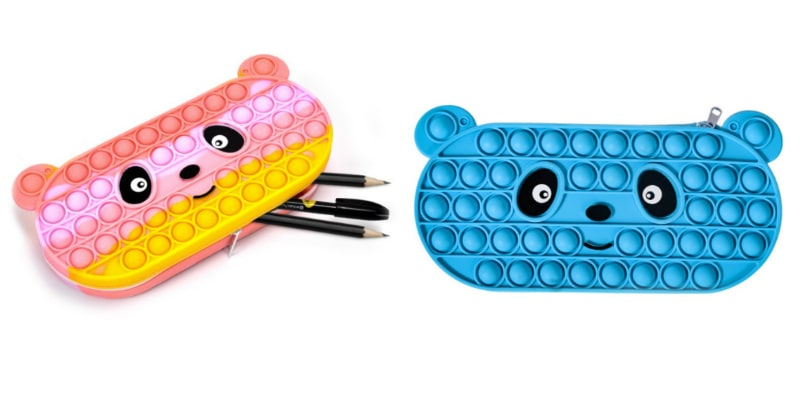 This cute panda Pop It pencil case is proof that the Pop It trend has well and truly taken over Malaysia. If your little one can't get enough of the boards, this non-toxic, silicone pencil case will please them endlessly – even at school. Kids can learn to count, relieve stress and fill up idle time with it.
Nylon Animal Pencil Case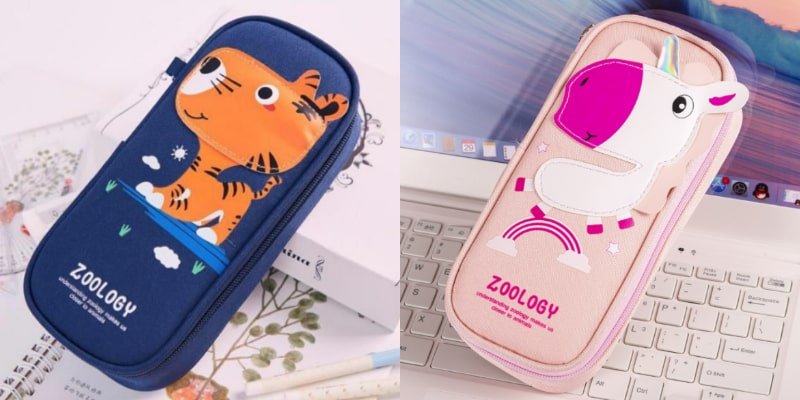 Classic and practical, this cute animal pencil case takes on a boxy, easy-to-access design. There's an interior pocket, centre flap, and generous main compartment that accommodates even bulkier items like a mini stapler or sticky tapes. In addition, the high-quality nylon material is dirt- and scratch-resistant, and washable.
Keep Stationeries Shipshape With These

Cute Pencil Cases

For

Malaysian

School Kids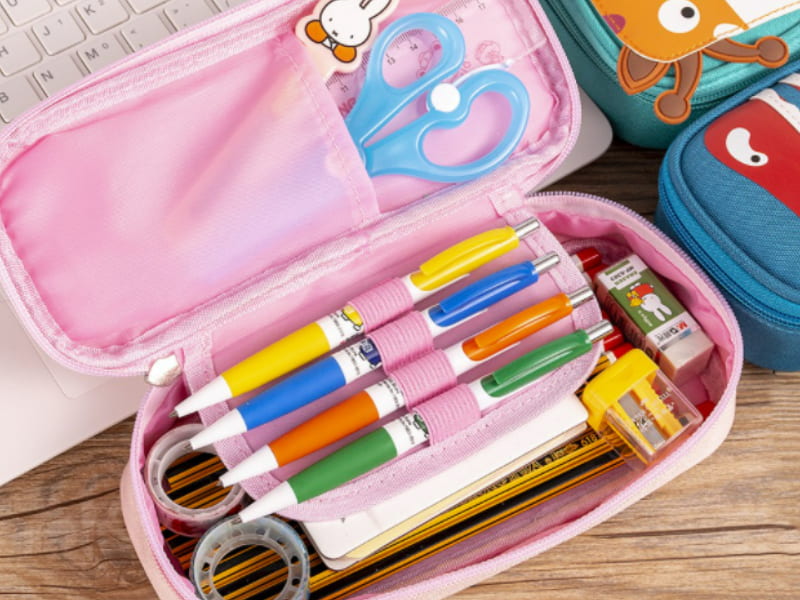 Whether the kids are back in school or continuing with home-based learning, a cute pencil case in this new Malaysian school year may just keep the back-to-school blues away! Of course, it will also encourage them to keep their stationeries away, building good habits in the long run. If your kids are participating in remote learning, take a look at these study tables and study room ideas for a conducive learning environment.