The Chinese New Year (CNY) is all about ushering in good luck and fortune for the year to come. And one way to do that is by putting up auspicious decorations around the home to 'invite' the prosperity in. While it's easier to buy these decorations off the shelf, putting in the time and effort to DIY these decorations can make the process much more meaningful for families. You could even throw in a brief lesson about the origins of Chinese New Year to make it a tad more educational! Up ahead, we feature eight Chinese New Year art and craft projects that are doable for preschoolers, which also play well as home decors for the Year of the Rabbit.
Easy

Chinese New Year Art And Craft

Ideas To Try With The Family
Create some prosperity at home with these easy CNY art and craft projects.
1. Chinese New Year Lantern
To make this Chinese New Year art and craft tutorial a little more child-friendly, you can substitute the use of a craft knife with a scissors instead (fold the paper lengthwise and cut). That way, the project can be a little more hands on for your kiddo. And if you craft up a few lanterns, you can string them up to form a garland!
Supplies you'll need:
2. Paper Tangerine
With only repetitive cutting and pasting techniques, you can teach your child to make a tangerine out of paper. The key is to use thin tissue tape to form the accordion effect. Once done, hang it on your lucky plants or 'serve' it up on a paper plate.
Supplies you'll need:
3. Angbao Fan
Here's a CNY art and craft idea that's easy and doesn't require any adhesives, apart from the stapler. You could either go with the same red packets for a streamlined look or use a variety of different ones for a more vibrant effect.
Supplies you'll need:
4. Rabbit Ornament
Can't kick off the Year of the Rabbit without an appearance by the rabbit itself? Then this rabbit ornament is an easy Chinese New Year art and craft for your preschooler to pick up! Besides the fluffy cotton ball tail, you can also add more details like pipe cleaner whiskers and wiggly eyes.
Supplies you'll need:
Red packets

Black marker

Scissors

Glue stick

Gold string

Stapler
5. CNY Banner
One of the most common home decors you'll find during Chinese New Year is the calligraphed banner with an auspicious saying. While your preschooler may not have the motor skills to fluidly control a calligraphy brush yet, they can bend pipe cleaners into the shape of Chinese characters. And that's just the skill you need for this ink-free CNY art and craft project.
Supplies you'll need:
Pipe cleaners in assorted colours

Scissors

Red construction paper
6. Pop-Up Rabbit Card
Why settle for store-bought cards when you can wish friends and family a very Happy Year of the Rabbit with these handmade pop-up rabbit cards? Rather than printing out generic messages to paste on the cards, get your kid to pen their own for a more personal touch.
Supplies you'll need:
Scissors

Coloured paper in pink, white, green, red, yellow

Markers in black and

pink

Glue stick
7. Red Packet Fish
The paper fish is a basic Chinese New Year art and craft project that's great for preschool kids who have mastered the skill of cutting. With just a couple of snips, your kindergartener can turn an ordinary angbao into a delightful little fish. If mum and dad can help string up the fish, the kids can hang them up on the outdoor and indoor plants!
Supplies you'll need:
Red packets

Scissors

Stapler

Black marker
8. Easy Starburst Wall Decor
The best part about this Chinese New Year art and craft project is that there's close to zero cutting involved. Your little one will just need to make a few simple folds on red packets, then attach them together to form an eight-point star. Staple on a knotted string and a tassel for the finishing touch, and it's done!
Red packets

White glue

Stapler
Ring In The Year Of The Rabbit With These

Chinese New Year Art And Craft

Ideas

For Preschoolers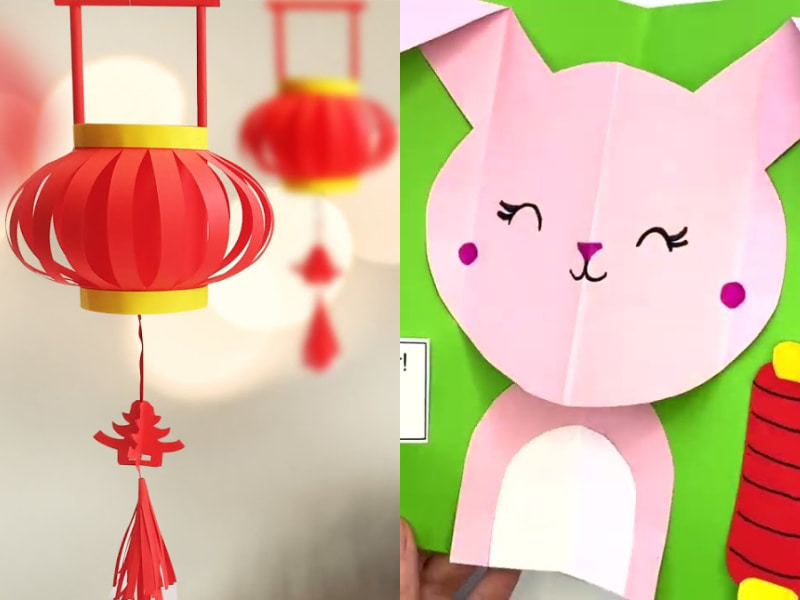 There are more where these tutorials came from, but we'll end it at eight for prosperity reasons. And for prosperity reasons, you should also take the time to try these CNY art and craft ideas with your little ones. They're easy and fun ways to liven up the home for the festivities, and great activities that encourage quality time with loved ones.
Don't forget to shop for traditional clothing, the best bak kwa, and a few auspicious plants to really get into the New Year spirit! Find them all at great prices during the Shopee CNY Sale from 2nd to 24th January 2023. Need a heartwarming CNY story to remind you of the importance of family? Check out Shopee's 2023 CNY video entitled, 'Are they going to make it?'.