Honestly, who doesn't know who Billie Eilish is at this point? The Grammy-winning artist has made a splash everywhere in the world through her brooding music and androgynous sense of style. With her trademark boxy silhouettes and loose clothing, Billie likes to continually push the definition of what exactly it means to be a pop singer. If you're inspired by her signature streetwear looks and wish to imitate her unique style, here are five Billie Eilish outfits you can easily recreate to wear at her upcoming concert at KL.
How To Put Together Your Best

Billie Eilish Outfits
Go Extra Baggy With Your Clothing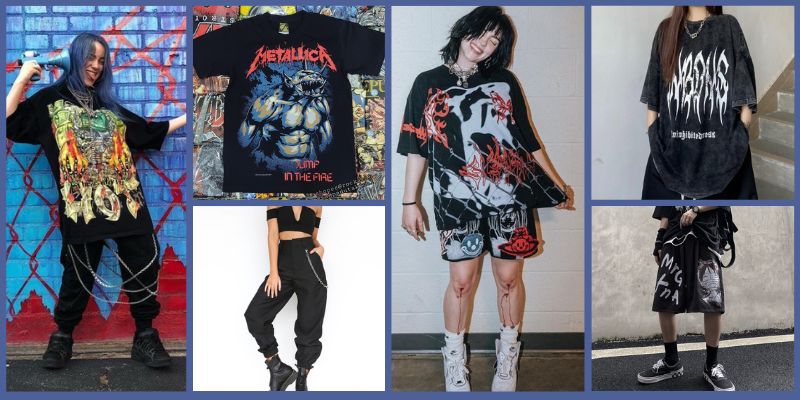 Most of Billie Eilish's outfits consist of baggy, oversized fits. In an interview with Vogue Australia, Billie explains why she dresses the way she does. "What I like about dressing like I'm 800 sizes bigger than I am is it kind of gives nobody the opportunity to judge what your body looks like. I don't want to give anyone the excuse of judging." 
So, show off your swagger in this outfit recreation with a large graphic tee, cargo pants or shorts, and matching black sneakers. If you're worried about looking frumpy, a good tip would be to stick to the same colour theme. Coordinating your top with your bottoms elongates the figure and prevents you from drowning in all that excess fabric. 
Shop this style (outfit 1):
Shop this style (outfit 2):
Stay Comfortable-Chic With Sweatsuits And Chunky Sneakers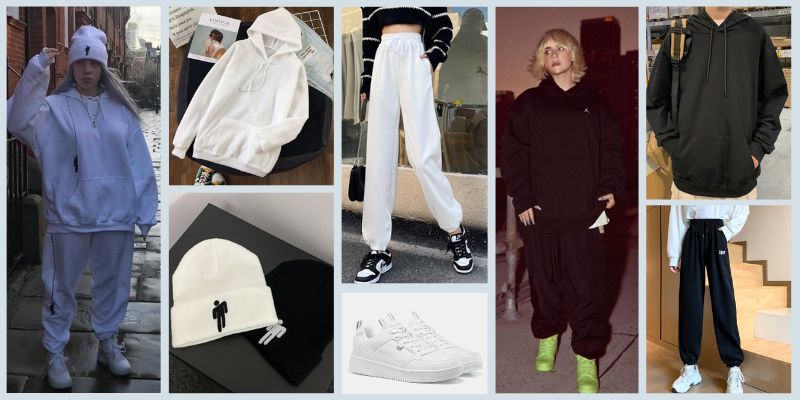 New to the oversized trend and don't know how to style it? Then go for a matching sweatsuit set to channel your inner Billie Eilish. With this outfit, it's all about blending comfortable and chic, because who says you can't be both fashionable and cosy? 
While Billie is known for her bolder looks, she also occasionally keeps it simple with plain neutral colours. When in doubt, you can't go wrong with a hoodie and sweatpants set for an effortlessly clean style. Top it off with a beanie for a cool finishing touch to your slouchy ensemble. 
Shop this style (outfit 1):
Shop this style (outfit 2):
Make A Statement With Animal Prints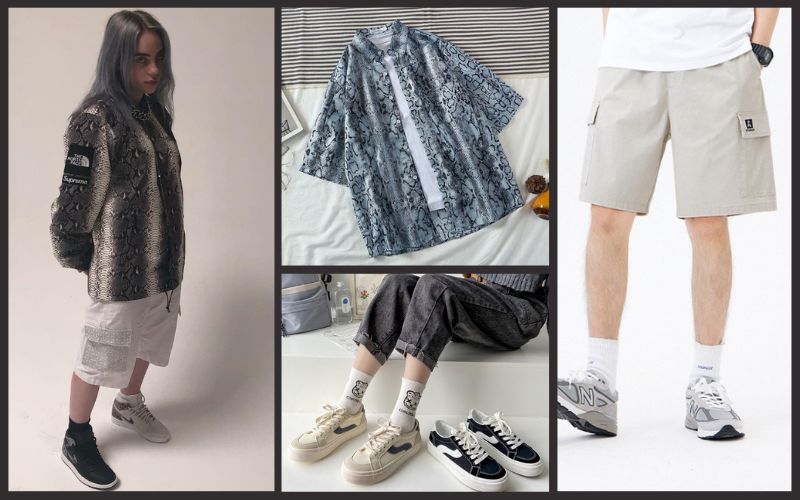 Animal prints will forever be a classic, and in this Billie Eilish outfit, the snakeskin pattern takes centre stage. Here, she swaps out her long baggy pants for a breathable pair of cargo shorts. To upgrade these dad-like bottoms, throw on an oversized snake print shirt and wear mismatched sneakers. 
Make sure the model of the shoes remains the same and pick corresponding colours for a more cohesive look. You'd want to appear like you purposely mismatched your footwear; not as though it was an accident. 
Shop this style: 
Express Your Inner Punk With Ripped Sweaters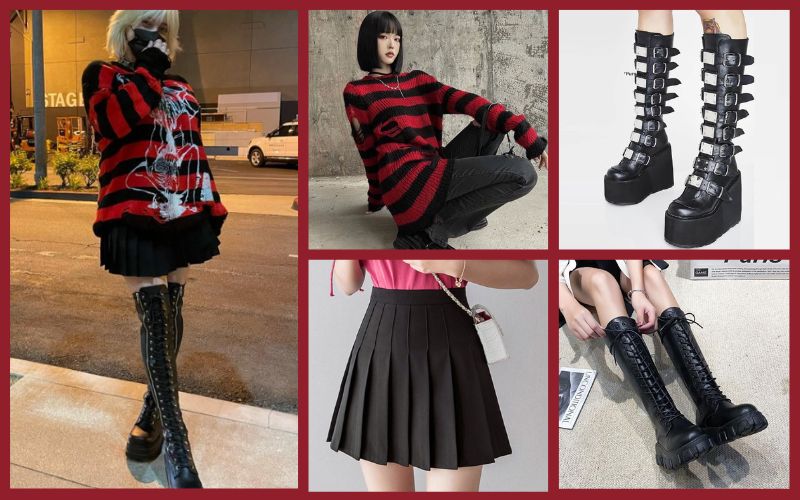 Though she typically favours pants in most of her looks, Billie also likes rocking skirts every now and then. These outfit combinations are still very reflective of her personal style, albeit with a more punkish touch. 
As nothing is ever basic with Billie, go all out and opt for the tallest platform boots you can find to make a bold statement. Then reach for a ripped sweater to complete your edgy ensemble. The more holes and tears you have in your knitted piece, the better!
Shop this style:
Upcycle Old Clothes To Express Your Inner Weeb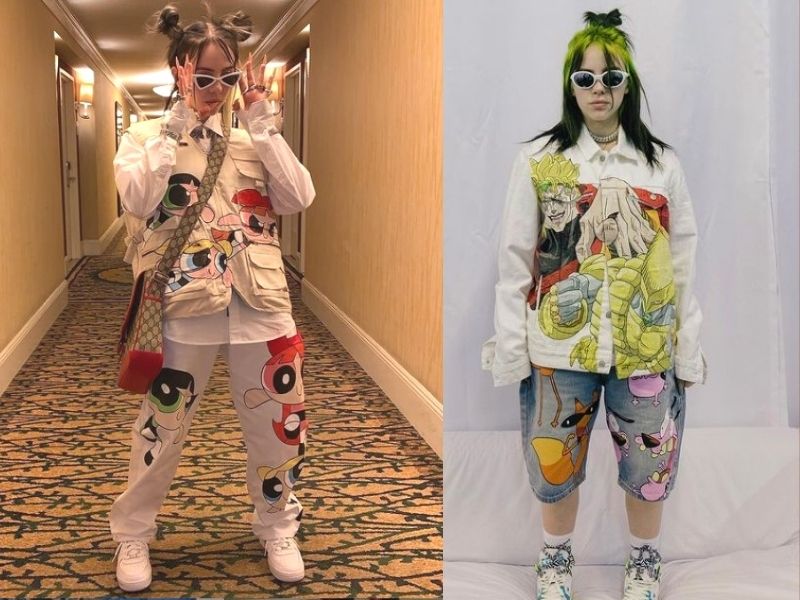 Some of Billie Eilish's outfits also feature anime and the nostalgic cartoons you watched on Cartoon Network (like the Powerpuff Girls) during your childhood years. To put your personal spin on the outfit, why not try upcycling your old clothes in a DIY project?
For the artistic spirits, here's your chance to let your creativity shine. Have a reference picture of your favourite characters and then paint them over jeans, jacket or utility vest. Or you could also choose to trace out your design and then draw them in with fabric markers. Here's a tutorial that will show you how to customise your own pair:
Custom Anime Jeans Tutorial: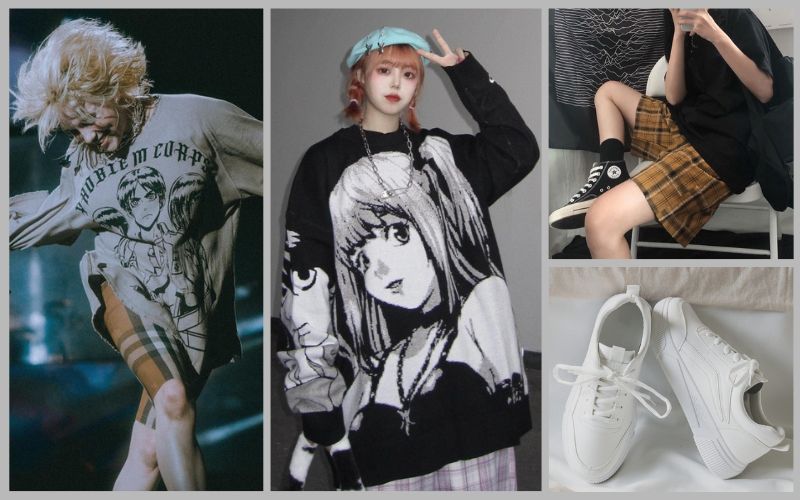 Don't have a DIY bone in you? Alternatively, you can still recreate Billie Eilish's anime outfits by donning your best anime shirt or sweater to proudly express your inner weeb. 
Shop this style:
Go Head-To-Toe In Bright Colours (Especially Green)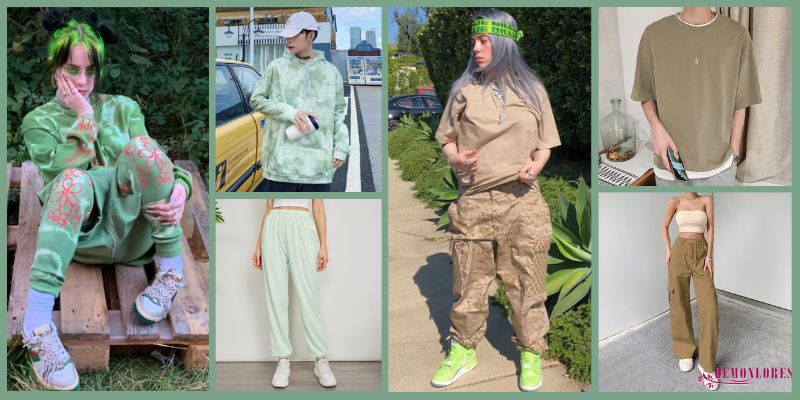 Billie is not one to shy away from striking colours—yellow, red, orange, or blue, she's tried them all. However, if we had to choose one colour to associate her with, it's green. She's rocked several monochromatic outfits, wearing the vivid hue entirely from head to toe. 
But if that's too excessive for you, don't fret, because you can still pull off this distinct style. Just keep one or two pieces (like your headband or sneakers) of your look in neon green, and you've already nailed a classic Billie Eilish outfit. 
Shop this style (outfit 1):
Shop this style (outfit 2)
Accessories, Accessories, And More Accessories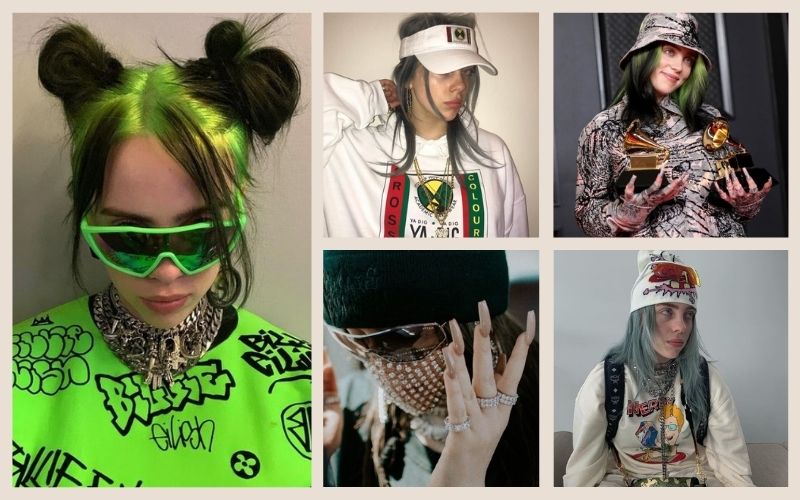 Accessorising plays a big part in any good Billie Eilish outfit, as it adds a layer of femininity to her street-style get-up. Don't be afraid to stack on a generous amount of chain necklaces and experiment with varying lengths to create dimension. 
Other options the young singer likes to don are large hoop earrings and stackable rings (sometimes even one for each finger). Not a big fan of jewellery? Then adorn your head with a scarf or your hat of choice—beanies, bucket hats, or visors—to complete your outfit.
Keep Your Makeup Natural 
In contrast to her outfits and hair colours, Billie usually sticks with more subtle makeup styles, allowing her natural features to shine. Most of the time, she has no issues with heading out the door completely bare-faced. But when she does wear makeup, it's minimal: mascara to coat her lashes and lip gloss for a glistening pout. 
Plus, with maskne being a prevalent skincare issue, you might as well start nixing your base products. At least until your mask-induced pimples clear up. Or go in with a light or natural coverage cushion foundation to achieve a flawless, skin-like complexion. 
Be Unapologetically Bold As You Slay In These

Billie Eilish Outfits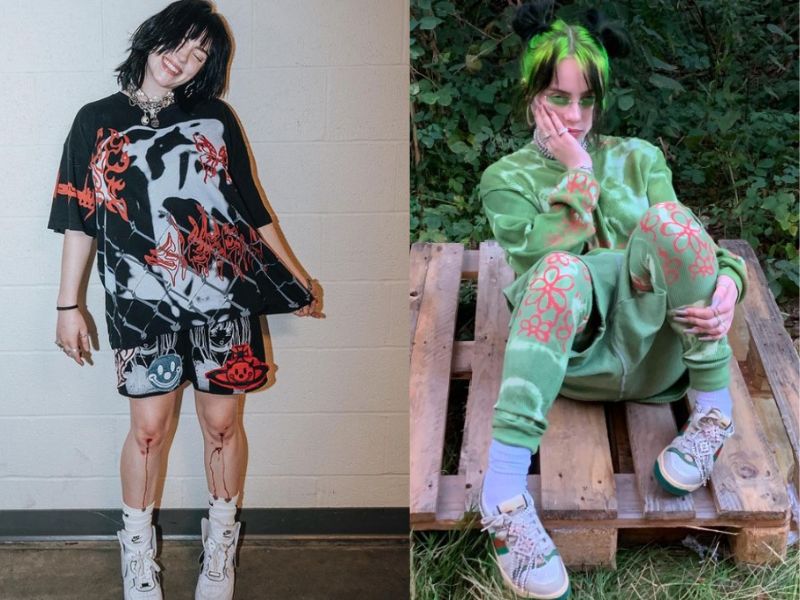 Besides new style inspirations, we hope this article has inspired you to stay true to yourself and self-expression. In fact, it's the very reason why Billie Eilish's outfits are so eye-catching because she's not faking a persona. With that being said, there's also nothing wrong with having different aesthetics. 
At the end of the day, it's your body and you're free to dress however you want. As long as you're confident with what you're wearing, you'll pretty much look good in almost anything. Wondering what other concerts are lined up for Malaysia? Here's a breakdown of all the different acts to look forward to!
Don't forget to head over to Style By Shopee to stay up to date with all the latest fashion trends.