The pressure cooker holds commonplace in kitchens of home cooks and professional chefs alike. The sole reason for this acclaimed popularity? Its ability to cook meals efficiently and quickly in bulk without compromising on quality. There are many options in the market, and here you can find the best pressure cooker in Malaysia you can buy right now.
Types Of Pressure Cookers And How They Work
Before we proceed to the list, let's get into some good-to-know information about the handy pressure cooker. 
By trapping steam in a sealed high-pressure chamber, a pressure cooker can drive the water temperature beyond the boiling point. In turn, the high temperature significantly shortens cooking time. And due to the lack of evaporation, the food retains more of its flavour, texture, and moisture. 
There are two types of pressure cookers: stovetop and electric. With stovetop pressure cookers, you control the heat like how you would with other pots, whereas electric variants have programmable presets and features. 
While cheaper, stovetop pressure cookers require constant monitoring and they take up stovetop space. On the other hand, electric ones are easier to use, since you have a timer to set everything in place.
Best Stovetop Pressure Cookers In Malaysia

 
1. Butterfly Pressure Cooker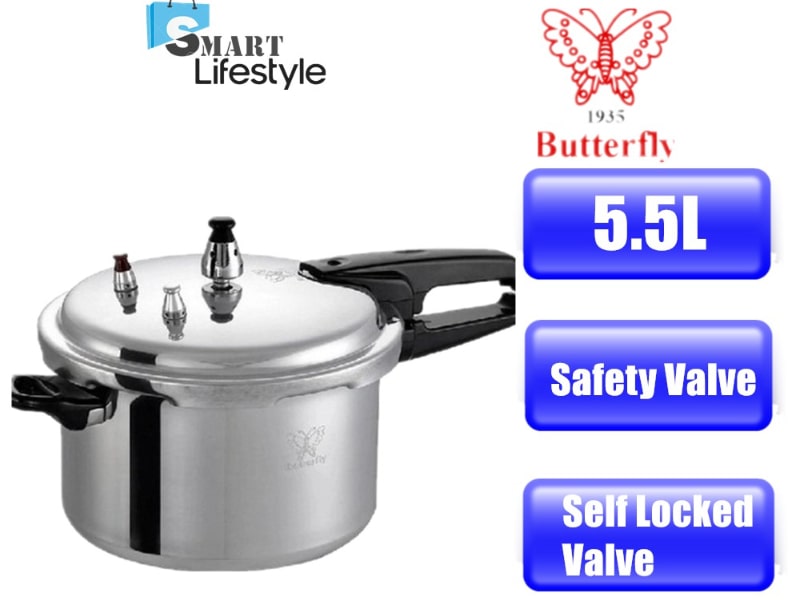 In today's complicated world, simplicity is a welcome reprieve—like this Butterfly stovetop pressure cooker. It's durable and of great value for your money. Although it shares an uncanny resemblance with the older models our grandparents used to have, it's still an upgrade with a safety valve that prevents mishaps in the kitchen. It's also available in three sizes, fit for a couple to a family of six. 
Cleaning up is easy; just remove the lid and rinse the base with dishwashing soap and warm water. 
2. TRIO Pressure Cooker
If you're just learning how to use a pressure cooker, it's best to go with a traditional stovetop option before using an electric variant. Consider the TRIO pressure cooker which has been fortified with a sturdy aluminium body, which is further protected with advanced coating technology to prevent unwanted scratches. 
Measuring nine litres for the larger model, there's ample space to make stews and soups for parties and family gatherings. It's also equipped with an interlock system and a silicone sealing ring for safety. In a nutshell, this is among the best pressure cookers in Malaysia if you just want a simple approach to pressure cooking. 
3. Cooker King Pressure Cooker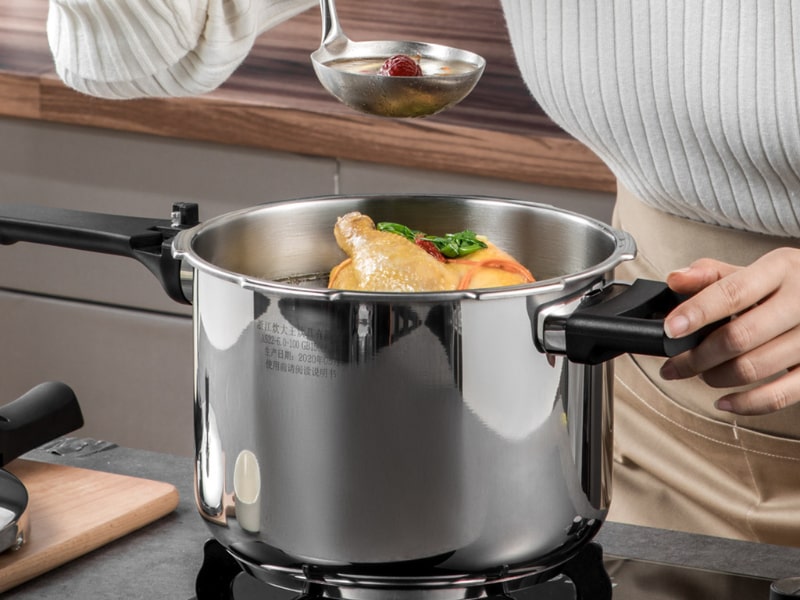 This solid pressure cooker is prime for cooking sauces and steaming rice with the ability to function on both induction and gas stovetops. As a preventive measure, it's got a pressure limiting valve that automatically releases steam when the internal temperature exceeds a certain threshold. 
Made with a scratch-resistant mix material of aluminium and steel, the pot is dishwasher-safe, making clean-ups a breeze. With varying sizes, you'll find one that fits into storage without a hitch. 
Best Electric Pressure Cookers In Malaysia
4. Samu Giken Electric Pressure Cooker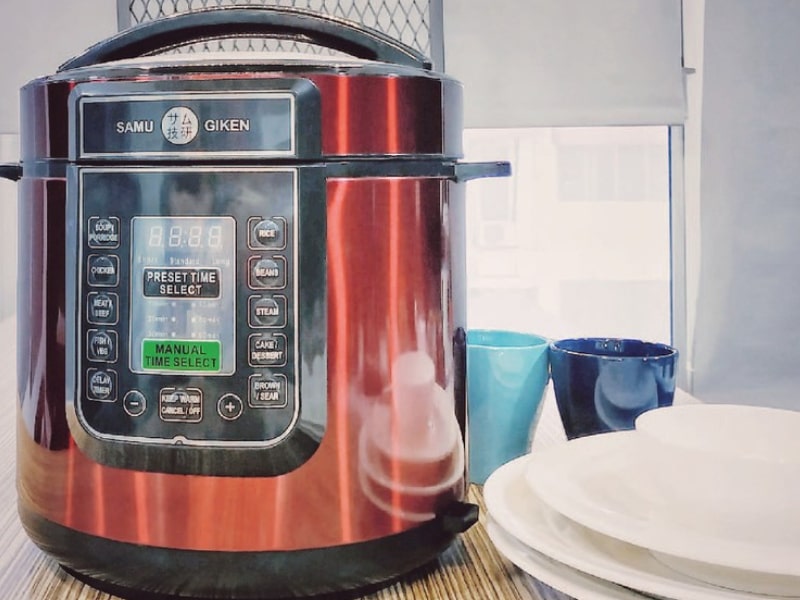 This electric pressure cooker can cook large batches of food every day, using cooking presets for porridge, cake, meat, fish, and beans. For your convenience, it "rings" when it's done cooking and proceeds to keep your dishes warm for consumption.  
Boasting good energy-saving features, it claims to save up to 50% of power when cooking soup and porridge. It also has a smart temperature regulation feature that prompts the pressure cooker to detach from the power source something is awry.
This is a medium-sized cooker, which is ideal for a small family. Plus, it doesn't take up much space either; just put it in a storage box when not in use. 
5. Philips ME Computerised Cooker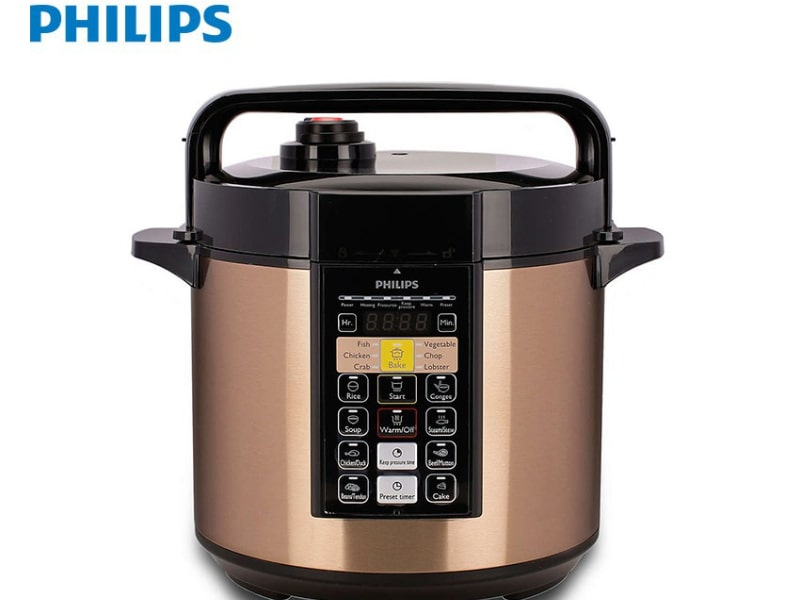 Many believe this modern machine from Philips to be the best pressure cooker in Malaysia, all because of a slew of features that are also easy to navigate. It excels in basic cooking techniques like steaming vegetables and poultry but is also great at more elaborate recipes such as baked seafood. 
The LED display shows cooking time, temperature, and pressure. There is a delay timer so you can start the cooking time later. The cooking time is adjustable, so you'll always get your food on time. For easy cleaning, the cooking pot has an aluminium coating. 
6. Russell Taylors Pressure Cooker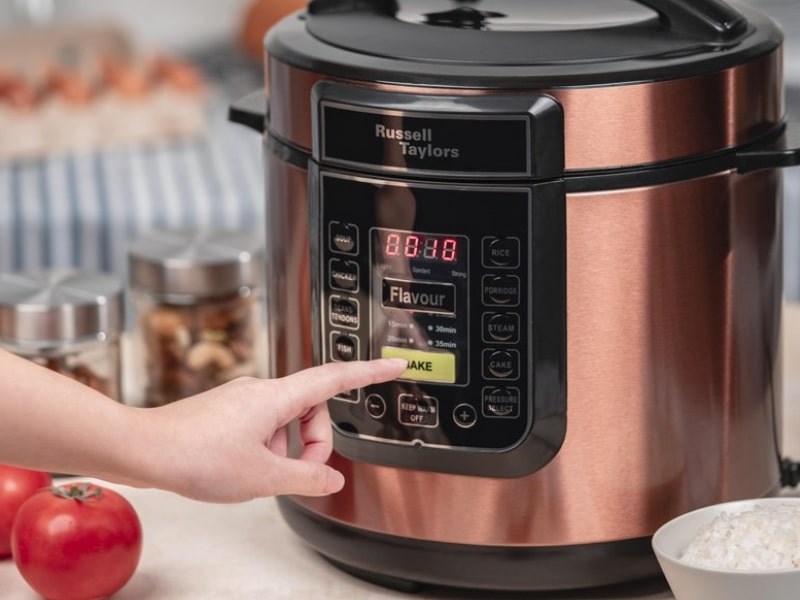 Thanks to Russell Taylor's six-litre pressure cooker, you can easily pressure cook tasty meals for big groups or save your meals for later. The available presets allow you to boil porridge, cook succulent steaks, or bake a sinful chocolate cake. 
If you're a parent, there's a nifty child lock feature that prevents your kids from opening the pressure cooker. To ensure you truly get the best pressure cooking experience, you'll also get a measuring cup, a spatula, and a scoop.  
7. Primada Cooker
Who says pressure cookers have to look boring? This colourful rendition by Primada shows there's fun to be had when making delicious grub. Decked out in a pleasing light green hue, this is the best pressure cooker in Malaysia if you're cooking for just a few people and don't have extra space to spare. 
The cooking options are sufficient enough for you to have a great variety of dishes, from braised tendons to steamed brown rice. There's even a stir fry option, which lets you sauté items like garlic and onion with oil before pressure cooking. 
8. MMX Ewant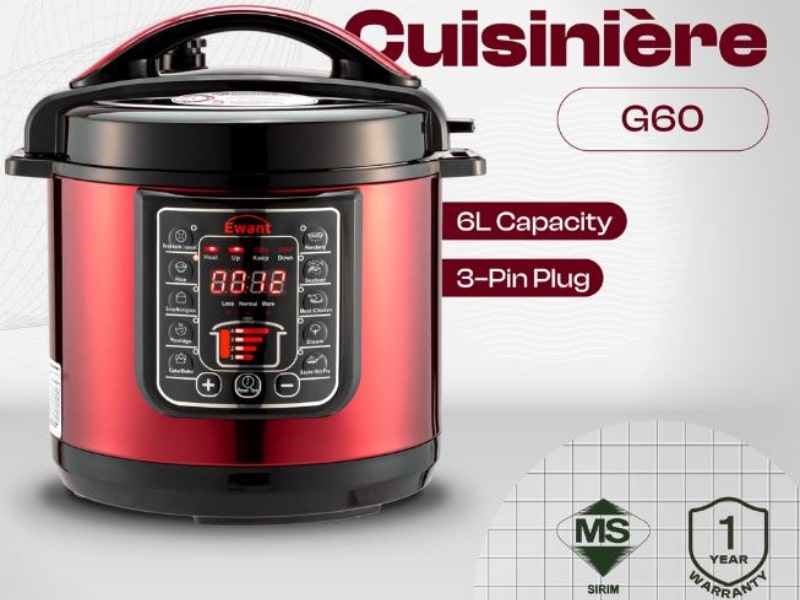 This pressure cooker stands out for one reason: it has a dedicated rendang function! This means you won't have to worry about overcooking or undercooking the dish and let the machine do the work. The result is guaranteed—servings after servings of ridiculously tender and flavourful daging rendang.
Furthermore, there are other cooking functions for you to churn out anything from yoghurt and jam to risotto. It also has an intuitive release hatch that only opens when it's safe to do so. Don't fret about cleaning up because the inner chamber is walled with non-stick aluminium coating, which makes dirt and residue fall off with ease. 
9. Gaabor Electric Dual Pot Pressure Cooker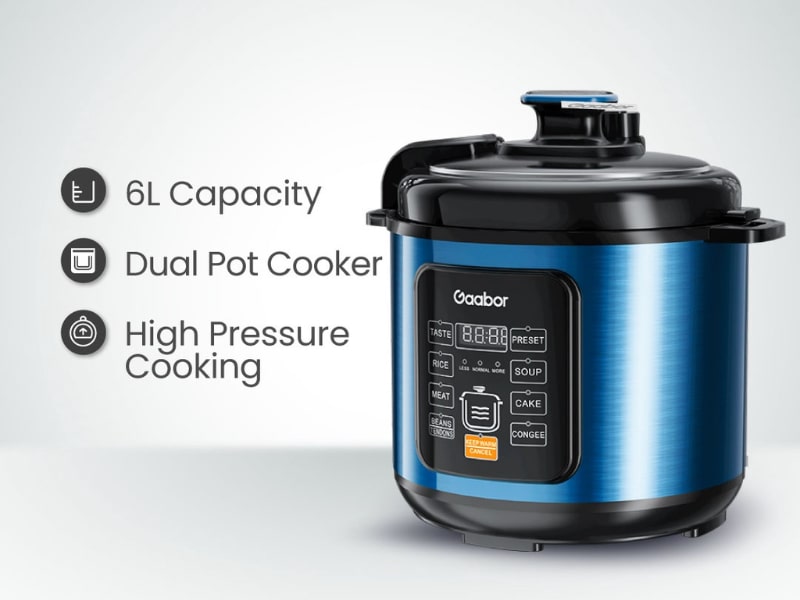 On the market for the best pressure cooker in Malaysia for your growing family? Gaabor's spacious dual pot model makes it easy to batch cook stew, rice, and other dishes with its 6-litre capacity. And you won't have to wait long for your food to be done either, thanks to the 1000w-powered chamber.
Additionally, it creates three textures (Soft, Moderate, and Hard) to suit different taste preferences. And if you plan to do more than just boiling and cooking, the cooker can also bake.
10. DESSINI ITALY 10IN1 Electric Digital Pressure Cooker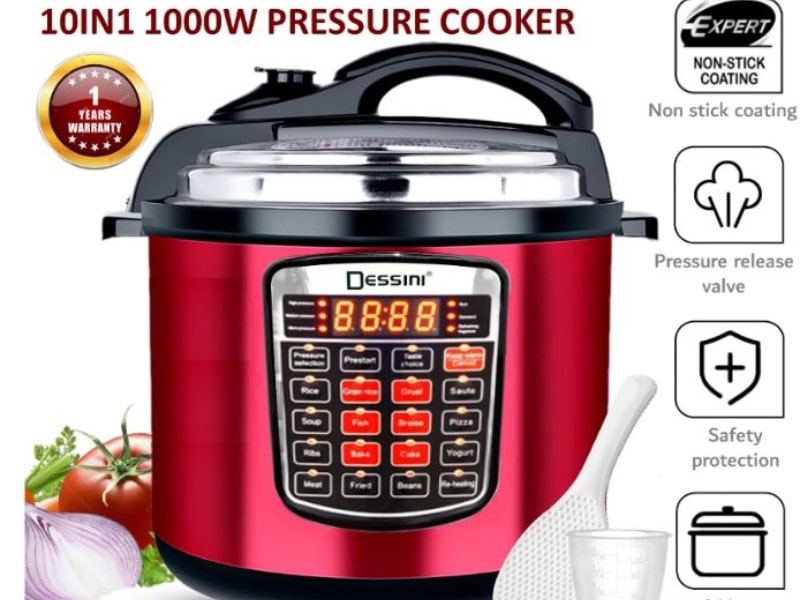 Boasting a generous six-litre pot, 10 presets, and energy-saving features, it's no wonder this DESSINI model is a hit among home cooks. After all, over 20,000 units have been sold on Shopee!
Operating it is as straightforward as it can be; just throw ingredients in and pick a preset. And don't worry about lacklustre dishes either because the pressurised steam helps to retain moisture and nutrients in your favourite proteins.
Up Your Cooking Game By Getting The

Best Pressure Cookers In Malaysia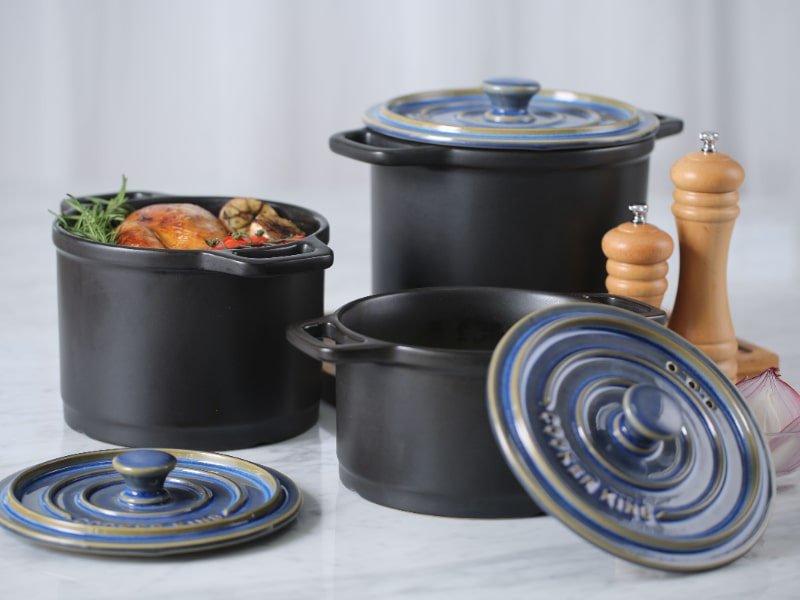 Buying a pressure cooker is a no-brainer if you want to spend less time in the kitchen but still make tasty homemade meals. Whether you choose to go with a stovetop option or an electric model, the convenience and flexibility that the best pressure cooker in Malaysia provides will go a long way in your culinary experiences. 
If you're looking for more smart kitchen appliances to stock your counters with, check out our list of must-buy sous vide machines and bread makers.