When you think about it, pets are very much like their hooman counterparts. They need regular exercise, mental stimulation, and physical interaction to feel like their best self. And the best place for them to tick all these boxes? A visit to a pet friendly park! These parks provide a safe and open space for critters to walk, play, and socialise, allowing them to burn off energy, stay fit, and make some furry friends in the process. So if your daily neighbourhood walks are getting a little mundane, make a trip to one of these pet and dog friendly parks in Klang Valley instead.
Head To These Best

Pet And

Dog

Friendly Parks

In Klang Valley
But don't forget the leash!
1. Central Park, Desa ParkCity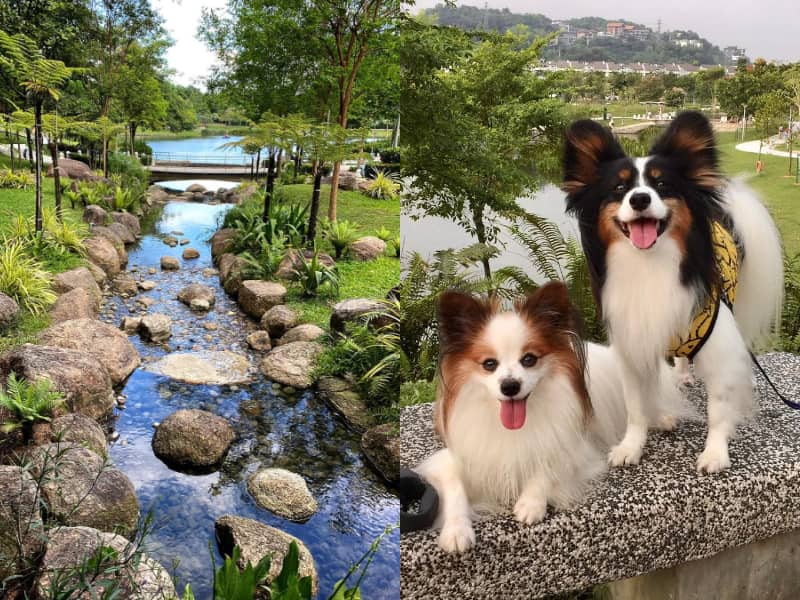 If you have a fur baby, you'll know by now that Desa ParkCity has one of the most picturesque pet friendly parks in KL. The tree-lined, 9-foot-wide jogging paths here are perfect for evening walks, and there's plenty of open spaces for dogs to roam and socialise. You'll easily clock a kilometre or two if you traverse the entire loop, but you'll also get to enjoy views of babbling brooks and lakes along the way.
Address: C-3-1 Plaza Arkadia, 3, Persiaran Residen, Desa ParkCity, 52200 Kuala Lumpur
Opening Hours: Daily, 6am – 11pm
2. Central Park, Bandar Utama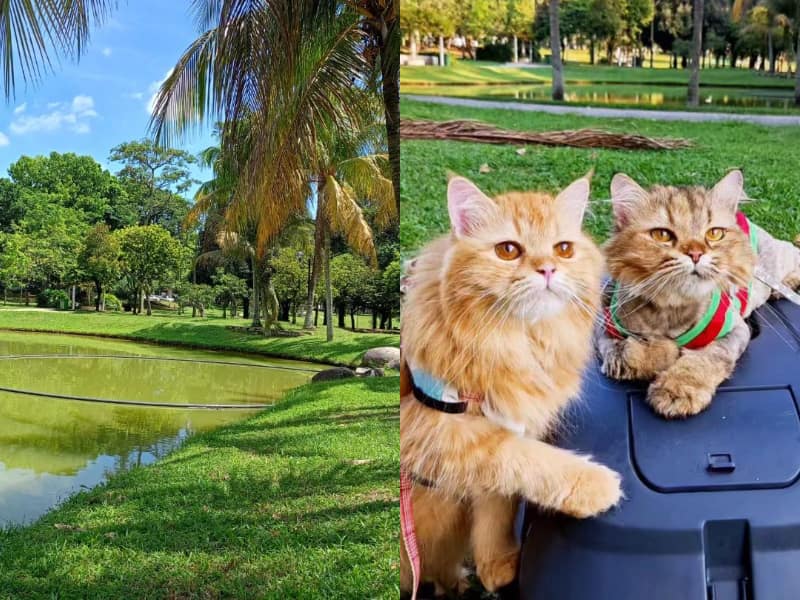 Across the road from the New Wing of 1 Utama is Bandar Utama's very own Central Park. The neighbourhood park boasts 10 acres of land and greenery, two lakes, as well as basic facilities like gazebos, toilets, jogging tracks, and a children's playground. It's also one of few pet and dog friendly parks in PJ with an enclosed off-leash area that allows dogs to wander about or enjoy a playdate.
Address: Dataran Bandar Utama, Bandar Utama, 47800 Petaling Jaya, Selangor
Opening Hours: 
Mon – Thu & Sun: 10am – 10pm
Fri & Sat: 10am – 10.30pm
3. Pet Pavilion, Setia Eco Park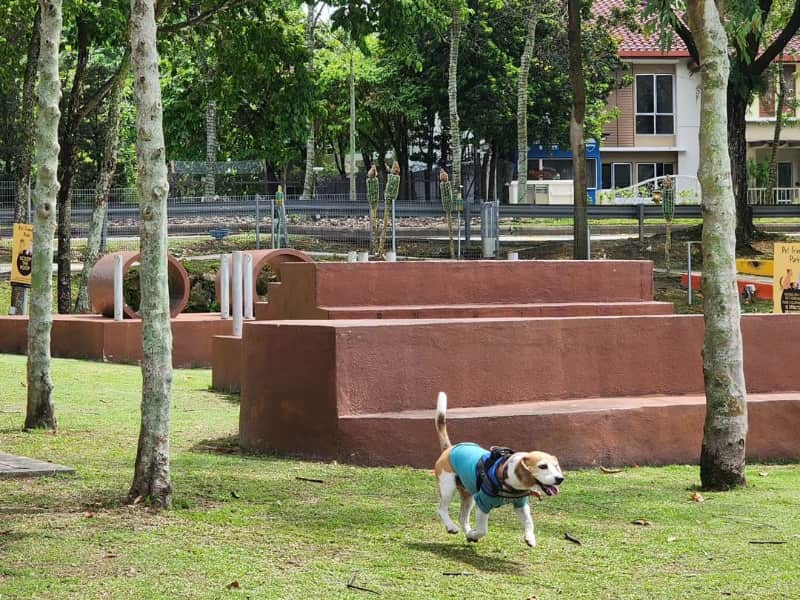 Setio Eco Park's solar-powered pet friendly park is a neatly landscaped green lung connected to the neighbourhood's commercial hub. It's a great place to train pups and keep them fit as a fiddle, as it's outfitted with an elaborate outdoor obstacle course for canines. There's also a water fountain and an expansive lake for pups to hydrate and cool down after all the excitement.
Address: D'Network @ Setia Eco Park, Jalan Setia Nusantara U13/17, Setia Alam, Seksyen U13, Setia Eco Park, 40170 Shah Alam, Selangor
Opening Hours: Daily, 24 hours
4. Pet-Friendly Park @ The Buzz.ar, twentyfive.7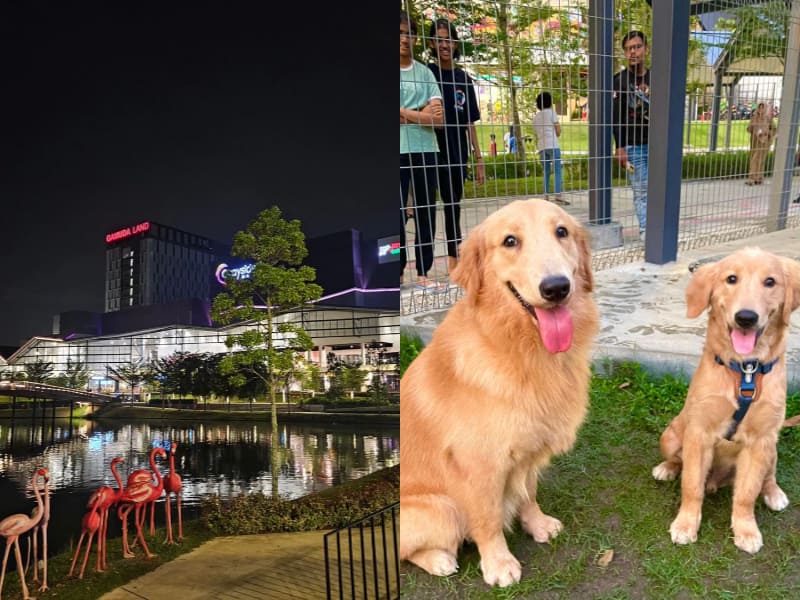 Open 12 hours a day, The Buzz.ar's Pet Friendly Park at twentyfive.7 makes the purr-fect space for pets to hang. At the heart of it is a rippling lake, encircled by a 600m trail that allows visitors to walk or jog with their pets. There's also a fully fenced area for some off-leash fun and a basic agility course that athletic pooches will relish. And if your pup's grooming session is overdue, premium pet care centre FURIIStyle is just a stone's throw away.
Address: The Buzzar Twentyfive.7, Persiaran Oleander, 42500 Telok Panglima Garang, Selangor
Opening Hours: Daily, 10am – 10pm
5. Maya Park, Eco Ardence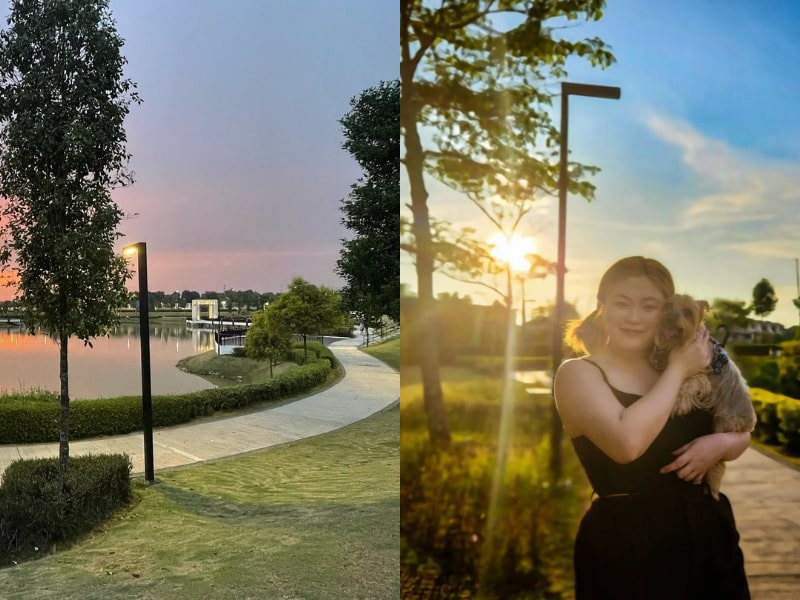 This public park within the Eco Ardence township in Setia Alam is serene, relaxing, and pristine. So much so you won't mind a picnic with your furry friends here, if the weather permits. Like most parks on this list, Maya Park features a calm lake (home to a flock of ducks), and a loop trail that's popular among mutts, felines, cyclists, runners, and walkers alike. On top of the children's playground and public restrooms, there's also plenty of parking spaces to be found here.
Address: Persiaran Setia Alam, Setia Alam, 40170 Shah Alam, Selangor
Opening Hours: Daily, 6am – 11pm
6. Taman Tasik Cyberjaya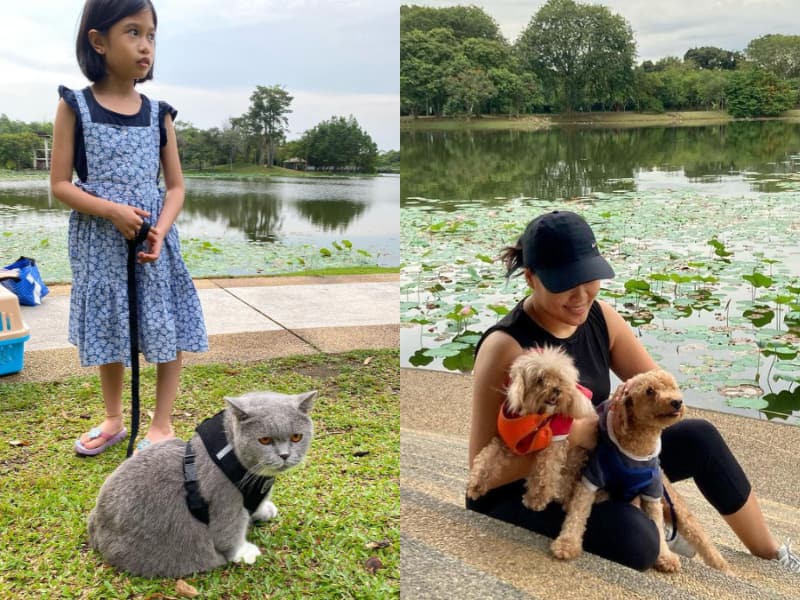 Unbeknownst to most, this lakeside respite in Cyberjaya is actually pet- and dog-friendly—just check the park's notice board. The paved path surrounding the lotus pond is shaded by deciduous trees, so it won't be overly warm in the evening for shaggy or fluffy dogs. And if you happen to chance upon the municipal rescue cat shelter, Taman Kucing (open certain hours every Sunday), while you're there, you're in for an adorable surprise!
Address: Persiaran Semarak Api, Cyber 4, 63000 Cyberjaya, Selangor
Opening Hours: Daily, 6.30am – 7.30pm
7. Origami Park, Jade Hills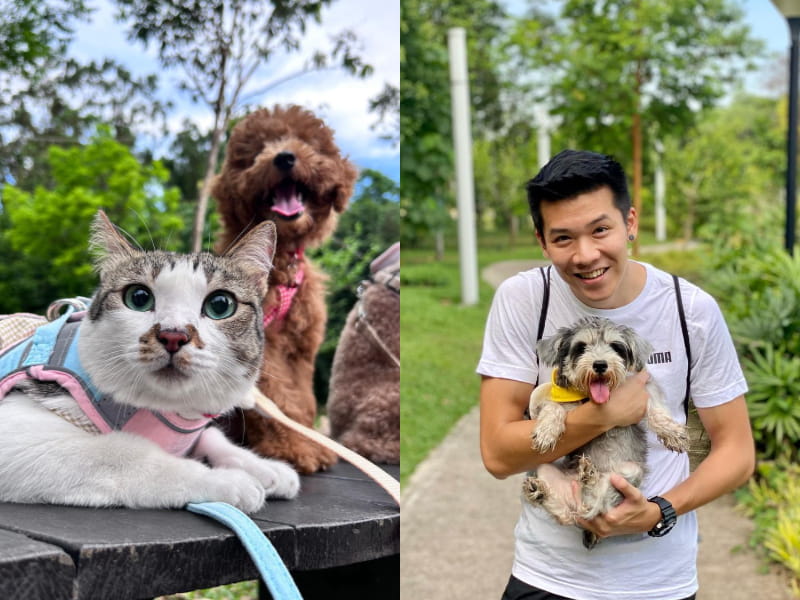 Jade Hills, a private residential area in Kajang, has also opened its pet friendly Origami Park to the public. The park's gently sloping pathway will challenge your canine's agility (and your own), as will the obstacle course for dogs. Open pavilions at the park also make for shady spots to lay out a picnic and enjoy the landscaped vista. Luckily, refreshments are readily available at the nearby shop lots.
Address: Persiaran Jade Hills Utama, Jade Hills, 43000 Kajang, Selangor
Opening Hours: Daily, 6am – 10pm
8. Central Park, Gamuda Gardens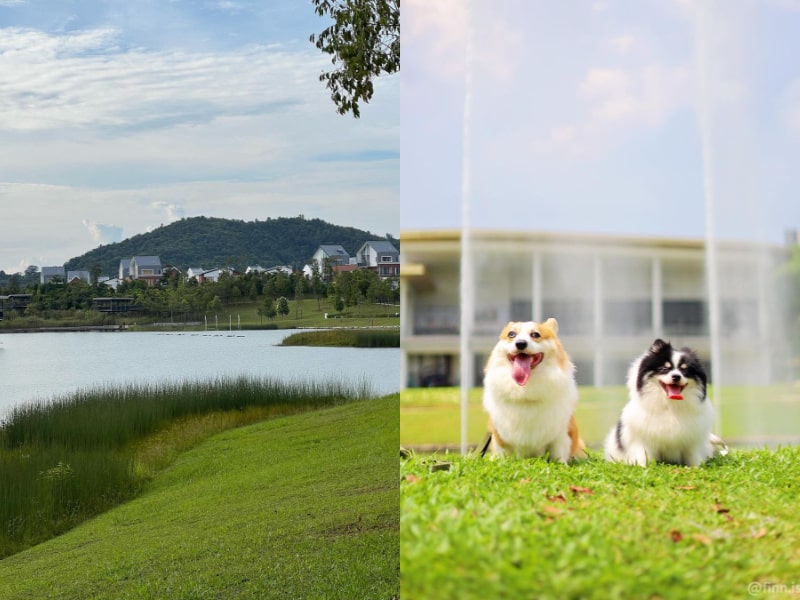 At the heart of Gamuda Gardens is the dog friendly and tranquil Central Park. The 50-acre green space is designed with five serene lakes and two majestic waterfalls, offering a healing outdoor experience for the hoomans. As for the pets, they'll get to enjoy a paw-sitively fun time too, thanks to the designated paw-print jogging paths and agility course in Paws Playland.
Address: Le Gardens Pavilion, Persiaran Gamuda Gardens 1, 48020 Rawang, Selangor
Opening Hours: Daily, 10am – 6pm
9. Gravit8 Lake Park, Klang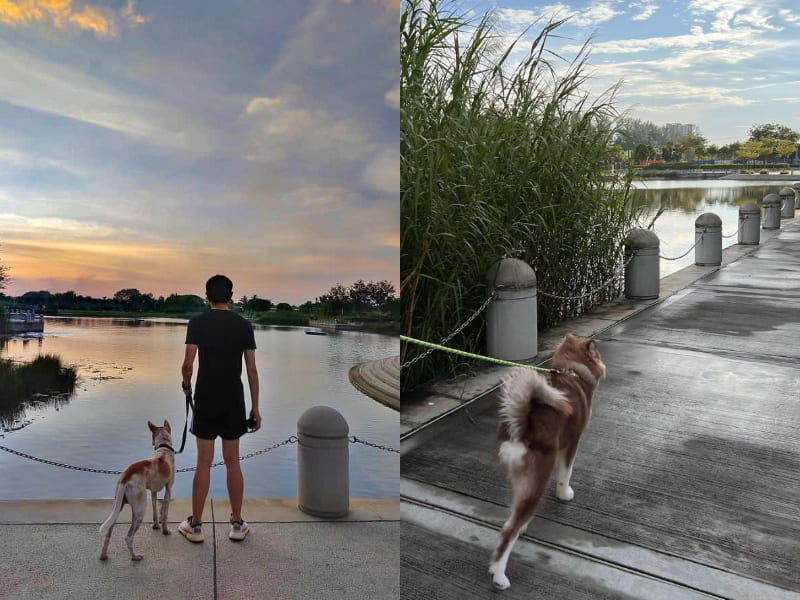 Klang dwellers, there's finally a pet friendly park near you too! Located in the up-and-coming residential hub, Gravit8, the urban park is ideal for jogs and walks with your furry companions. Pathways are spacious here so you won't bump into others, while exercise stations around the park ensure you can squeeze in a quick workout. You won't need to bring much more than treats and water for your pets, as dog waste bags and bins are provided for.
Address: Gravit8, Jalan Bayu Laut 6/KS 9, Kota Bayuemas, Pandamaran, 41200 Klang, Selangor
Opening Hours: Daily, 24 hours
Related: Doughnuts, Macarons & 3 Other Non-Typical Healthy Homemade Dog Treats You Can Make
Mind The Rules When You Visit The

Best Pet Friendly Park In Malaysia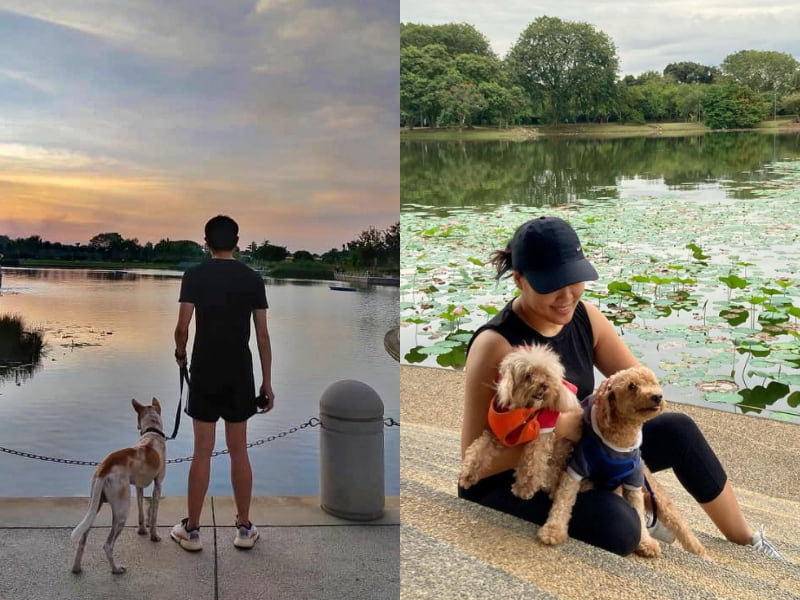 When you're at a pet and dog friendly park, you would do well to be mindful of the rules (usually shown on a large signboard by the entrance) to ensure the park remains pleasant for all visitors. Most of these parks have litter bins stationed everywhere, so be sure to pick up after your pets and yourselves, and bring a shovel or waste bag if you need to. And remember to keep your darling pets on a lead at all times—unless you're in an enclosed off-leash area—to avoid any untoward incidents.
Going out of town soon? Check out these cat hotels in the Klang Valley for comfy room and board. Want to meet more animals? Plan an excursion to the best petting zoos in KL. And for the best deals on pet food and pet care items? Swing by the Shopee Pets Mart!