Childbirth takes a big toll on a mother's body. Hence, it's important to consume healthy and nutritious postpartum meals that will aid and speed up recovery during the confinement period. However, if checking into a confinement centre is out of the question and there's no one to help prep healthy meals at home either, don't fret. Below, we round up the best confinement food delivery services in KL and Selangor to order your confinement meals from!
What To Eat And Avoid During Confinement Period
The confinement period is a common Asian practice and depending on culture, it may last anywhere between 30 days and 100 days. During this time, there are certain foods believed to aid quick recovery, and pantang foods to abstain from.
Best Foods To Eat During Confinement Period 
A new mother should eat foods that would expel 'wind' (aka when a woman has qi/yin/blood deficiency post-birth, which could make her prone to certain illnesses) from the body, strengthen weakened joints, and promote blood circulation and milk supply. Here are some examples:
Turmeric.

Rich in vitamins B6 and C, potassium, magnesium, and fibre to aid digestion.

Black pepper.

A "warming/heating" spice is added to dishes in place of chilli to help restore balance to the body.

Traditional tonic.

These tonics and drinks are usually brewed from a mix of

traditional herbs

and preserved dates. 

Oats.

Great for boosting energy, preventing constipation, and encouraging milk supply needed for

breastfeeding

.

Salmon.

High in protein to heal wounds faster, as well as zinc to fight postpartum depression.

Pork liver.

Contains vitamin A and iron to replenish blood loss from childbirth. 

Almonds.

Treats itchy

stretch marks

thanks to vitamin E, while fibre, vitamin B12, and omega 3 acids boost milk production.

Green leafy vegetables.

Spinach

,

broccoli

, and fenugreek are recommended to replenish blood loss and ease joint pain. 
Foods To Avoid During Confinement Period 
Generally, new mothers are advised to avoid "cooling" foods that would retain "wind" and cool the body down. Below are some of the foods to avoid during confinement:
Cold and raw foods.

Foods with a "cooling" effect (like

cucumber

,

tomatoes

, and

watermelon

), and raw food should be avoided as they may upset the tummy and prevent toxic fluids from being discharged from the body. 

Caffeine.

This may irritate your baby's digestive system through nursing, and may elevate heart rate and cause insomnia.

Oily and salty foods.

Overly oily foods can irritate the intestines while salty, MSG-laden foods can cause water retention and reduce lactation. 

Spicy and citrusy foods.

These may irritate the baby's digestive system through breastfeeding. Plus, spicy foods can also delay uterus recovery as it causes bloating and constipation. 

Seafood.

Certain

seafood

that's high in mercury may cause gastric issues for your baby. 

Dairy products.

Cheese and

yoghurt

could cause tummy discomforts and allergic reactions for those who are lactose intolerant.
Best

Confinement Food Delivery

Services In The Klang Valley 
Phoenix Signature Kitchen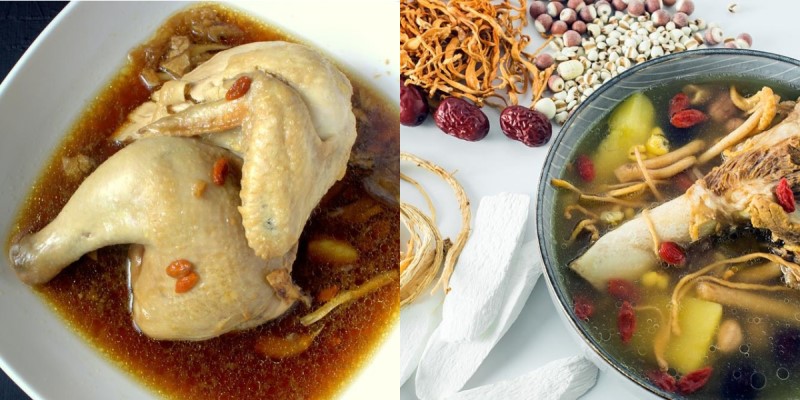 As one of KL's best confinement food delivery services run by an all-women team, Phoenix Signature Kitchen offers a diverse menu of traditional and modern confinement dishes. These postpartum meals are cooked using premium Chinese herbs, organic and antibiotic-free kampung chicken, and ginger from Bentong. Three meals are included in their meal plans: lunch, afternoon tea, and dinner. Their 28-day package even includes free lactation cookies! 
Package & price range: RM900 (7 days); RM1,800 (14 days); RM2,700 (21 days); RM3,388 (28 days)
Contact: 018-911 2833 
Website | Facebook | Instagram 
ViVi

Confinement Food Delivery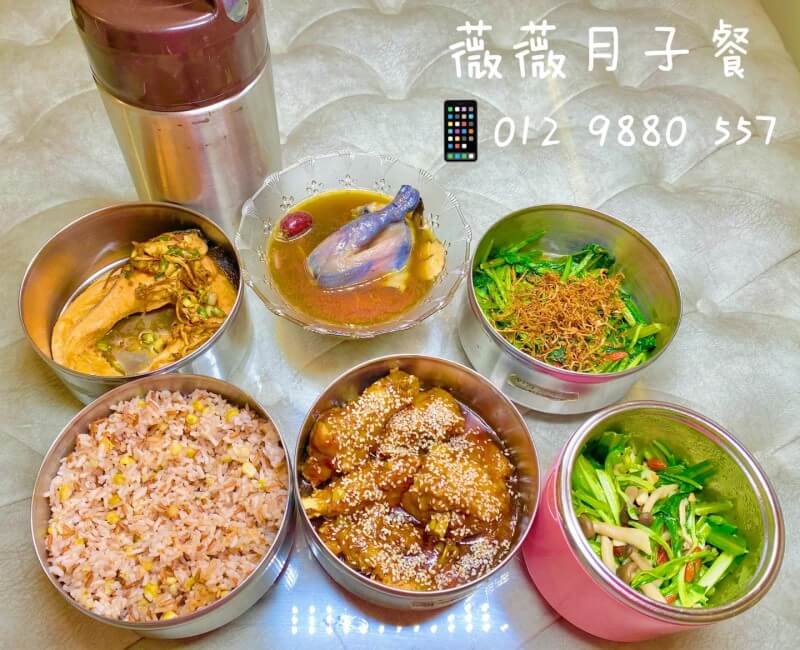 With five years of experience under their belt, ViVi Confinement Food Delivery provides a wide range of homemade postpartum meals that are suitable for all types of mothers. This includes a tailor-made menu for mothers who've had normal deliveries, C-sections, abortions, IVF, and other surgeries like hysterectomy and cystectomy. Trust their immune-boosting confinement foods and hearty soups to restore vitality while nursing you back to health after the strenuous effects of labour. 
Package & price range: 7 days, 14 days, 28 days (call to enquire about prices)
Contact: 012-988 0557
Website | Facebook | Instagram 
Halal Chinese

Confinement Food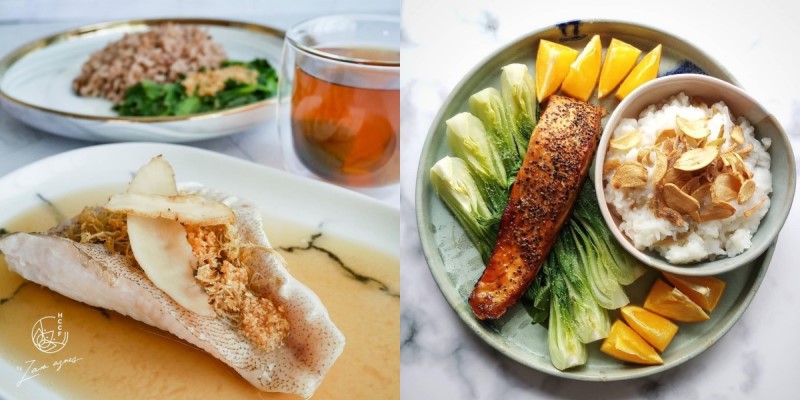 Muslim mums looking for 44-day confinement meal packages, this one's for you. As its name suggests, this confinement food delivery service is the first of its kind and offers halal Chinese confinement food at affordable prices. Their two package types—Simple Set and Complete Set—include lunch and dinner, but the latter comes with an additional confinement herbal soup for each meal. In an effort to reduce carbon footprint, you can also choose to have your postpartum meals packed in tiffin carriers and enjoy a RM15 discount! 
Package & price range: Simple Set from RM798 (7 days) to RM4,488 (44 days); Complete Set from RM998 (7days) to RM6,088 (44 days)
Contact: 012-750 0884
Website | Facebook | Instagram 
PopoMama Confinement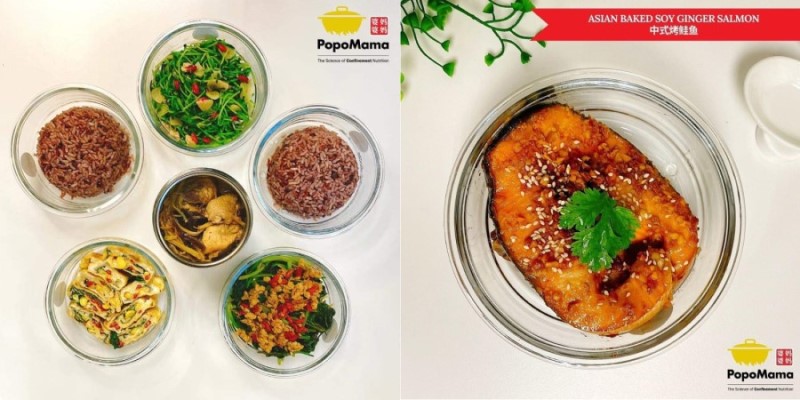 Just like how your very own popo (grandmother) and mama would care for your postpartum needs, PopoMama Confinement food delivery aims to do the same. Their confinement food and menu are carefully crafted for each postpartum recovery stage, and they've got meal packages that go up to the full confinement period of 100 days! Not sure if you want to commit just yet? Not to worry, because they've also got a three-day trial meal package. Vegetarian options are available here too. 
Package & price range: Trial meal from RM489 (3 days); 2-week package from RM2,013 (14 days) 1-month package from RM2,693 (28 days); 12-week full confinement package at RM13,213 (100 days)
Contact: 016-339 6868
Website | Facebook | Instagram 
Tasty Heritage Signature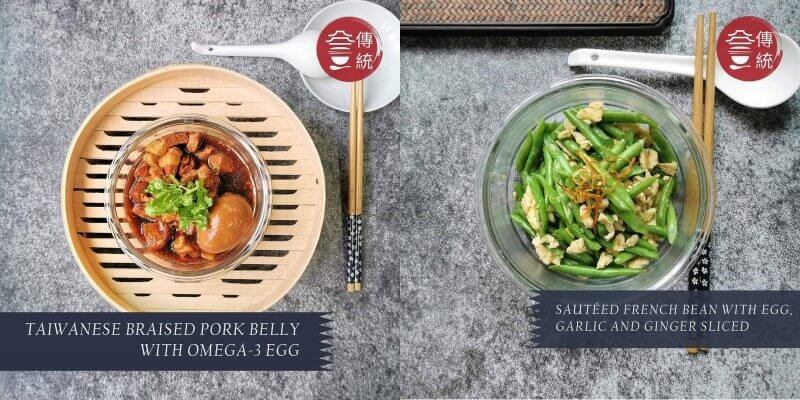 For a traditional Chinese confinement meal plan, get your 28-day postpartum meals delivered to your doorstep from Tasty Heritage Signature. After all, they take pride in providing nutrient-dense confinement food using a variety of Chinese herbs and brewed soups to restore the health of mothers. For instance, think tasty yet nourishing dishes that are freshly cooked daily like double-boiled abalone soup, ginseng six tonic spleen soup, stir-fried pork with sesame oil and ginger, and more. 
Package & price range: Call to enquire about prices
Contact: 018-322 8659
Website | Facebook | Instagram 
Eu Yan Sang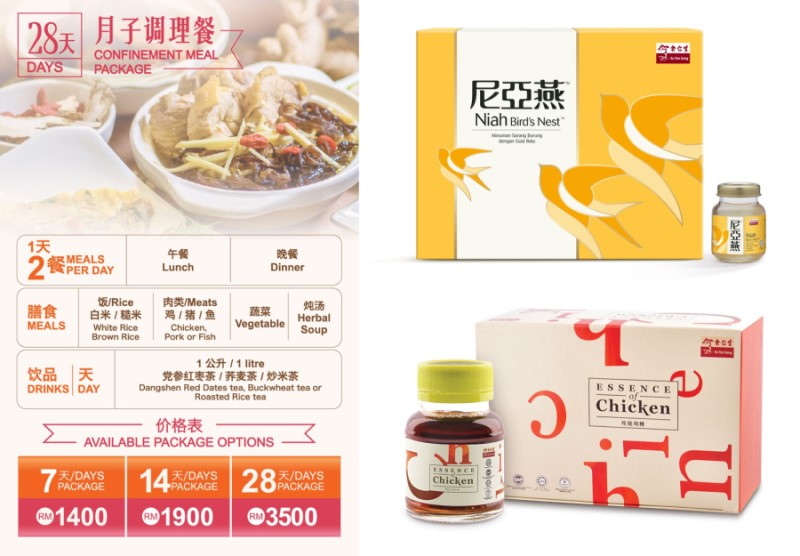 In case you missed it, Eu Yan Sang offers confinement food delivery services as well. As an expert in traditional Chinese medicine (TCM), you can expect their confinement meals to combine TCM wisdom and modern science-backed nutrition, with an emphasis on tonification for effective recovery. However, prices are a little higher, with packages ranging from one week to one month. Two meals are included daily, including herbal soups and beverages such as dang shen red dates tea, buckwheat tea, or roasted rice tea. To complete your nourishment inside and out, you can supplement your meals with bird's nest, essence of chicken, and more! 
Package & price range: RM1,400 (7 days); RM1,900 (14 days); RM3,500 (28 days)
Contact: 1-300-88-8213
Website | Facebook | Instagram 
Byond28 Confinement Centre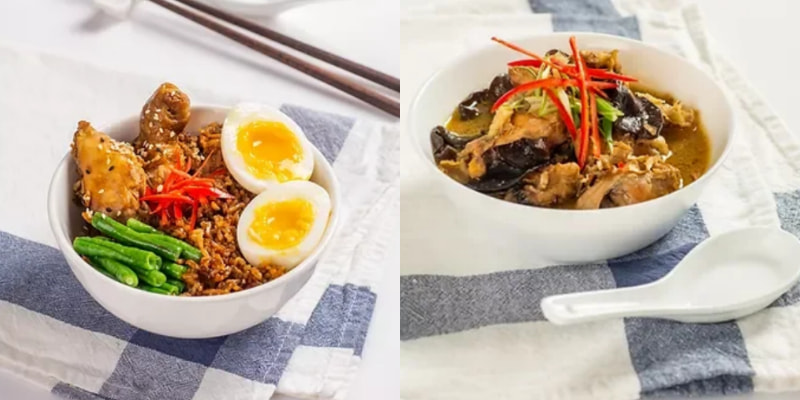 Byond28 is a confinement centre based in Cheras that provides confinement food delivery straight to your doorstep. Their healthy menu features a mix of Chinese confinement food and Western fare, following recipes crafted by their dietician and professional chef. If you like vinegar pork trotter and yellow wine chicken, you're in luck—they serve it frequently! And if you're particular about quality and taste, you'll be glad to know that every dish is prepared with only the freshest ingredients and herbs, with less oil, sugar, and salt.
Package & price range: RM150/day (1-7 days); RM140/day (8-21 days); RM120/day (22-28 days); RM110/day (29 days and above)
Contact: 017-362 8548
Website | Facebook | Instagram
Cocoon Postpartum Care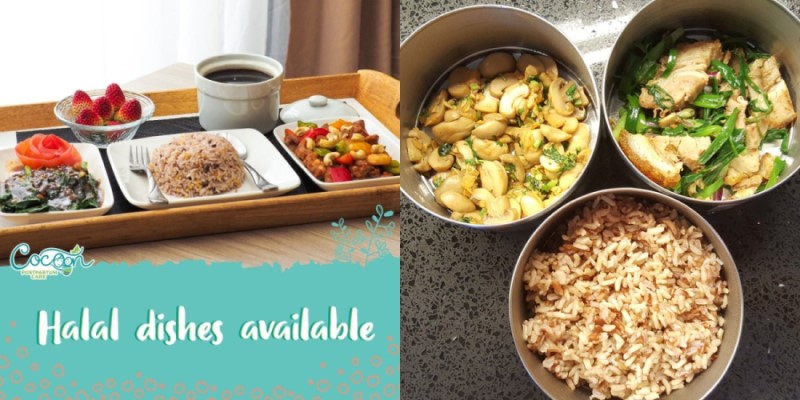 While this place primarily functions as a confinement centre in PJ, Cocoon Postpartum Care also provides confinement food catering that can be delivered to your home. Furthermore, you can even customise the menu based on your specific dietary or religious requirements, whether that's wanting vegetarian or halal dishes. Despite that, you can rest assured that each meal prepared will contain fresh herbs and ingredients with healing properties to help mothers regain their strength and vitality. 
Package & price range: Call to enquire about prices
Contact: 017-343 0607 / 03-7773 0607
Website | Facebook | Instagram 
Tian Tian

Confinement Food Delivery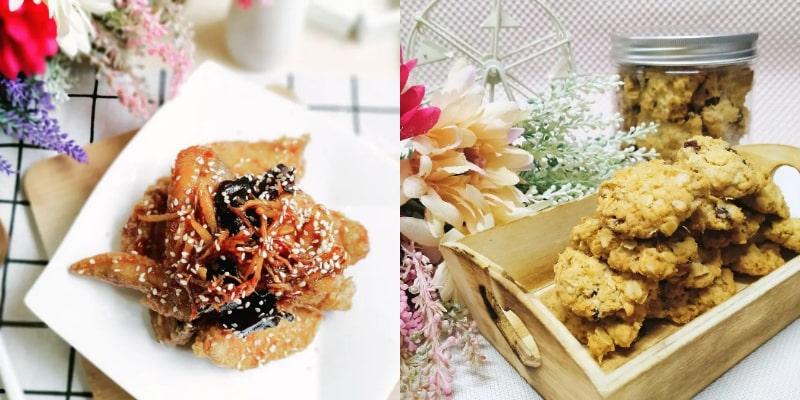 Based in Puchong, Tian Tian Confinement Food Delivery has been serving fresh and healthy meals to new mums in the Klang Valley since 2018. They have more than 70 Chinese and western dishes on their menu, often made with confinement staples such as Shaoxing wine, rice wine, Dome, sesame oil, and ginger. Each generously portioned meal includes a tonic herbal soup, vegetable, main dish, and brown rice. For breastfeeding mummies, Tian Tian can also deliver the milk-boosting tricolour rice tea or homemade lactation cookies along with your meals.
Package & price range: 7 days, 14 days, 21 days, 28 days, 40 days (call to enquire about prices)
Contact: 016-331 3927
Website | Facebook | Instagram
Ease Your Postpartum Meal Prep By Ordering From These Best

Confinement Food Delivery Services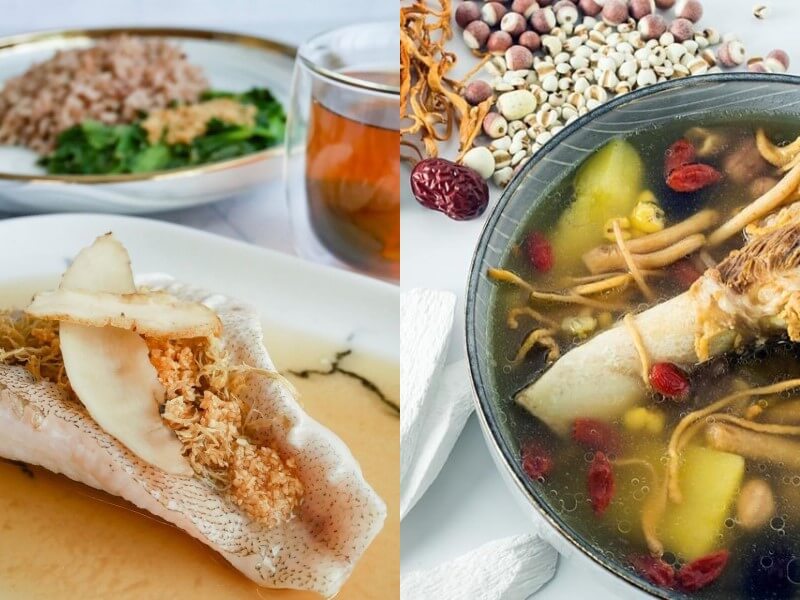 The postpartum or confinement period is a crucial time for mothers to rest and nourish themselves with the right meals in order to restore their health. Thankfully, there are many confinement food delivery services in KL and Selangor to order your postpartum meals from. That takes the trouble of meal prep out of your hands so you can fully focus on your recovery and caring for your newborn!
Want to recuperate at a confinement centre instead where you and your baby will be taken care of round the clock? Check in to one of these best confinement centres in the Klang Valley.