We are constantly in search of the best ceiling fans that would not only function well but are also pleasing to the eye, for our bedroom, living room, dining area and even outdoors. 
More often than not, we find ourselves spoilt for choice or confused. Brands are offering ceiling fans in various styles and designs that address the different needs of our homes. 
A common mistake that most of us make is buying a ceiling fan without taking into account a number of factors. This includes size of room, type of blades, style and lighting. If that happens, chances are we may encounter a noisy fan, a very brightly-lit room, a dated design against a modern home, and more. 
Tips When Choosing A Ceiling Fan For Your Home 
So what constitutes a suitable or best ceiling fan for your home? Consider the following questions when searching for that perfect ceiling fan as an upgrade or for your new home. 
How big is the room?

An important factor to note is the size of the room. Avoid getting a fan with long blades for a small room as that would create an unsteady stream of wind movement and air turbulence. This can cause the fan to wobble and create noise. 

How many blades for the best airflow?

Typically a 3-blade fan is said to be ideal for better airflow. On the other hand, a fan with more blades tends to be quieter but it circulates less air. This is because additional blades increase the drag of the motor and slow it down.

Is a metal blade fan better?

The durability of metal blades is better, and it provides a stronger airflow which makes it ideal for bigger rooms. There is also another option called ABS (Acrylonitrile Butadiene Styrene)—a premium type of thermoplastic. Its popularity has been picking up amongst manufacturers and customers due to its affordability and potential for innovation. ABS ceiling fans can be shaped into profiles to obtain better airflow whilst being stylishly and aesthetically pleasing to the eye. 

What style do I want to achieve?

Decide the kind of style you want to achieve for your room before purchasing the fan. A black fan would accentuate the look of a minimalist room while a white fan keeps things light and cosy. 

Do I need a ceiling fan with light?

One way to consider this is whether your room has enough space for a separate lighting fixture. If it does not, and is only a small space, then a

ceiling fan with light

will do the job to illuminate the room. 
Now that you have an idea of what to look out for, here are some of the best ceiling fans that Malaysians are seen to be purchasing on Shopee, for you to consider. Factors include durability, affordability, aesthetically pleasing and really, just downright functional. 
Make Life A Breeze With Some Of The

Best Ceiling Fans In Malaysia
1.   Rezo Ventus MY56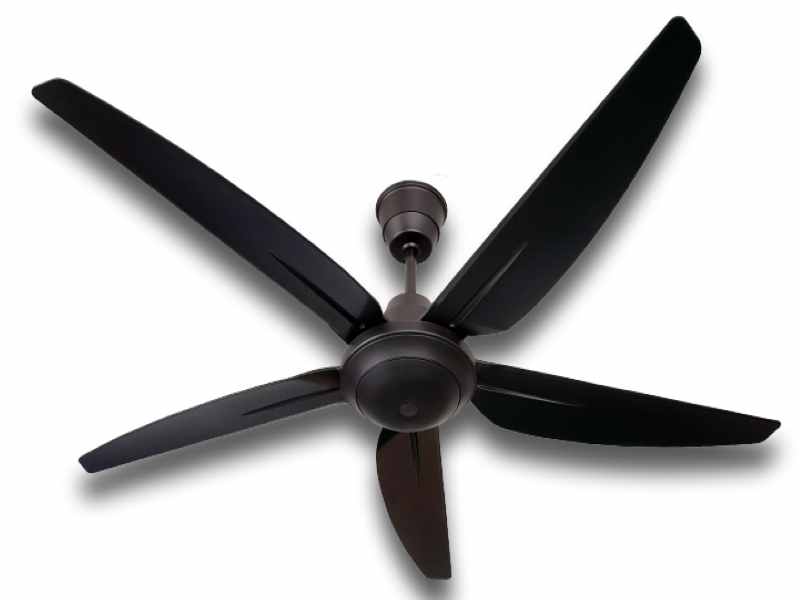 Dubbed as the "world's modern design while delivering supreme durability and reliability in an all-rounder type of ceiling fan", the Rezo Ventus MY56 is nothing short of sleek and packs quite a punch. This ceiling fan has 5 ABS blades with 5 speed levels, sports a slim design, and is said to offer extreme airflow. Gladly, it operates silently so the only sounds you will hear are the 'oohs' and 'ahhs' from your guests when they check out your new best friend.
If you want to make a statement in your minimalist-inspired home, the matt black variant could give you just that; but there's also matt white for those who prefer otherwise.  
Diameter: 56 inches | Colour: Matt black, Matt White | Number of blades: 5 | Speed levels: 5  
2.   Khind CF615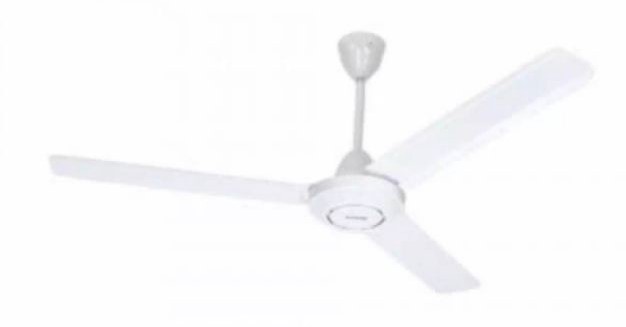 Khind is a homegrown brand which has journeyed to becoming one of Malaysia's most trusted home appliance brands. The Khind 60" Ceiling Fan CF615 comes with 3 metal blades that are powder-coated for durability. Metal fan blades are suitable for large spaces and if the fan is high above the floor.
On top of that, the Khind CF615 ceiling fan has a built-in safety thermal fuse designed to break the electrical connection if the fan starts to overheat. 
Diameter: 60 inches | Colour: Black, White | Number of blades: 3 | Speed levels: 5 
3.   Panasonic F-M15A0VBWH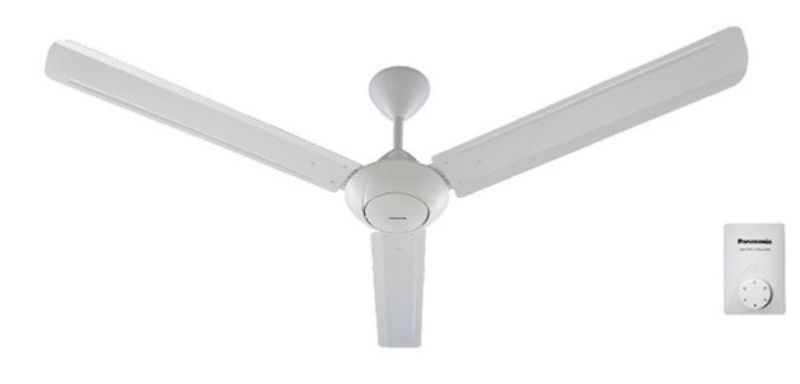 A tried and trusted brand that has lived on for generations—from our grandparents to parents, and now us. Check out the Panasonic F-M15A0VBWH that comes in either white or dark grey. Its 5-speed electronic regulator offers you a selection of speed from soothing to strong breeze.
This fan's enhanced multi-level safety features include: Cut-off Safety Switch to cut the power supply in the event of a malfunction; Blade Safety Plate to prevent fan blade to detach and drop from the ceiling, and Thermal Safety Fuse to prevent electric shock. 
Diameter: 60 inches | Colour: White, Dark Grey | Number of blades: 3 | Speed levels: 5 
4.   KDK K15V0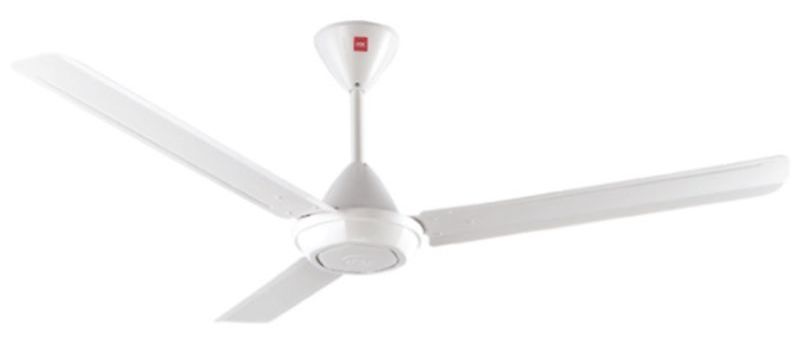 KDK ceiling fan is another household name that Malaysians love, and you know you are assured of a good product from a world leader known for its high quality and high performance ventilating products. The K15V0 ceiling fan is a charmer in its own right; simple yet powerful.
This KDK ceiling fan is also enhanced with Cut-off Safety Device and Blade Safety Plate as well as an energy-saving condenser motor. The fan's hexagon decorative cover makes for a nice finishing. Makes you want to stare at it all day long. 
Diameter: 60 inches | Colour: White | Number of blades: 3 | Speed levels: 5
5.   Alpha Cosa Xpress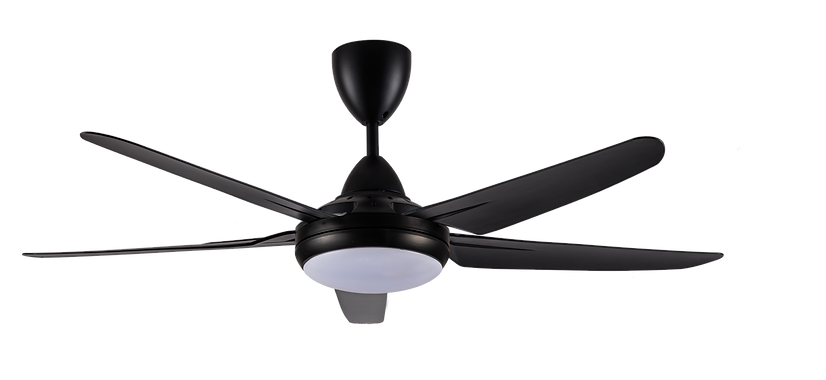 If you are in need of a ceiling fan with light, check out the Alpha Cosa Xpress 54 LED. This is the latest offering by Alpha Malaysia that measures 54 inches in fan width and features 5 ABS-material blades. It comes in three colours: matt black, matt white, and walnut to suit the different preference of customers and their homes.
It has a simple and modern look that could complement a room, depending on your furniture or home decor such as shelves, carpets, and cushion covers. The added light combined with the black body offers a cosy and comfortable atmosphere to the space. 
Diameter: 54 inches | Colour: Matt Black, Matt White, Walnut | Number of blades: 5 | Speed levels: 4 
6.   Deka Kronos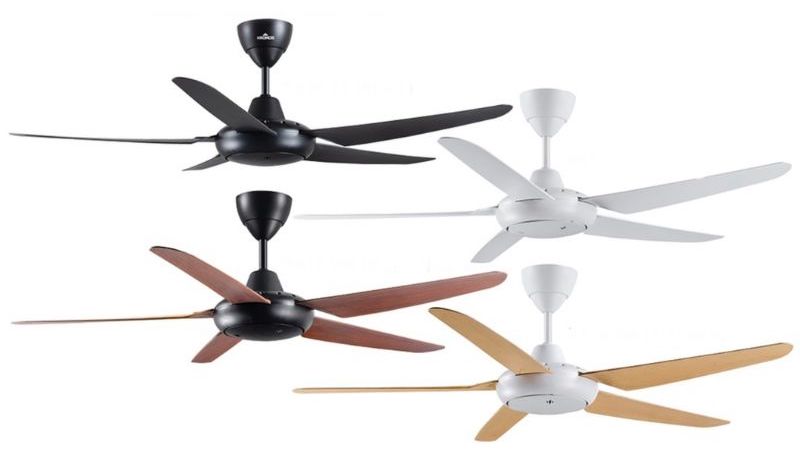 Featuring four colourways to suit your room aesthetic, the Deka Kronos is a five-blade ceiling fan with five-speed levels control. You can set the timer for one, three, or six hours and it comes with a remote for easy control.
You can purchase the ceiling fan in a single pack or twin pack (two units) in one go if you need more for different rooms in your abode. Deka offers three-year motor warranty on top of a one-year general warranty.
Diameter: 56 inches | Colour: Black, White, Walnut, Pinewood | Number of blades: 5 | Speed levels: 5 
7.   Sharp 5 Blade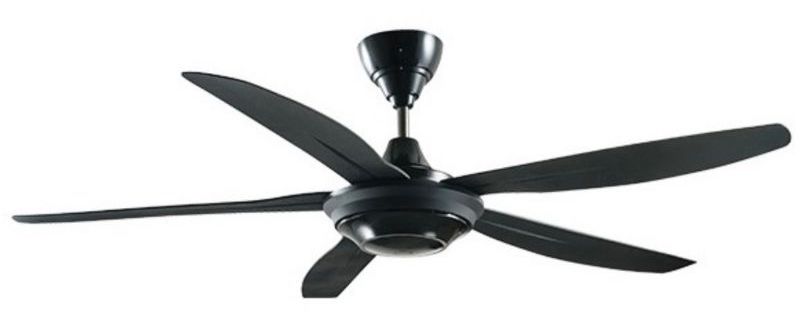 If you want a modern-looking ceiling fan, the Sharp 5 Blade should be in your shopping list. It has a sleek-looking design that comes in black or white which definitely looks more stylish than your typical ceiling fan.
The normal mode provides a strong and constant breeze while its DC motors deliver up to 55% energy saving and quieter performance, You will also get a handy remote control.
Diameter: 56 inches | Colour: Black, White | Number of blades: 5 | Speed levels: 3 
Cool Down Your House With Some Of These

Best Ceiling Fans In Malaysia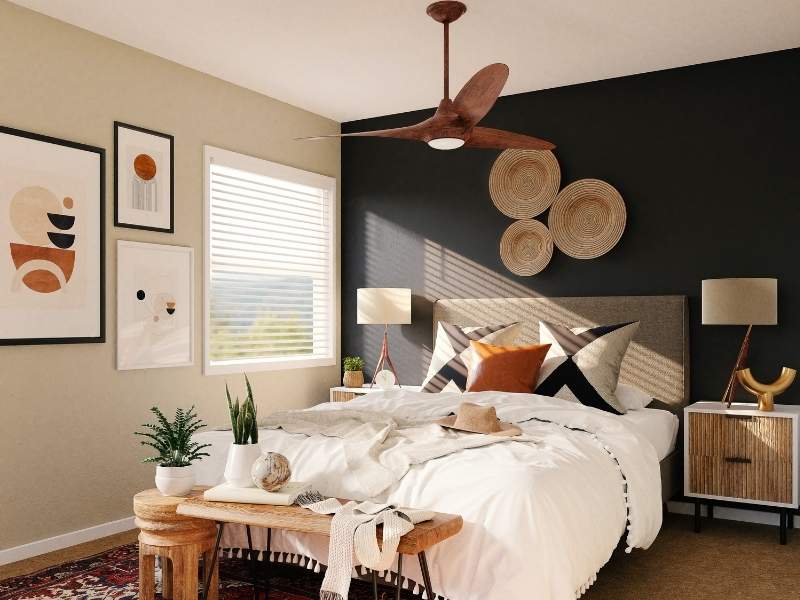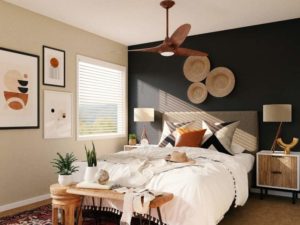 Ceiling fans will continue to evolve. Brands and manufacturers are constantly searching, innovating, and creating the best ceiling fans to offer customers—one that has a good marriage of functionality and aesthetics. With the many factors to take into consideration, we hope that this guide will help and ease your worries as you search for a nice ceiling fan for your home. 
For more recommendations on home appliances, do check out our other articles on the Best Fridge Brands in Malaysia and Tech Essentials for Home Office.