A reliable car phone holder is an essential accessory for today's drivers, especially for cars without a built-in navigation system. Whether it's making calls or pinpointing the exact location of your next work meeting, the best car phone holder lets you safely interact with your handset while keeping your eyes on what's truly important: the road. So, if you don't already have a car phone mount, it's perhaps time to invest in one. 
What Is The Best Type Of Phone Holder? 
Car phone holders have been around for years, which explains the never-ending list of options on Google. But the bulk of most holders fall into two main categories: 
Holders that attach to air vents 

Holders that stick to flat surfaces like dashboards and

windscreens
Next is to consider how your phone attaches to the mount itself. Generally, these are the two types of mounts you'll come across:
Magnetic mounts

Mounts with spring-loaded clamps 
Both offer their own advantages and disadvantages. Magnetic mounts are quick and snappy, letting you instantaneously attach and detach your device. But they require you to install a metal plate or use a phone case that's compatible with magnetic mounting. On the other hand, spring-loaded mounts are versatile and can hold almost any phone, but their chunky sizes can be an eyesore. 
With a range of specifications and preferences, it's tough for us to recommend the best car phone holder because what works for us might not be suitable for you. That said, we still want to make your buying experience as smooth as possible, so check out these noteworthy considerations below. 
No more placing your phone dangerously on your lap.
1.   Baseus

Magnetic

Car

Phone Holder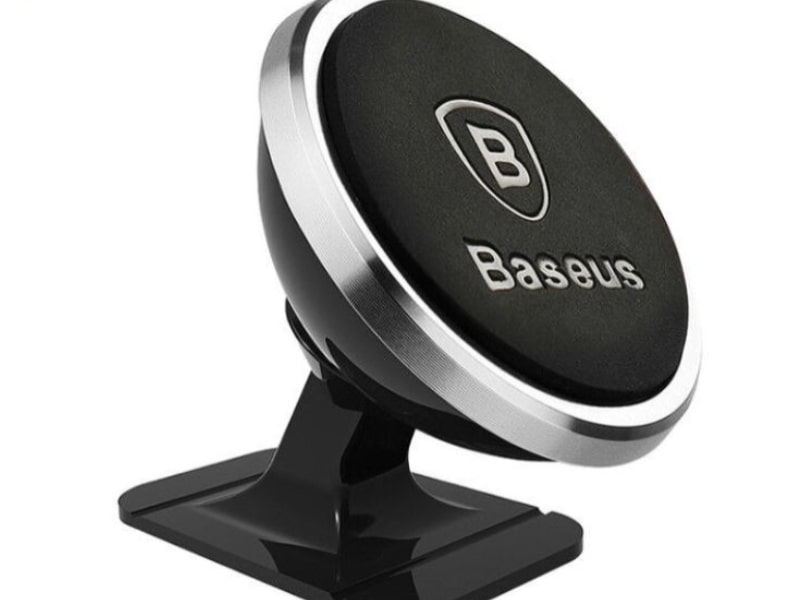 Magnetic phone holders are generally the most convenient options for holding your phone in a car, and this understated Baseus model ticks all the right boxes. Its sticky pad bottom is stable on all surfaces and the 360-degree rotating mount lets you adjust your handset to any angle. Furthermore, the lightweight and compact aluminium body is easy to set up and take with you from car to car. 
2.   UGREEN Strong

Magnetic Phone Holder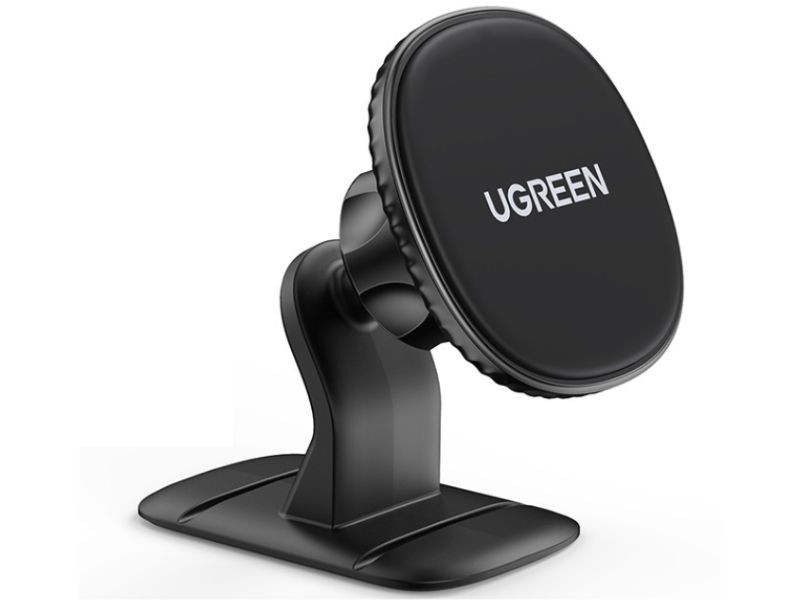 If space is scarce in your car, this UGREEN model could be the best car phone holder for you. It attaches with a small pad that fits into nooks and crannies in your dashboard. Plus, it can tilt 360-degrees back or the sides, which is ideal for navigation. And despite its small stature, the car mount's four-magnet build can securely hold your phone even in the bumpiest road conditions.
3.   UGREEN Gravity Phone Holder
If you prefer clamps instead of magnets, consider this bestseller car phone holder, also from UGREEN. Its super-strong thickened suction cup and sturdy hook, plus a locking mechanism on the clamps ensure the most secure fit for your phone. On top of that, the one-button design makes it super easy to place your device and take it out with just a press.
4.   Ankndo Vent Phone Holder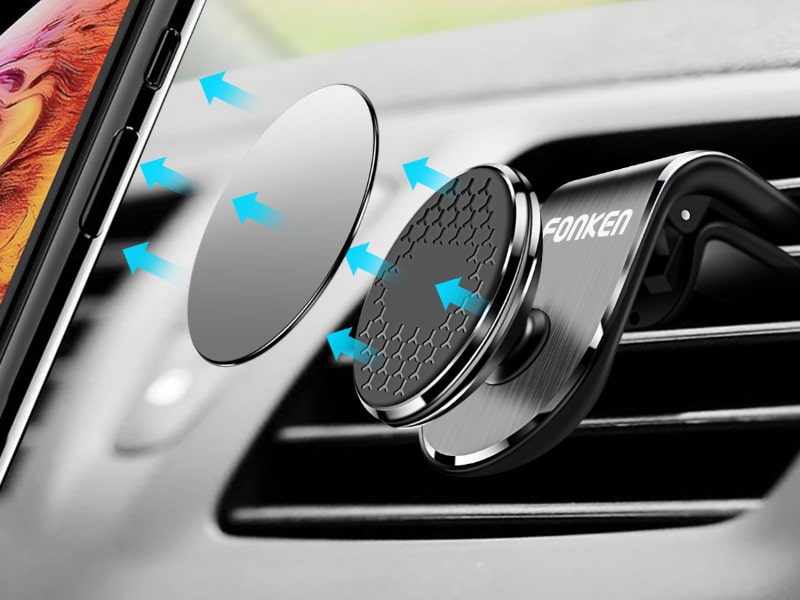 This budget-friendly magnetic model works on most standard car air conditioner vents and can accommodate phone sizes up to 6.1-inches. To attach, just place your phone close to the magnets and watch it magically snap onto the mount. Speaking of the magnets, they're strong and promise ample support on car rides over rough terrain. 
5.   Hdoorlink Universal Phone Holder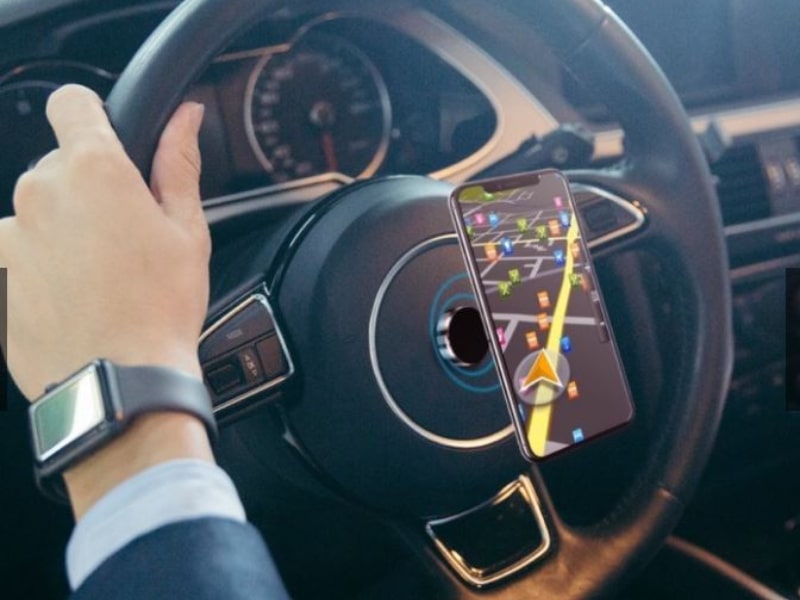 Cute as a button, the Hdoorlink Universal Magnetic Phone Holder may look like pocket change. But its small, inconspicuous design makes it a practical tool that you can use beyond the confines of a vehicle. Simply remove the adhesive 3M tape, stick the mount on any appropriate surface, and place your phone on it. We recommend getting a pack of three, though, because it's so easy to lose them. 
6.   Xiaomi Holder With Wireless Charging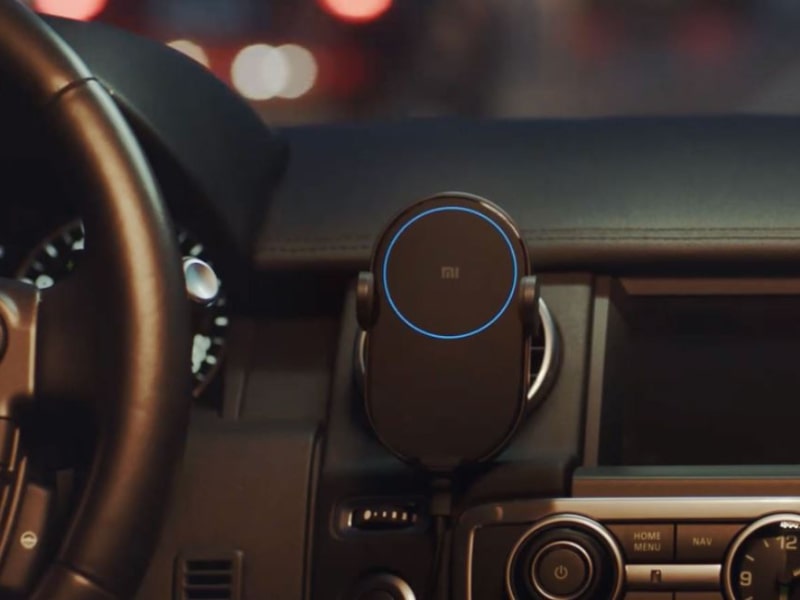 Utilising a practical vent mount that supports landscape or portrait mode, this Xiaomi phone holder sports two spring-loaded arms to fasten phones of different sizes in place. Its most notable feature, however, is its ability to wireless charge your smartphone. Coupling these offerings with a well-constructed frame and an affordable price point, we believe this is one of the best car phone holders available right now.  
7.   Trapo Premium Phone Holder V3
Third time's the charm, and Trapo's latest phone holder is built on ergonomic sensibilities and ease of use. The vent-mounted model comes in a sleek and durable rectangle aluminium shape that doesn't block airflow, and expandable arms to lock phones down. And when the need arises, you can charge your device via the reserved charging slot at the bottom of the mount. 
8.   Joyroom Long Arm Phone Holder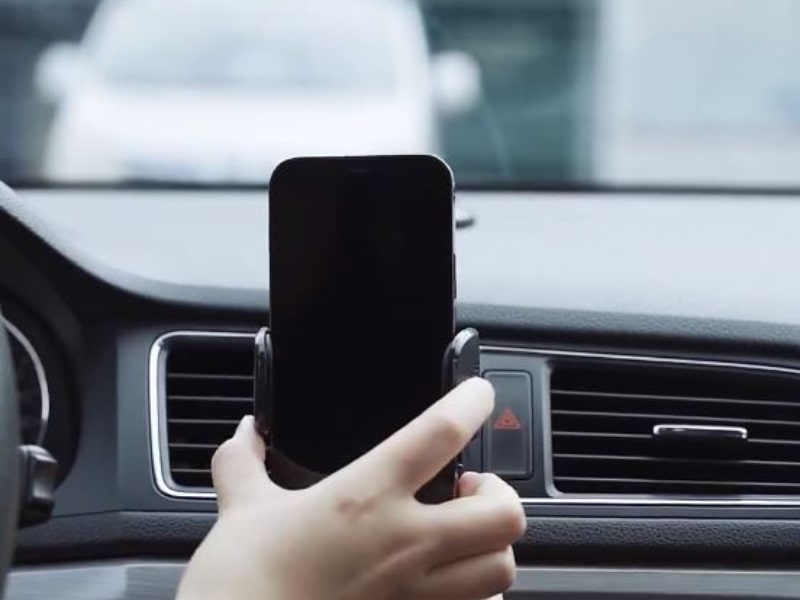 The Joyroom Long Arm Phone Holder is a practical and inexpensive way to ensure your phone is always accessible during daily commutes. The mount's suction base guarantees snug placement no matter where you stick it on. Separately, you can easily adjust your phone's viewing angle using the elongated arm. 
9.   LDNIO MG03 Car Mount Phone Holder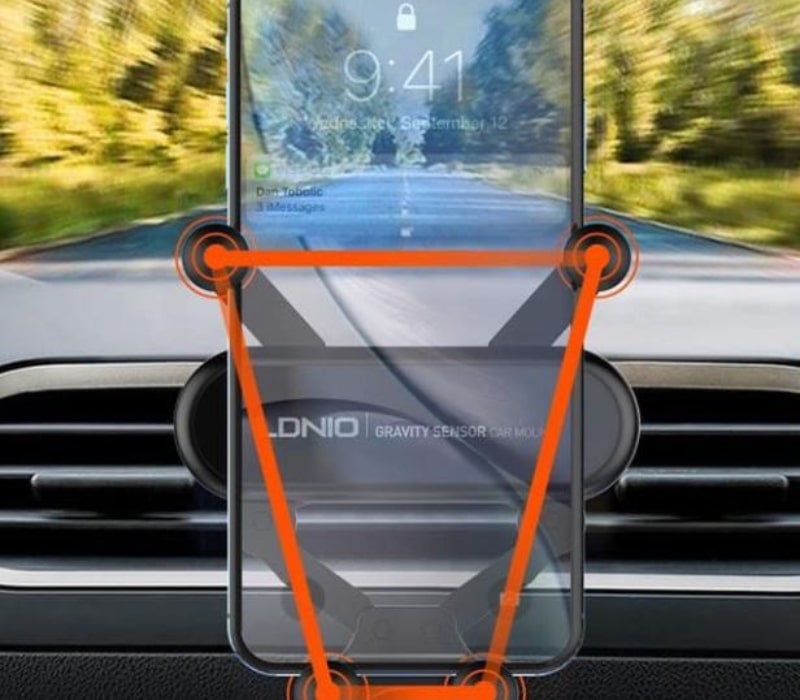 LDNIO's MG03 Car Mount Phone Holder is similar to the aforementioned Trapo model. The mount opens easily for you to attach or remove your phone with just one hand. What's more, the clasps have soft cylindrical silicon tips for a more secure fit.
10.   SAFECAM 360 Degree Car Mirror Phone Holder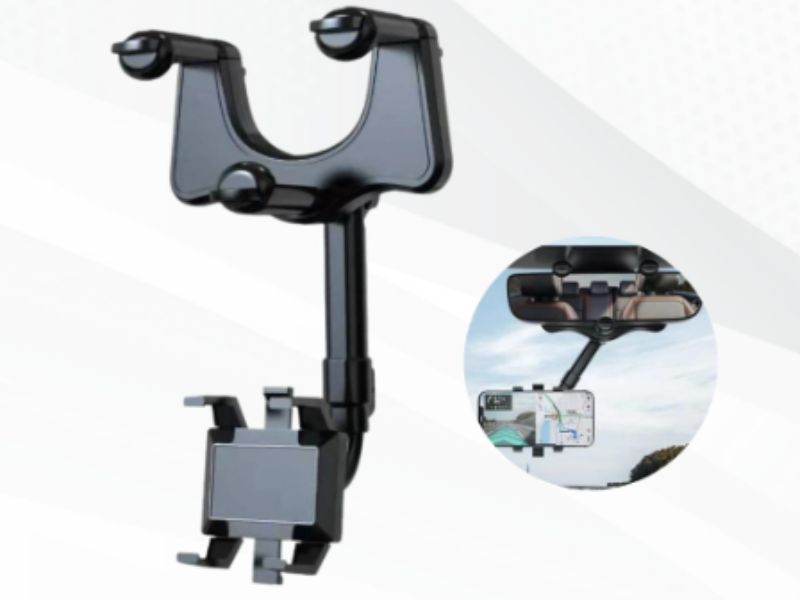 While most car phone holders are installed either on the dashboard or the air vents, this one from SAFECAM sits on the rear-view mirror. With this design, your phone can be positioned closer to your eye level when you're looking straight ahead on the road, which is safer as you do not need to avert your gaze every so often. The arm can swing 360 degrees too, allowing you to freely set your phone in any "floating" position you desire.
11.   Baseus CD Car Phone Slot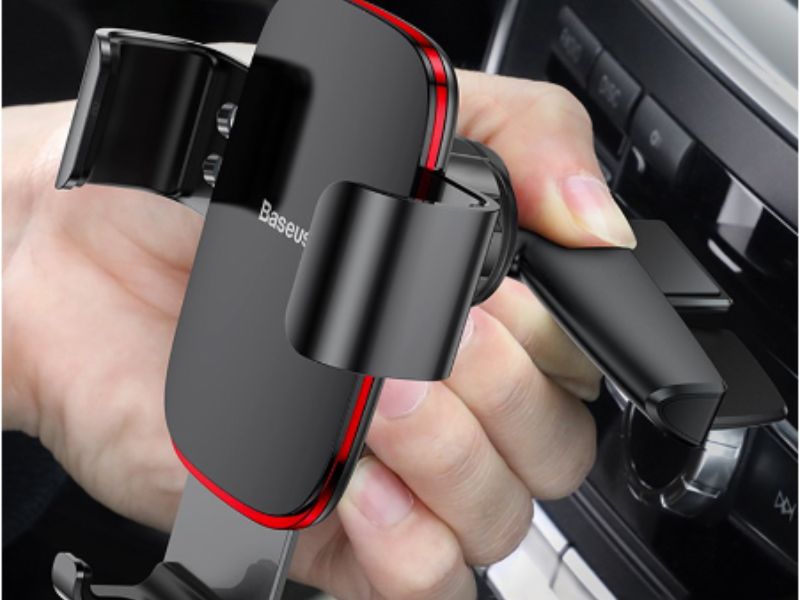 Placing a phone holder on the dashboard will expose your phone to intense heat while sliding it into the air vents will block some of the cool air. Neither is the perfect solution, but you can minimise the inconvenience with one that can go into the car radio CD slot (if your car has one). Get something like the Baseus CD car phone slot and you will not have to deal with the above two instances!
Have A Safe Drive With The

Best Car Phone Holders

In Malaysia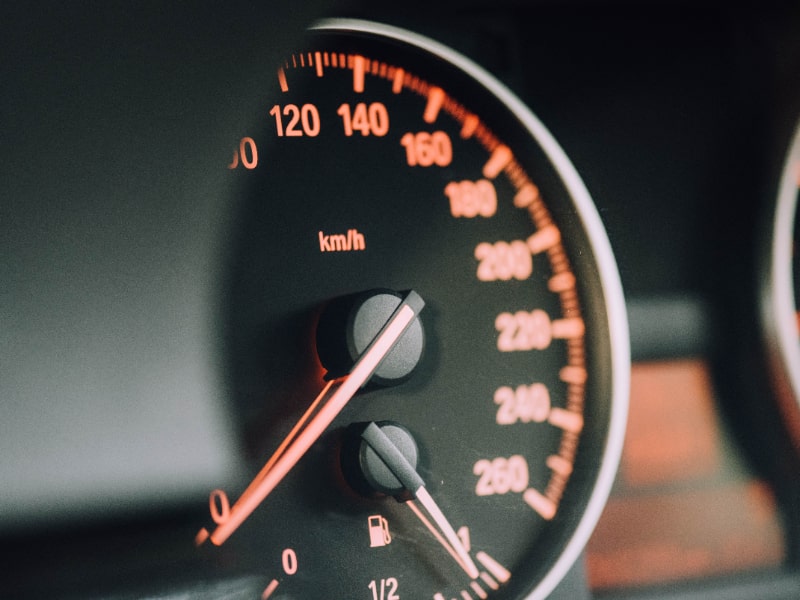 If you drive, chances are you require navigation assistance to reach unfamiliar places. Holding a phone in one hand while the other is on the steering wheel is out of the question and not every car has an intuitive AI to give instructions to. The best car phone holder in Malaysia solves this conundrum by offering a combination of safety, convenience, and stability for securing your phone on the road. 
You drive, but do you know your car well enough? Here's a quick explainer on the most common car dashboard symbols and what your car is telling you through them. And when your ride inevitably dies on you someday, call these battery delivery services to get you out of harm's way.