Bookshelf speakers are a great way to enjoy high-quality audio without taking up too much space in your home. They are designed to sit on a bookshelf or a desk, making them ideal for small to medium-sized rooms. Don't let their compact size fool you though—these little powerhouses will bring your music, movies, and games to life in ways you never thought possible with rich, full-bodied sound that will leave you feeling like you're at the front row of a concert. In this article, we'll explore some of the best bookshelf speakers on the market today to help you find the perfect pair to take your listening experience to the next level.
7

Best Bookshelf Speakers

To Buy In Malaysia
Get ready to turn up the volume and let the good times roll with these best bookshelf speakers.
1.   Edifier R1700BT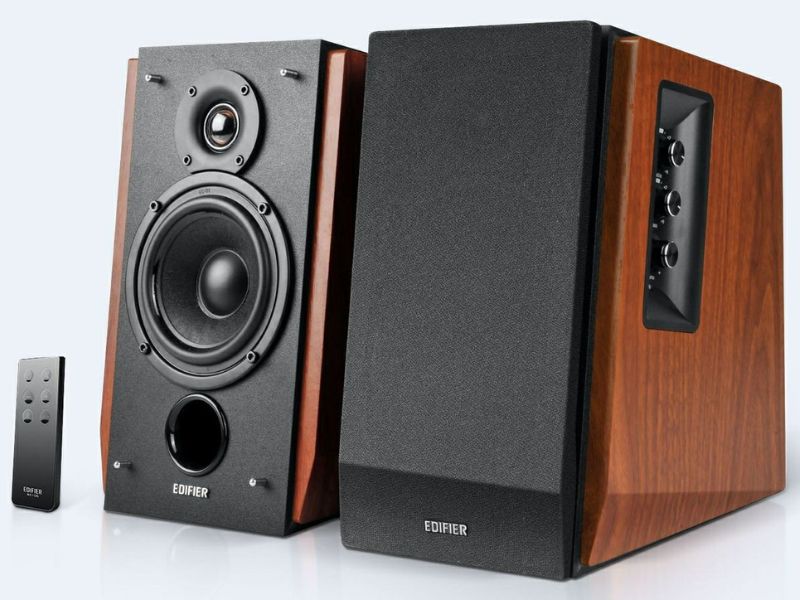 The Edifier R1700BT is one of the best bookshelf speakers that offers versatility and user-friendly options for music and movie enthusiasts. It packs several useful features such as Bluetooth 5.1 connectivity that lets you enjoy wireless audio streaming from your mobile devices and dual RCA input ports for connecting with multiple audio sources such as TV, turntable, or other audio equipment.
The classic and elegant wooden enclosure design not only makes for a great addition to any home decor but also functions to reduce distortion and minimise acoustic resonance. A remote control is included to make it super-convenient to adjust the volume, switch between audio sources, and access other features without getting up from your seat.
Dimension: 152mm x 248mm x 203mm (W x H x D)   
Weight: 6.6kg
Colour(s): Wood, Black
2.   Edifier AirPulse A80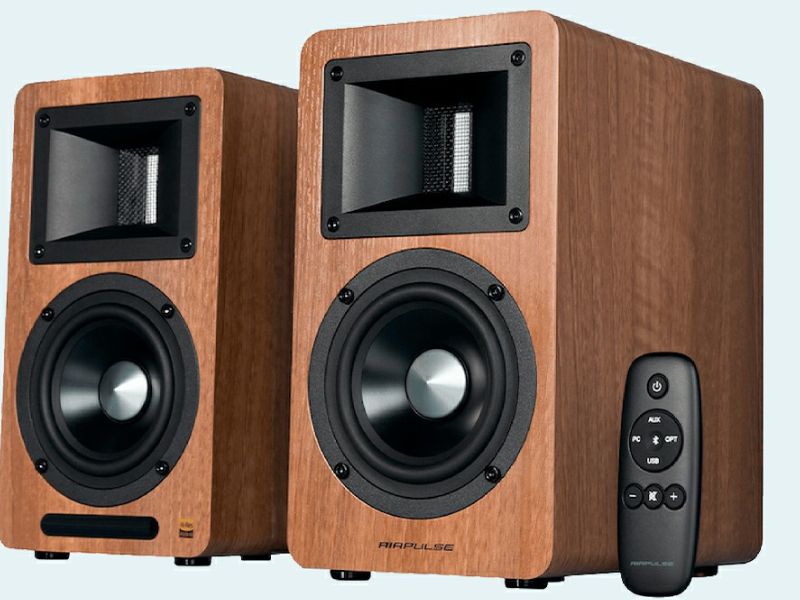 For those with deeper pockets and a higher appreciation for sound quality, consider the AirPulse A80 from Edifier. The high-end active bookshelf speaker system offers the best audio-enhancing features, including a unique horn-loaded aluminium ribbon tweeter and a proprietarily-designed 4.5-inch aluminium cone mid-woofer driver. They are housed in an 18mm thick high-strength, medium-density fibreboard (MDF) cabinet with a gorgeous walnut finish designed by renowned audio engineer Phil Jones.
Also notable is its use of transparent audiophile-grade speaker cable for the internal wiring which ensures signals are transferred with utmost accuracy and minimum loss, resulting in highly-detailed sound. The speaker set comes with Bluetooth connectivity and remote control too.
Dimension: 140mm x 250mm x 220mm (W x H x D)    
Weight: 9.3kg
Colour(s): Wood
3.   Hivi SWAN OS-10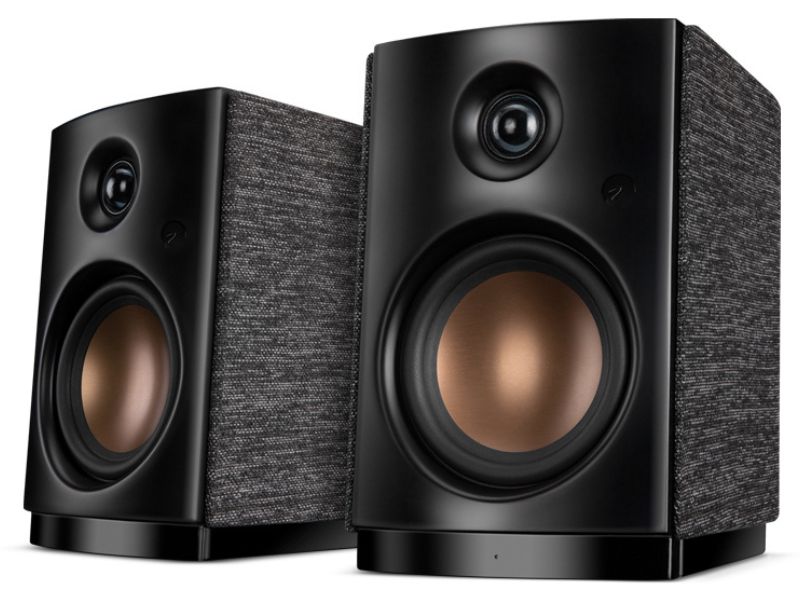 Compact but packing a lot of punch, the Hivi SWAN OS-10 has a lot of features built into its small package. It features professional acoustics design tweaks such as a streamlined side that effectively reduces sound waves to create cleaner output and an acoustic horn design for better audio positioning. Meanwhile, a 4-inch large dynamic woofer delivers the oomph.
It is no denying that this Bluetooth stereo active speaker set is a looker too. Sporting a sleek black matte front panel and mesh grey woven mesh sides, they will look good in any modern home setting.
Dimension: 133mm x 202mm x 190mm (W x H x D)  
Weight: 2.2kg
Colour(s): Black
4.   Audioengine A2+
Works with phones, desktop computers, laptops, TVs with analogue output, CD and DVD players, turntables, and video game consoles, among others, the Audioengine A2+ speakers are some of the most versatile in the market. Besides that, it has built-in analogue power amplifiers, aptX codec, custom aramid fibre woofers, and silk tweeters to pump out great sounds. 
Aesthetics-wise, the Audioengine A2+ also comes in glossy white (besides the standard black) which makes it appealing to more people looking for more style variations.
Dimension: 102mm x 152mm x 133mm (W x H x D)   
Weight: 4.6kg
Colour(s): Satin Black, Gloss White
5.   BlitzWolf BW-WOO2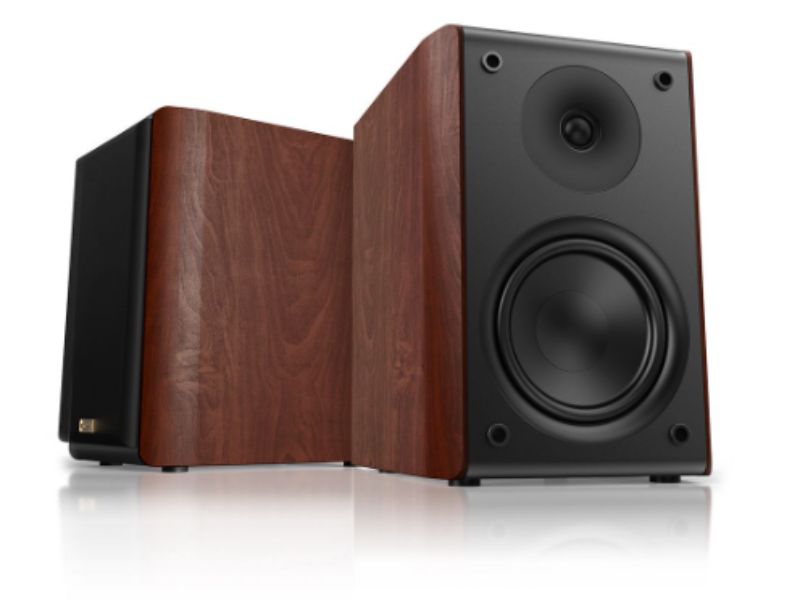 Featuring large speaker units and 360-degree stereo audio output, the BlitzWolf BW-WOO2 will transport you to wonderful musical clouds. You can also conveniently adjust the equaliser (EQ) to your liking through the side control panel, which also houses the volume knobs and toggle inputs. The availability of both Bluetooth connectivity and dual RCA output let you connect a plethora of devices wired and wirelessly. As always, the classic wooden finish made of high-quality wood will add aesthetic points to any space.
Dimension: 192mm x 290mm x 255mm (W x H x D)
Weight: 9.6kg
Colour(s): Wood
6.   Triangle Borea BR02
The Triangle Borea BR02 is among the most compact speaker of its range and yet will surprise you with the sound amplitude and immersion it provides. It can transpose the richness of the voices and instrument tones while maintaining a decent amount of bass thanks to its 25mm EFS silk dome tweeter and a 13cm transducer with a natural cellulose paper membrane. 
If you have a home theatre setup, you can also use this speaker set as an effect channel for surround sound or Atmos audio experience.
Dimension: 176mm x 310mm x 274 mm (W x H x D)  
Weight: 4.6kg
Colour(s): Black
7.   Kanto YU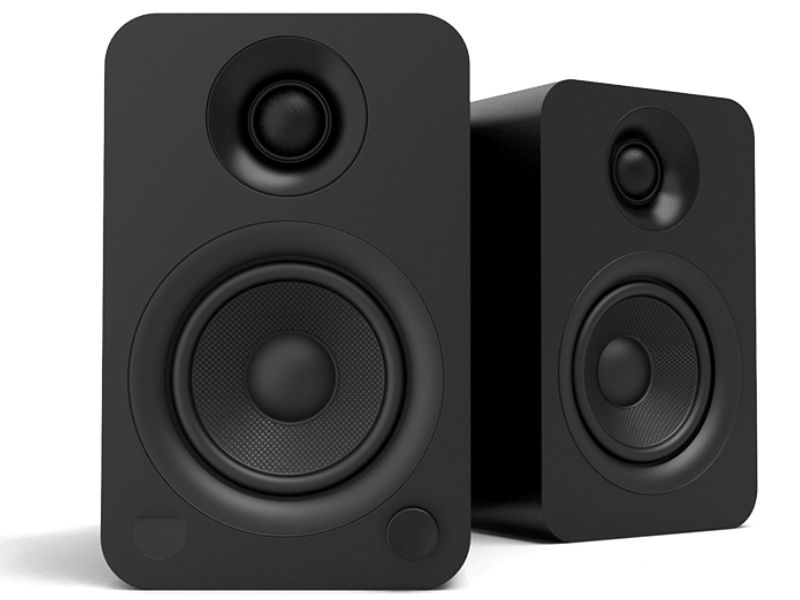 The Kanto YU has all that you need to deliver exceptionally smooth, natural sound. Its 4-inch Kevlar drivers and 1-inch silk dome tweeters produce a high-frequency range and improve sound dispersion which ensures every sound is captured by your ears, regardless of where you are in the room. On top of that, its signal detection feature helps conserve power when it detects that you're not in the room.
Comes with Bluetooth 4.2 with aptX, a single RCA input that covers all your analogue needs, and a remote control.
Dimension: 140mm x 190mm x 220mm  
Weight: 2.8kg
Colour(s): Black
Fill Your Room With Eargasm Audio With The

Best Bookshelf Speakers
Choosing the best bookshelf speakers can be a daunting task, but with careful consideration of your budget, space, and audio preferences, you can find the perfect set of speakers to elevate your listening experience. Whether you're a music enthusiast, a movie buff, or a gamer, a quality set of bookshelf speakers will provide the best immersive and accurate sound that enhances your entertainment. And not to mention, an eye-catching piece of home decor!
Looking for more speaker options for the home? Be sure to take a look at our best PC speakers and soundbars recommendations!
Check out Electronics Zone for unbeatable deals on the best smartphones, gadgets, peripherals, and more every Thursday!