For many, the beef wellington is introduced on-screen in Gordon Ramsay's fiery kitchens. From the chaos of Hell's Kitchen to MasterChef's competitive circuits, this classic rustic British dish follows the Michelin-starred chef wherever he goes because after all, it's a world-famous signature that's ubiquitous in the Gordon Ramsay group of restaurants. And the good news? You don't need to travel to London, New York or Paris to savour it. There are spots that serve beef wellington in Malaysia, including the recently opened Gordon Ramsay Bar & Grill in Sunway Hotel. 
What's So Special About Beef Wellington? 
The beef wellington is a dish of many parts. Generally, there's a chunky steak (tenderloin and filet mignon are the preferred cuts), rich duxelles (mushroom paste), crepe, and in some cases, the inclusion of foie gras or prosciutto. These premium ingredients are then encased in a buttery puff pastry before it's oven-roasted to achieve a golden-brown finish. 
All in all, it's a speciality culinary creation that takes years of practice and precise timing to get right. You've seen professional chefs screwing up the dish under the watchful eyes of Chef Ramsay, right?
Is Beef Wellington Made By Gordon Ramsay?
Although it's known to many as his pièce de résistance, Gordon Ramsay didn't invent the beef wellington. The origin of the dish remains unclear as some historians believe it is named after Arthur Wellesley, the first Duke of Wellington, while others speculate on its roots in America. Like many of the world's most recognisable dishes, it's a composition of different influences that ultimately shape the beef wellington we know today. 
The Restaurants Where You Can Get

Beef Wellington In Malaysia

 
Whether you're trying it the first time or going for seconds, these spots should be on your radar.
1. Gordon Ramsay Bar & Grill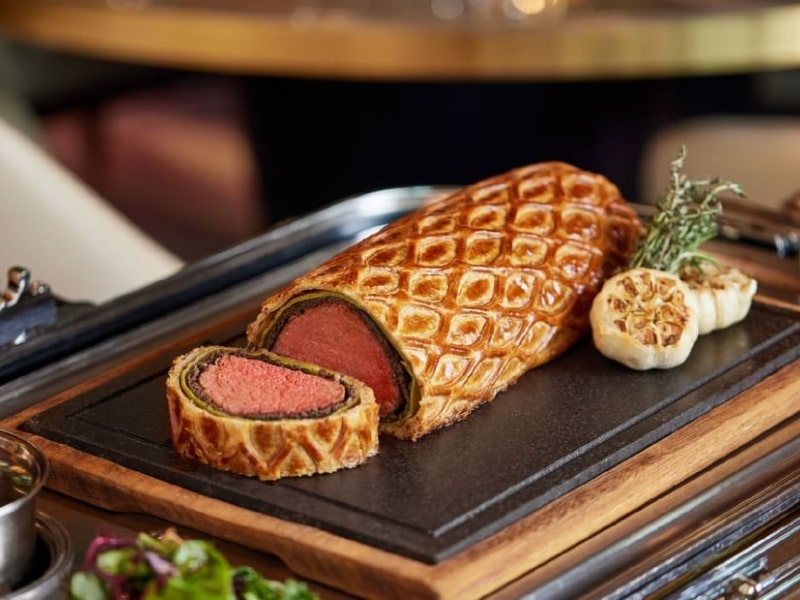 It's only appropriate to start the list with a Gordon Ramsay establishment, and his first in Malaysia. Years in the making, Gordon Ramsay Bar & Grill in Sunway Hotel opened to much fanfare after delays due to the pandemic. Furnished with polished walnut flooring and monochrome portraits of British icons like Sir Sean Connery and Mick Jagger of The Rolling Stones, the restaurant is where you can get beef wellington in Malaysia, one that's certified by Gordon Ramsay himself. Within the buttery puff pastry is a medium rare tenderloin sitting in a luscious bed of mushroom duxelles and parsley crepe—served tableside.
Address: Gordon Ramsay Bar & Grill, Lobby Level, Sunway Resort, Persiaran Lagoon, Bandar Sunway, 47500 Subang Jaya
Opening Hours: Daily, 6pm – 10.30pm
Contact: 03-7492 8000
Related: Gordon Ramsay Bar & Grill At Sunway Resort Finally Opens! Here's A Glimpse Into The Menu
2. Grub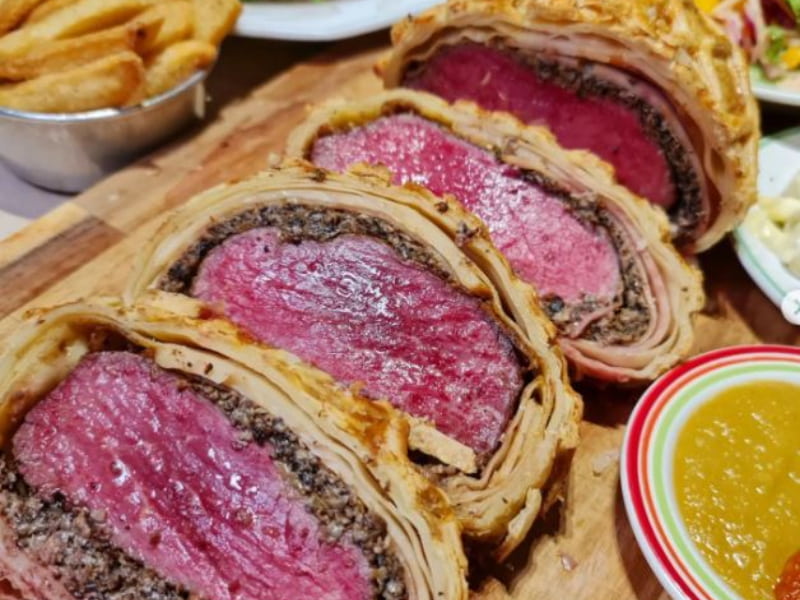 Section 17's Grub approaches Western fare in such an unassuming, laidback fashion that it's hard to leave here without an impression. A good impression. Not only are the steaks among the most affordable by Klang Valley standards, but you'll also still get well-seasoned cuts of meat cooked at your preferred temperature. Now, Grub is taking a stab at beef wellington in Malaysia with its own spin. Grass-fed tenderloin, mushroom duxelles, and thin chicken strips complete the trifecta of ingredients. Each serving comes with sides like potato salad, steakhouse fries, and more. 
Address: 608, Jalan 17/10, Seksyen 17, 46400 Petaling Jaya
Opening Hours:
Tues: 5pm – 9.30pm
Wed – Sun: 11am – 9.30pm
Contact: 014-607 2983
3. Cork & Cleaver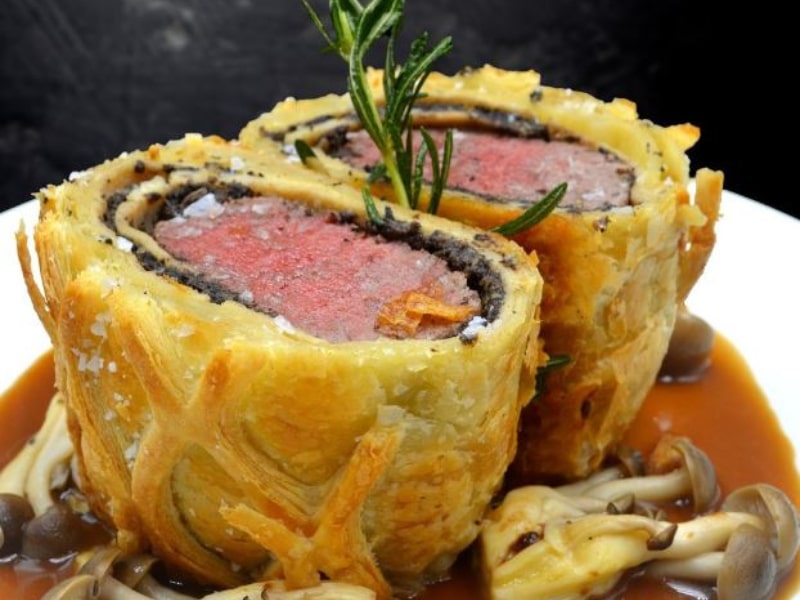 Both a retail butchery and a restaurant, Cork & Cleaver is a one-stop shop for the sustenance of different cuts and nationalities. Whether you're looking for the best Australian sirloin or melt-in-your-mouth Wagyu cuts, you'll most likely find them all on display here. If shopping for red meats has worked up a ravenous appetite in you, the KL location also serves a mean beef wellington consisting of mushroom duxelles as well as shallots and herbs. 
Address: Unit A2, Taman Tunku, Off, Jln Langgak Tunku, Bukit Tunku, 50480 Kuala Lumpur
Opening Hours: Daily, 10am – 10pm
Contact: 012-367 4947
4. Just Sear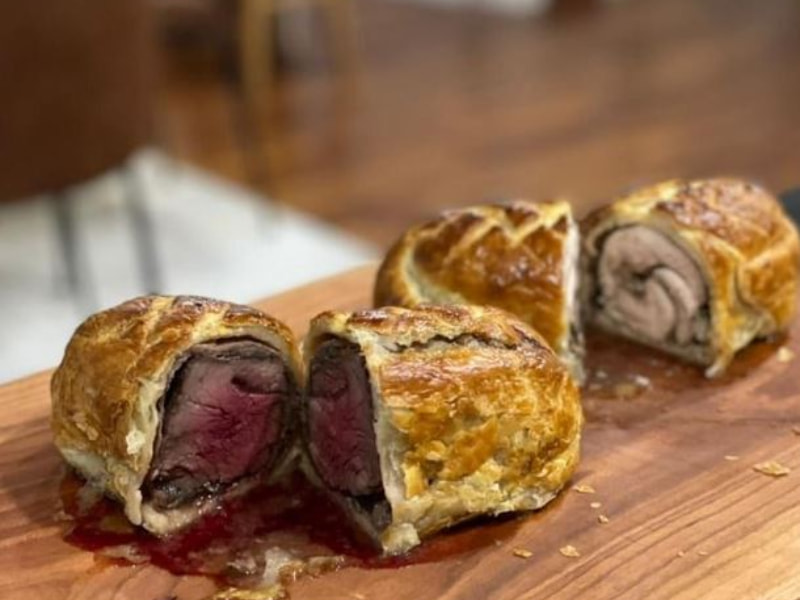 Just Sear probably has the most extensive selection of beef wellingtons in Malaysia. While most spots only have one cut of protein, there are three to choose from: sirloin, Wagyu MB9, and Wagyu A5. But the experimentation doesn't stop at beef cuts. The Ampang steakhouse also has chicken or lamb wellingtons! Great for diners who can't consume beef. 
Address: G03-R3 M Suites, 283, Jln Ampang, 50450 Kuala Lumpur
Opening Hours: 
Tues – Sun: 12pm – 10pm
Contact: 012-322 1885
Website | Facebook | Instagram 
5. Maria's Steakhouse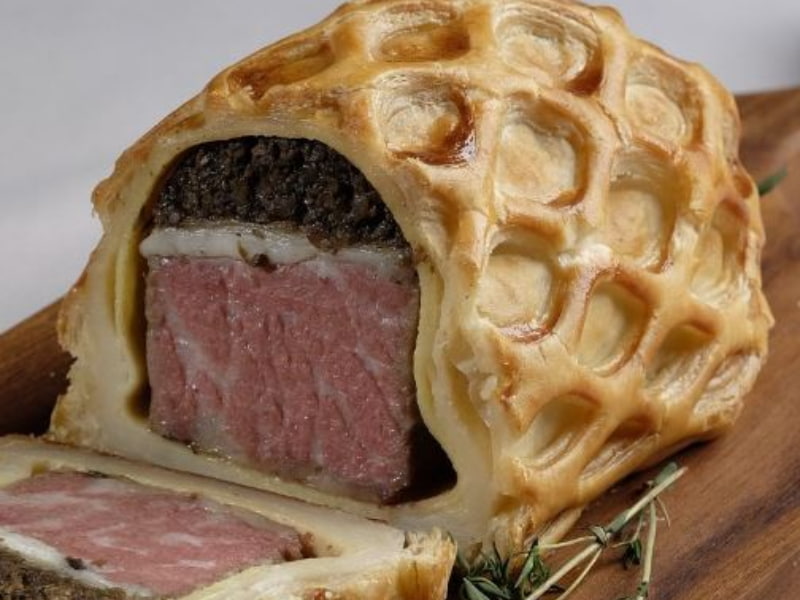 Maria's Steakhouse is one of the longest surviving steakhouses in KL, and it's for good reason. For years, the steaks have been consistently delicious while the menu is always expanding to keep up with the times. And now loyal patrons can sink their teeth into oven-fresh beef wellington in KL at all Maria's Steakhouse locations, which comes stuffed with foie gras!
Address, Opening Hours & Contact: 
Bangsar
58, Jalan Maarof, Bangsar, 59100 Kuala Lumpur
Daily, 12pm – 11pm
03-228 22220
KLCC
Lot 157, First Floor, Suria KLCC Shopping Center, Jln Ampang, 50088 Kuala Lumpur
Daily, 11am – 10pm
010-902 0386
Website | Facebook | Instagram
6. El Iberico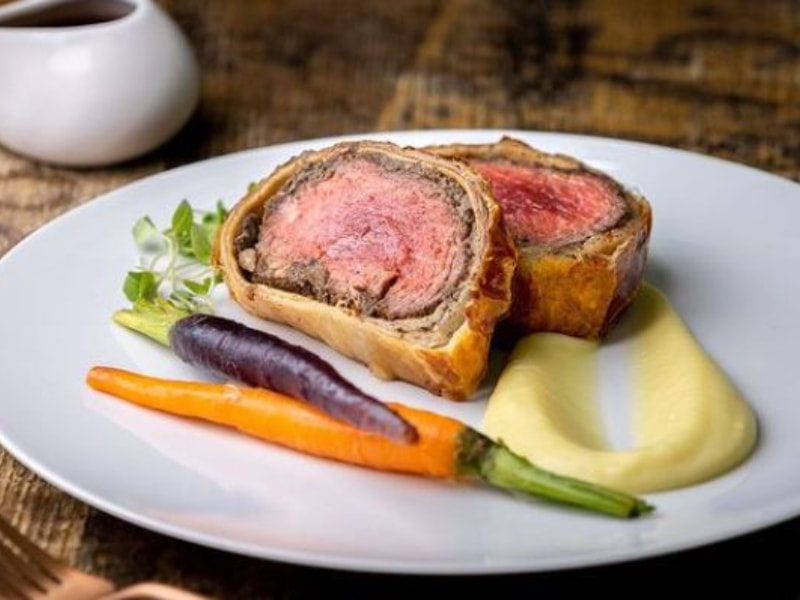 El Iberico's mini beef wellington in KL is perfect for one. Served with mashed potatoes and luscious red wine sauce, it's just enough to satisfy your cravings without needing seconds. If you're put off by red meat, the salmon wellington is a choice option of salted potatoes and appetising cherry tomatoes and passion fruit sauce. 
Address: G-01, Seri, Bukit Ceylon, 50200 Kuala Lumpur
Opening Hours:
Tues – Sun: 12pm – 10pm
Contact: 03-2713 7199
Bookmark These Locations The Next Time You're Looking For

Beef Wellington In Malaysia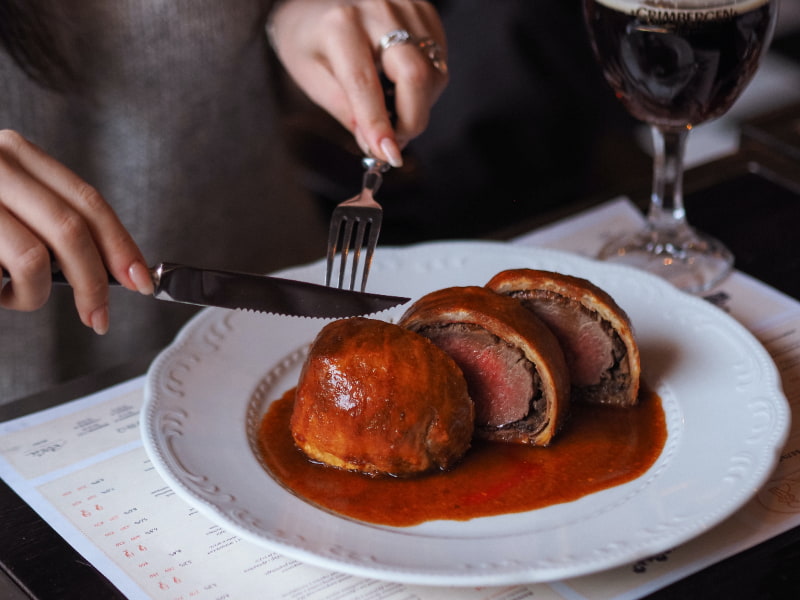 Granted, there are only a handful of restaurants that serve beef wellington in Malaysia (if we've missed out on any, let us know). Gordon Ramsay Bar & Grill at Sunway Resort is obviously a reliable choice. But if you can't wait four to six months for a table, then the other spots on the list are worth checking out too. 
Always wondered how steak temperatures work? What exactly is medium rare? Read our explainer on the different steak cooking levels and what they mean. For more curated food guides, check out our latest editions on the best restaurants in Kota Kinabalu, what's good to eat and drink in Mid Valley City, and REXKL's modern and forward-thinking "hawker centre".