About to become a parent of twins or simply expanding your little family with the addition of baby number two? Then a double stroller is definitely going to be part of your to-buy list! After all, it's a must-have for getting around, whether for a casual stroll in the park or a trip to the mall. So, if you're expecting two bundles of joy soon (or need to get around with two infants or toddlers in tow), here are some great strollers for twins to consider investing in.
How To Choose A Double

Stroller For Twins
Choosing the best stroller for your twins will ensure your babies feel comfortable on-the-go. What's more, it'll offer much-needed storage for all the going-out baby essentials you'll need to lug around. Consider your lifestyle and how you intend to use and store the stroller before picking one.
A

double stroller

that's safe, easy-to-use, and reliable should be your priority.

If you pass through narrow doorways or streets often, a

tandem stroller

(where the two seats are in a single file) would be most ideal. 

Lead an active lifestyle? A

jogging stroller

equipped with good suspension is suitable for you. 

A

convertible or travel-friendly stroller

is great if you need to stow it away in a small space regularly. 

Finally, do set aside a budget for the double stroller because granted, they're going to cost quite a bit. 
Types Of Double

Strollers For Twins 
Side-By-Side Twin Strollers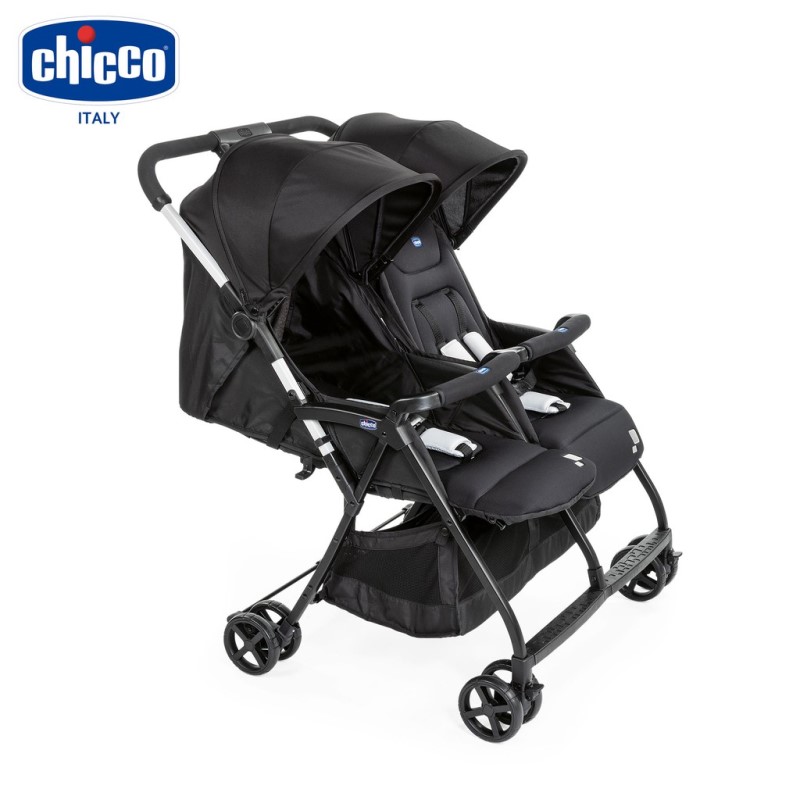 As its name suggests, the side-by-side double stroller allows your twins to sit next to each other at the same level. Despite being big and bulky, its larger size offers generous storage space. You'll also get lots of stability and balance when you navigate sharp turns on a street. Plus, its side-by-side arrangement makes it easier to fit into most car boots. That said, it could be difficult to squeeze through narrow alleys or doorways due to how wide it is. 
If a side-by-side stroller for twins is what you're looking for, the Chicco Ohlala Twin Stroller is a good choice. Suitable for newborn twins up to the age of three, this twin stroller comes equipped with many features. Think fully reclining seats, adjustable leg rests, a compact and foldable design that only weighs 8kg, a five-point padded safety harness, and an extendable hood including a raincover. The joined handle also makes it easy to manoeuvre with one hand. 
Tandem Twin Strollers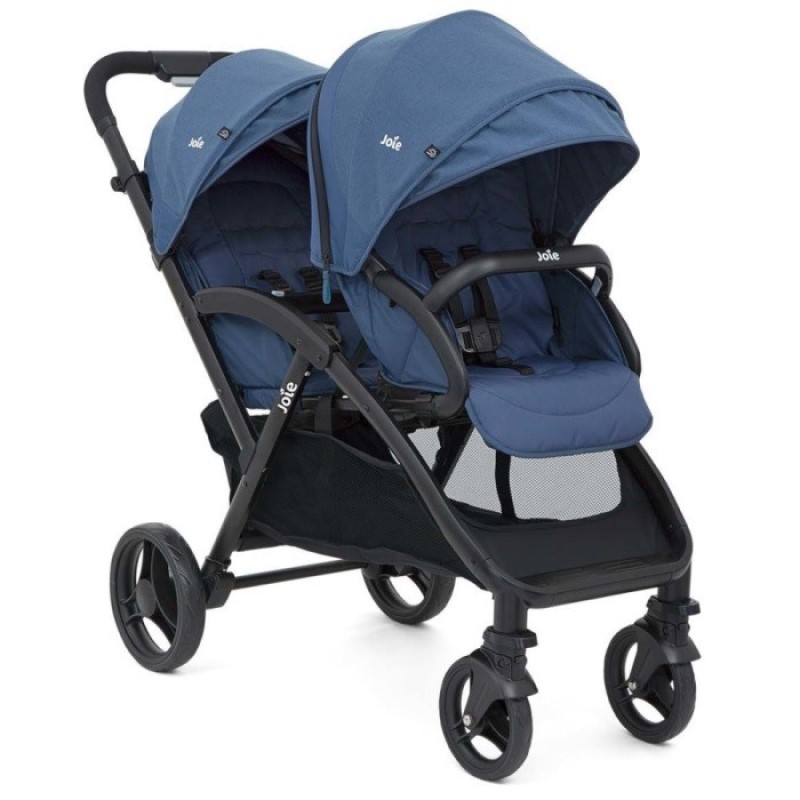 Also known as an in-line stroller, a tandem stroller refers to a double stroller for twins where one seat is positioned in front of the other, in a single file. Usually, one seat may be raised higher than the other while other designs may come with both seats facing each other (allowing your toddlers to interact). Since the seats are in a single file, it'll be easier to manoeuvre through narrow alleys, doorways, and lifts. Along with its rather large build, you can expect ample storage space for baby essentials like diapers, wipes, and pacifiers. 
The Joie Evalite Duo tandem stroller is a good investment thanks to its all-round features. This includes the five-point safety harness, multi-position reclining front and rear seats, built-in UPF50+ sun canopy, and an extra-large storage basket. It's also suitable for newborn twins and toddlers up to 15kg each. 
Lightweight Twin Strollers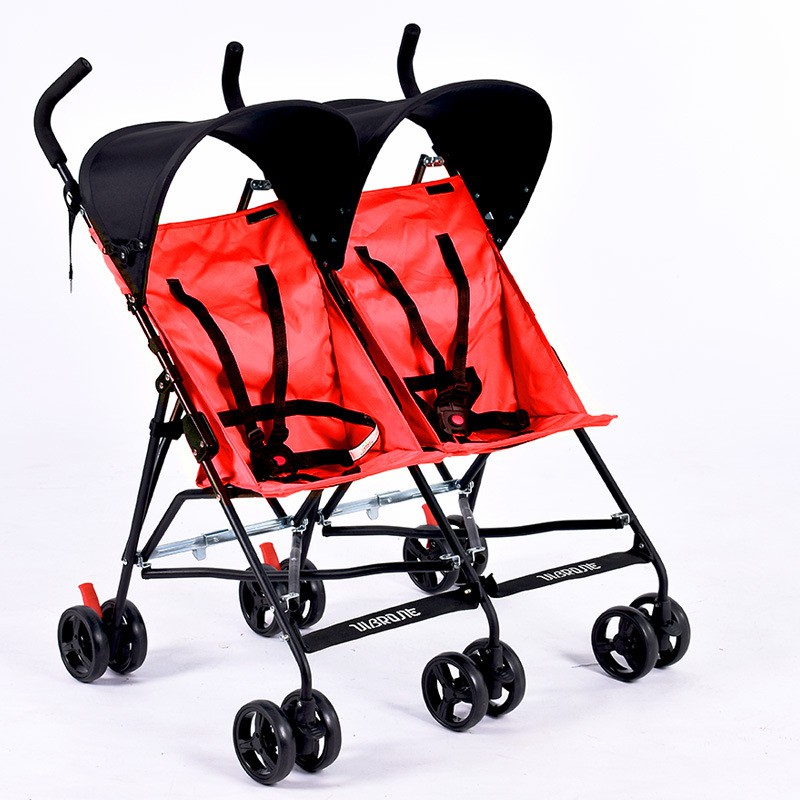 If portability is your priority, a lightweight stroller for twins is your best bet. Also referred to as an umbrella stroller, a lightweight double stroller is a great option if you're not a fan of the bulkiness that comes with a full-sized, high-functioning stroller. Most lightweight strollers for twins tend to weigh at about 7kg and below. So you know they're going to be easy to handle, even if you've got two infants in tow. They're also easily foldable and thanks to their slim frame and design. Plus, they won't take up much space when you stash them away. 
This twin umbrella stroller is a great lightweight option weighing at just 7kg but can support two kids of up to 35kg. It also comes equipped with a safety belt on each seat, along with 12 wheels in total for an even weight distribution while you transport your little ones.
Jogging Twin Strollers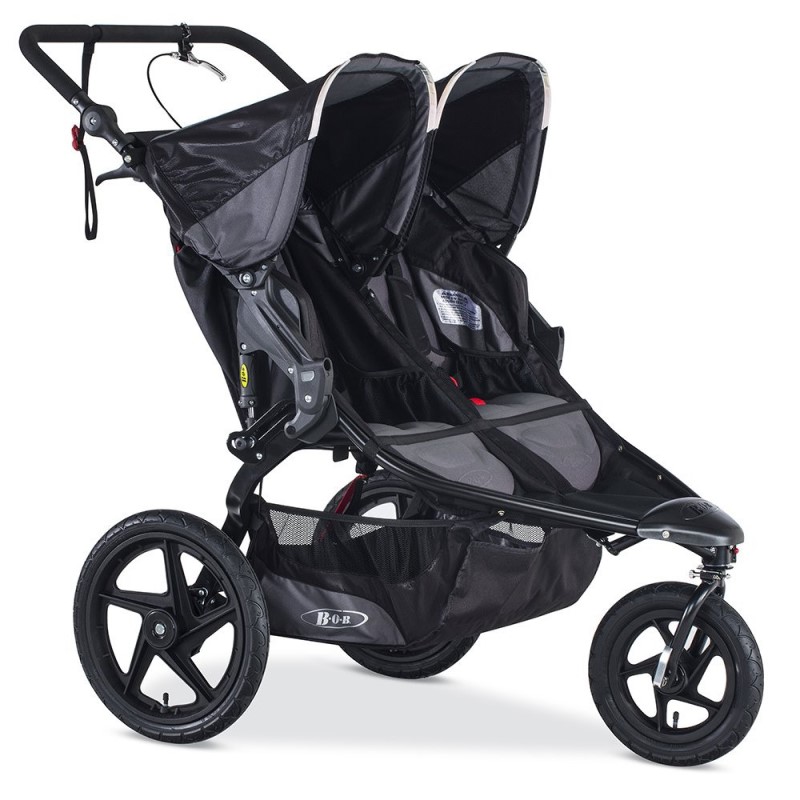 Love going for a light jog or leisurely stroll in the park but can't bear to leave your twins at home? A jogging stroller is right up your alley! Jogging strollers for twins should be your first option if you consider yourself an active parent. After all, the most distinctive feature of jogging strollers is their large and sturdy wheels as well as the suspension system for a smoother ride on different terrains. The Bob Revolution Pro Duallie jogging stroller is a deluxe option that offers just that, with its notable feature being its air-filled tires that offer a mountain bike-style suspension. This helps absorb bumps and soften the impact of rough terrains, be it on boardwalks, cobblestone streets, beaches, or trails. 
Meanwhile, its locking swivel-front wheels provide stability as you jog. For downhill slopes,  the hand-activated rear drum brakes allow you to have maximum control. Your twins can sleep comfortably as well, thanks to the near-flat reclining seats. Lastly, the extra large and well-ventilated UPF50+ canopy ensures a cool and comfy ride. 
Safety note: Do get a clearance from your child's paediatrician before using a stroller while jogging.
Convertible And Travel-Friendly Strollers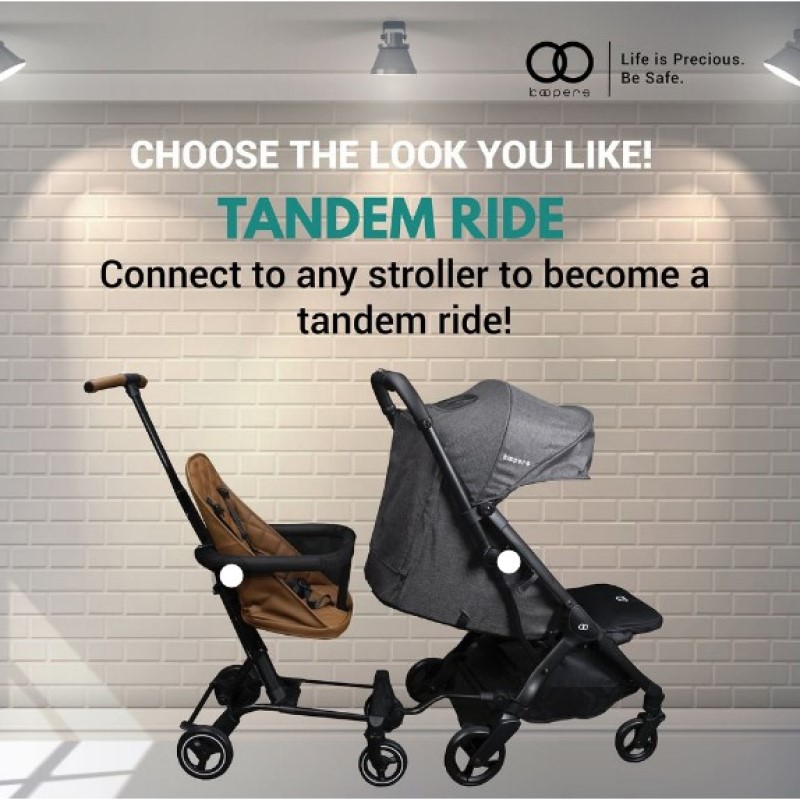 If you're always on-the-go, taking your twins with you when running errands or for a quick getaway, consider investing in a travel-friendly stroller or a convertible stroller that gives you multiple uses for different scenarios. This Koopers co-rider stroller, for instance, is a convertible 3-in-1 stroller that allows you to use it as a standalone stroller on its own, or as a tandem double stroller when you attach it to your existing single stroller. FYI: It has a unique connector that's compatible with most strollers. When your toddler gets older, train their motor skills by using it as a kickboard rider. Other nice-to-haves about this convertible stroller is its 12-month warranty and compliance with most airlines' cabin requirements. 
Consider yourself a frequent traveller? Then the Baby Throne cabin-sized twin stroller is worth checking out too. This advanced stroller for twins comes with multiple accessories and connector sets to make your adventures a breeze. For starters, you can fold up and unfold the stroller in two easy steps using just one hand. Secondly, it fits perfectly into an overhead cabin. Other features include the front-wheel suspension with anti-shock system, 360-degree rotatable wheels, wider angle adjustable seats, UVF30+ sunroof, spacious storage baskets, as well as a mosquito net and repellent. 
Going Out Is Hassle-Free And Convenient With The Right Double

Stroller For Twins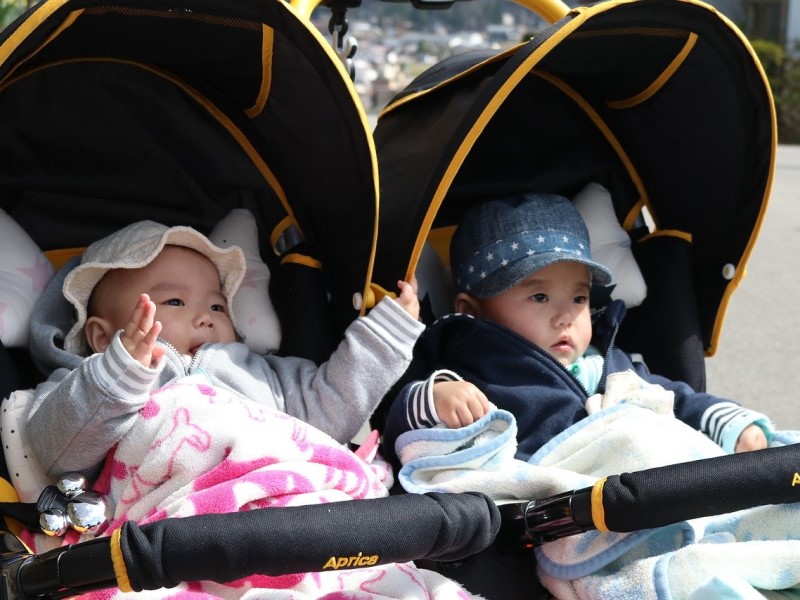 With so many great options to consider in the market, we hope this list has helped you better understand the different types of double strollers for twins. Choosing the right stroller that fits your lifestyle, budget, and family needs will require some planning and research. But once you've found "the one", it will make all the difference in your day-to-day life! Not sure what to expect in your twin's first year? Learn more about the different phases of their growth and development in this article. To get the best deals on baby products, don't forget to join our Mum's Club to enjoy exclusive membership perks like discounts and vouchers!