Hand sanitizers have become one of our new best friends during the present pandemic times, and will likely continue to be so for the foreseeable future. Along with protective face masks, many of us dare not leave our homes without them. Some have gone even further by roping in sanitizer spray guns to their self-protection arsenal. However, there have been concerns regarding their effectiveness as well as safety. Are they something that you should consider using? Here's what you need to know about these highly sought-after tools.
What Are

Sanitizer Spray Guns

?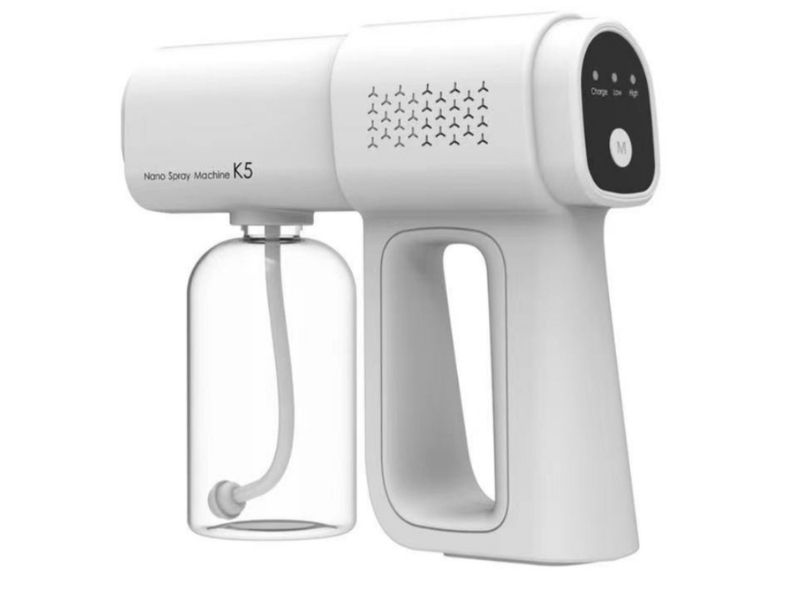 Sanitizer spray guns—also known as sanitizer spray machines or nano mist sanitizer guns—are portable handheld machines that take the concept of hand sanitizer spray to a whole new level. These cordless, battery-powered tools come with a trigger that, when pulled, will discharge "nano mist" from a disinfectant solution (stored in a small tank attached to the spray gun) at a much higher load.
It covers a larger surface area with disinfectant more effectively than a tiny hand sanitizer bottle does. You probably have seen one being used in places like shops, shopping malls, and workplaces more commonly these days. You might have even caught a glimpse of some individuals using it to spray on the body parts of another fellow person.
Understandably, you might have considered getting one for yourself or your family as they seem to do a more efficient job of disinfecting. But before you put in an order for one, there are some crucial things to keep in mind. 
Are

Sanitizer Spray Guns

Safe To Use?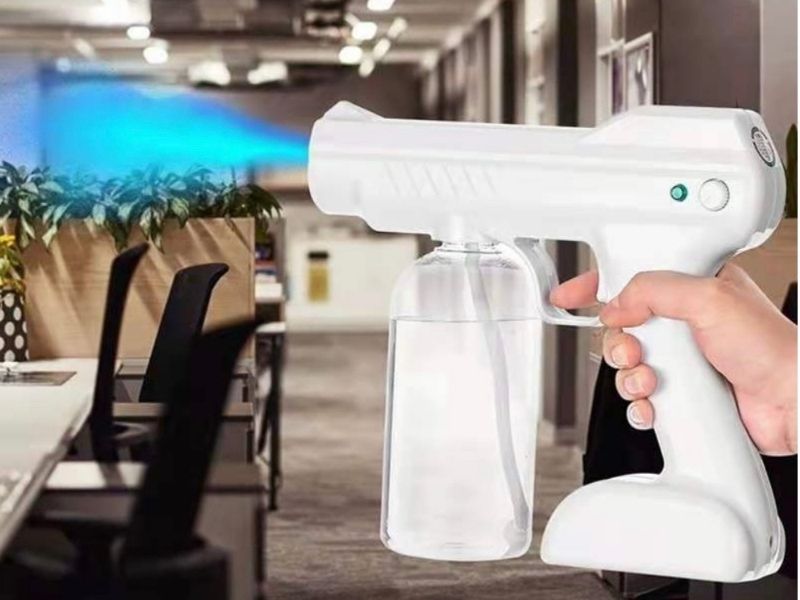 As sanitizer spray guns grew more popular in recent months, there is more scrutiny on them too. They even made national news not too long ago as health experts weighed in on the issue. So, what's their verdict?
All seemed to agree that they should not be used to spray on people. The major concern is that the chemical solution in the spray can pose a potential health hazard. Bleach mixes, such as chlorine dioxide, are common solutions used and sold online, but these are bad for the skin. They can also cause coughing, sore throat, blurry vision, and watery eyes, which could be symptoms of a much bigger problem. Or worse, serious health problems such as tissue and blood cell damage could also arise. 
The mist discharged is so small that it can be easily absorbed through the skin and potentially travel to the throat. Then, there is also the risk of chlorine dioxide being combustible if stored in places with high temperatures. Despite all the warning signs, you can still use a disinfectant spray gun on inanimate objects and high-touch surfaces such as tables, chairs, door handles, and packages, followed by a wipe down.
The rule of thumb is one should never use them to spray on people or animals. Exercise caution when using it on surfaces far away from people and foodstuff. Also, do prior research on the disinfectant solution and verify that they are safe to use. On the other hand, if you find yourself in a situation where a disinfectant spray gun is about to be used on you, gently refuse and inform the user of your concerns.
Sanitizer Spray Guns

Are Widely Available Online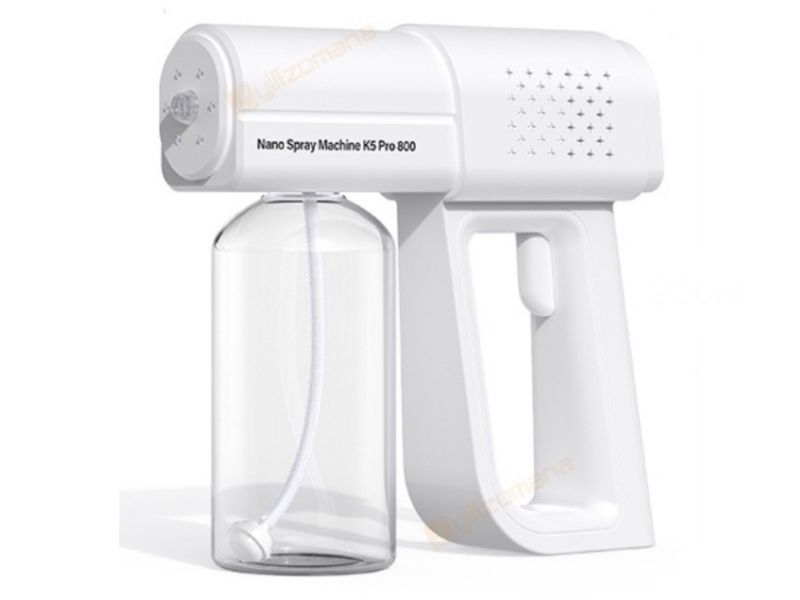 Should you decide to get one after considering the risks, there is no shortage of options available on Shopee Malaysia. You can find these pistol-shaped machines at affordable price tags. Some of the most popular models are from sellers Yilizomana and Pissardo that come equipped with UV lights.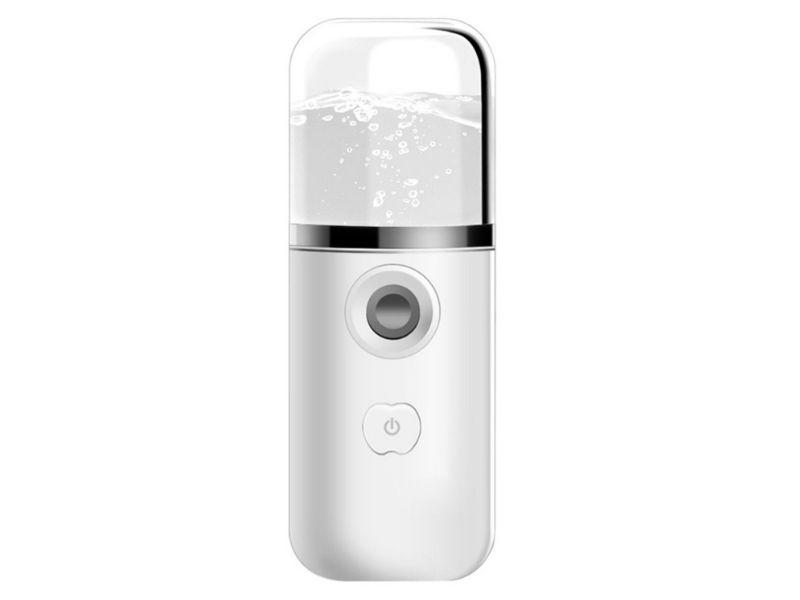 Alternatively, you can go for the more portable pill-shaped sanitizer spray. It is much smaller in size and can be easily carried around in a handbag, backpack, or even the pocket of your pants. You can consider this option or this one, which can be purchased for less than RM20.  
Use

With Caution & Always Remember The Three Golden Rules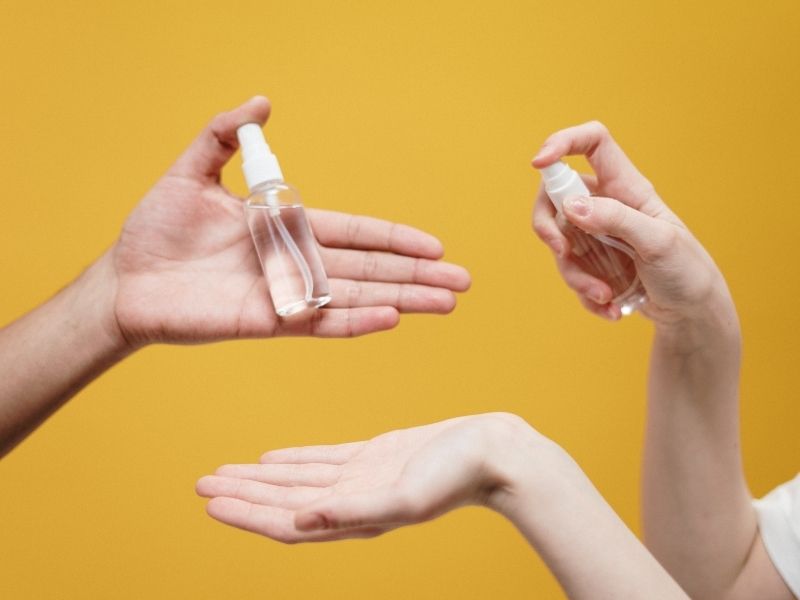 We can't stress enough that one should use these disinfectant spray guns with the utmost caution. Using them the wrong way could cause additional harm to us and others, and that is the last thing we need. As we are constantly seeking ways to better protect ourselves and our loved ones, we must never stray from the three golden rules. Firstly, to mask up at all times when you leave home. Secondly, to always maintain a healthy distance from people not living in the same household. And lastly, to sanitize or wash your hands with soap whenever possible. Stay alert and stay safe!
Related: Why And How You Should Be Sanitizing Your Phone
Check out Tech Thursday for 1-day only lowest price, unbeatable deals, and extra 20% Coins Cashback every Thursday!