As a millennial, deciding on a place to meet up with friends these days requires two very important criteria. The first: tasty brunch food and desserts. And second: an Instagrammable interior. After all, if you're going to be snapping lots of photos anyway, might as well make it count with some gorgeous backdrops that will elevate your social media game, right? Thankfully, that's something our city has plenty of. By now, there are heaps of Instagram-worthy cafes in KL and Petaling Jaya that it's easy to even come across one without trying.
Hence, if you're looking for something fresh and aesthetically-pleasing for your social media feed, look no further. Below, we gather a list of cafes in KL and PJ that will guarantee lots of pretty Instagram photo-ops in every corner. 
Instagram-Worthy Cafes In KL With Stunning Interiors
Pokok KL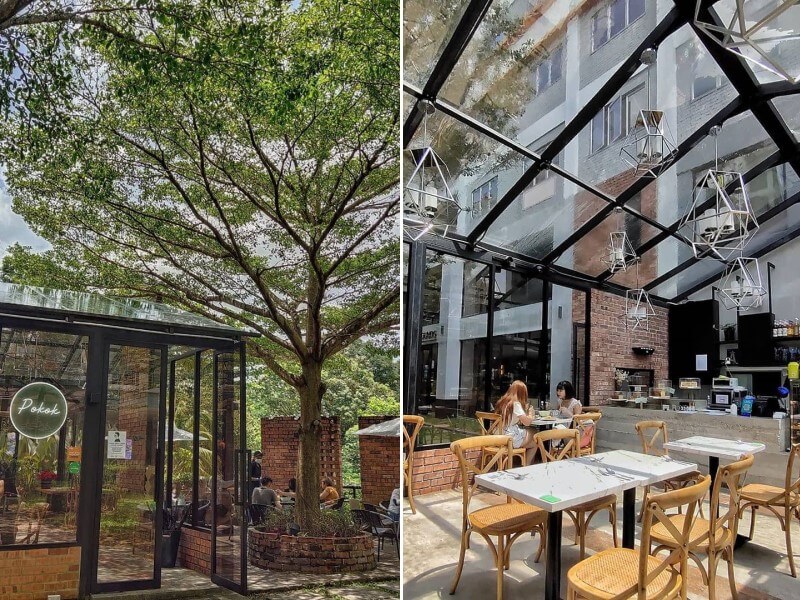 There's nothing better than having natural light illuminate your shots! At Pokok KL, that's exactly what you'll get thanks to its glass house-like design comprising floor-to-ceiling glass panels. Brick walls make up the rest of the urban architecture while lots of lush greenery like trees and potted plants lend a nice laid-back ambience of being one with nature. With such a beautiful and peaceful setting, it'll be hard to resist whipping out your camera to snap photos of this Instagram-worthy café in KL. They've also got a predominantly western menu that consists of brunch food like big breakfasts and baked eggs, to lunch favourites like burgers and pasta – all of which look equally good for the 'gram.  
Address: MAHSA Avenue, Block B, Level 1 Jalan Ilmu, Off Jalan Universiti, 59100 Kuala Lumpur
Contact: 03-8408 1811
Oh Cha Matcha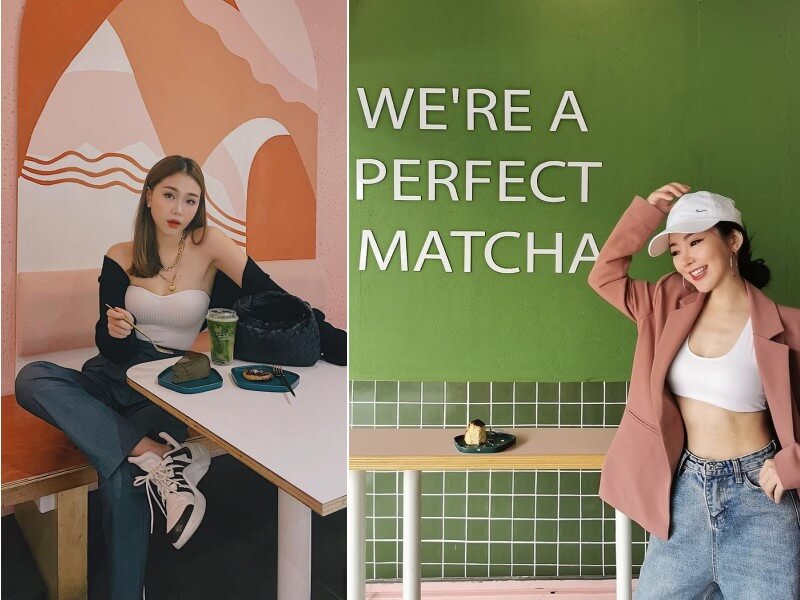 If you're obsessed with all things matcha and the colour green, Oh Cha Matcha is your happy place. Heavily decked out in olive green and pastel pink hues along with punny phrases sprinkled throughout the space, this Instagram-worthy café in KL is truly a visual treat with a cute concept. Besides the famous photo-op wall where the slogan "We're a perfect matcha" is, there are also other photogenic angles accompanied by chic décor to get your photo taken at.  
Taking pride in offering premium matcha beverages, the green tea lattes here have a distinct savoury umami taste that's low in bitterness. In other words, high-quality matcha. Oh, and by default, they use soy milk and stevia, which is a natural sweetener. Also worth your attention is their immune-boosting matcha shots and an assortment of matcha desserts! Matcha burnt cheesecake and matcha crème brulée, anyone?
Address: 130, Jalan Burhanuddin Helmi, Taman Tun Dr Ismail, 60000 Kuala Lumpur, Wilayah Persekutuan Kuala Lumpur
Contact: 03-7732 0397
The Hungry Tapir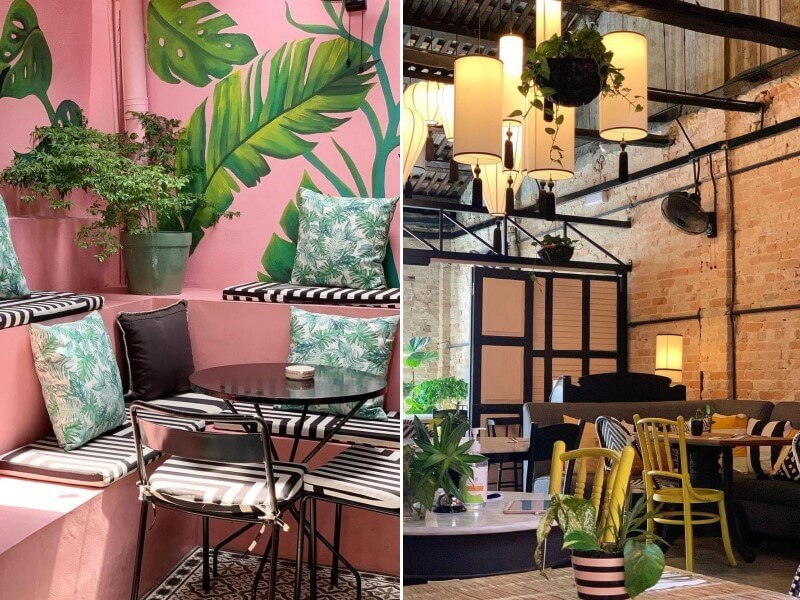 You've probably seen this familiar pink wall with lush tropical leaves on your social media feed several times by now. Enter The Hungry Tapir's wall of fame – aka that popular corner in the back of the restaurant that patrons can't get enough of because it's the perfect backdrop for photographs. Along with the matching tropical print pillows, cushions in monochrome stripes lend a nice contrast that's sure to pop in pictures. Food-wise, you'll find vegan and vegetarian meals that still provide ample protein. Some of the popular orders at this Instagram-worthy cafe in KL include Jungle Laksa, I Love Tempeh Bowl, and Rainbow Ulam Fried Rice.
Address: 135, Jalan Petaling, City Centre, 50000 Kuala Lumpur, Wilayah Persekutuan Kuala Lumpur
Contact: 03-2022 2137
Lisette's Café & Bakery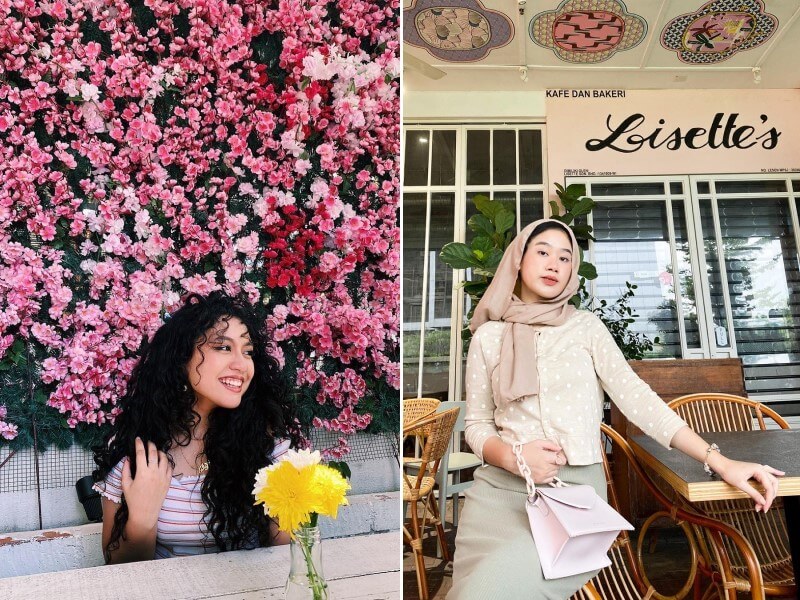 Looking for a pretty brunch spot in Bangsar that's away from the bustling Telawi streets? Hit up this charming little café and bakery along the quieter Jalan Kemuja. Fun fact: Lisette's is named after Nala Designs' founder, which is why you'll see her signature patterns being applied to the space and tableware. Don't miss the most popular al-fresco dining spot where a large mesh wall decked in pink flowers take centre stage. Tip: It's a high-in-demand seating area, so be sure to come early or make a reservation prior.
Coffee, carbs, and eating clean sum up the menu at this Instagram-worthy cafe in KL. Freshly-baked goods, cakes, and pastries are top-notch, making it hard to stop after having just one. On Sundays, there's an all-you-can-eat brunch buffet where a mostly vegetarian spread (plus a few meat options) will make even your carnivorous friends salivate. Definitely a place to indulge sans the guilt!
Address: No. 8, Jalan Kemuja, Bangsar, 59000 Kuala Lumpur, Wilayah Persekutuan Kuala Lumpur
Contact: 03-2201 7772
Instagram-Worthy Cafes In PJ With Cool Backdrops
Roti & Kopi House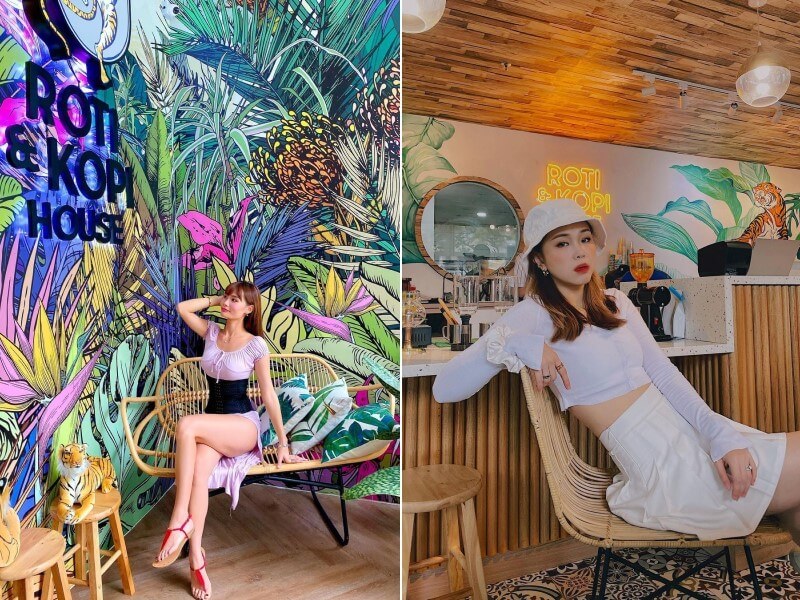 One of the biggest trends adopted by many Instagram-worthy cafes in KL? The tropical jungle theme, whether rendered in 2D murals or actual plants. At Roti & Kopi House, they've incorporated the former in their interior and it's a sight you can't miss, especially when it's got a kaleidoscope of happy hues! This main backdrop aside, there are other corners in the café that are full of photo-op potential, such as the coffee bar and staircase which are both accentuated with banana leaf wallpaper.
If you're craving Malaysian comfort food, they've got you sorted with an array of local cuisine such as handmade Hainan bread, chicken rendang puffs, nasi lemak, assorted kuih-muih, and so much more! Everything here is halal and they also serve their very own special roast coffee.
Address: 101C, Level 1, Tower C, No. 29, Jalan SS21/37, Damansara Utama (Uptown), 47400 Petaling Jaya, Selangor
Contact: 010-834 5188
Divine Fusion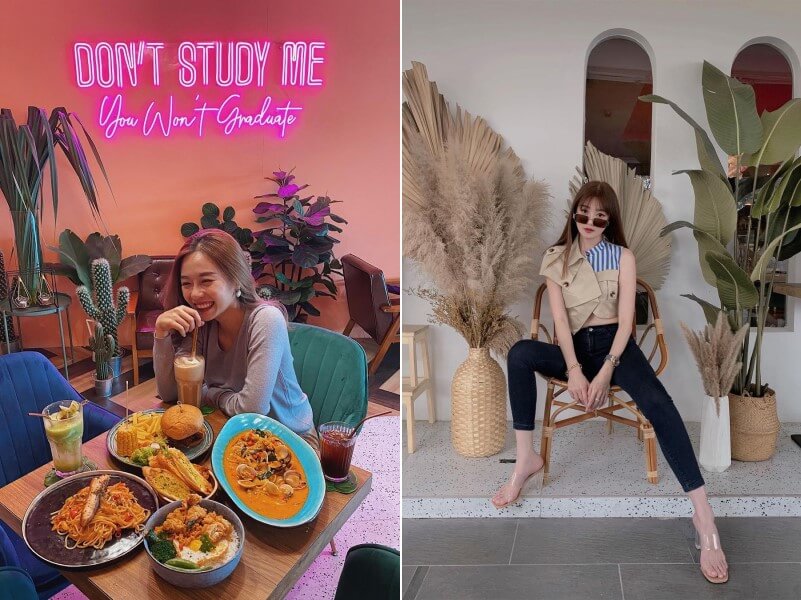 In the heart of PJ lies this little picture-perfect café in SS2 that's beautiful on the inside and out. White walls with a clean Scandi style is what you'll see on the façade and inside, the mood gets warmer with fuchsia ambient lighting, rattan furniture, hipster house plants, and lots of cacti. A quick scroll on social media will tell you that its most popular backdrop is the wall with the neon lights that read, "Don't study me, you won't graduate". Cute!
This eatery has a modern fusion menu and they seem to specialise in seafood dishes. But what caught our eye most is the mantou section, where the fried bun is served with various delicious sauces like Spanish-style spicy prawn and Sichuan mala chicken.
Address: 155 & 155A, Jalan SS2/24, SS2, 47300 Petaling Jaya, Selangor
Contact: 010-406 7012
White Sand Café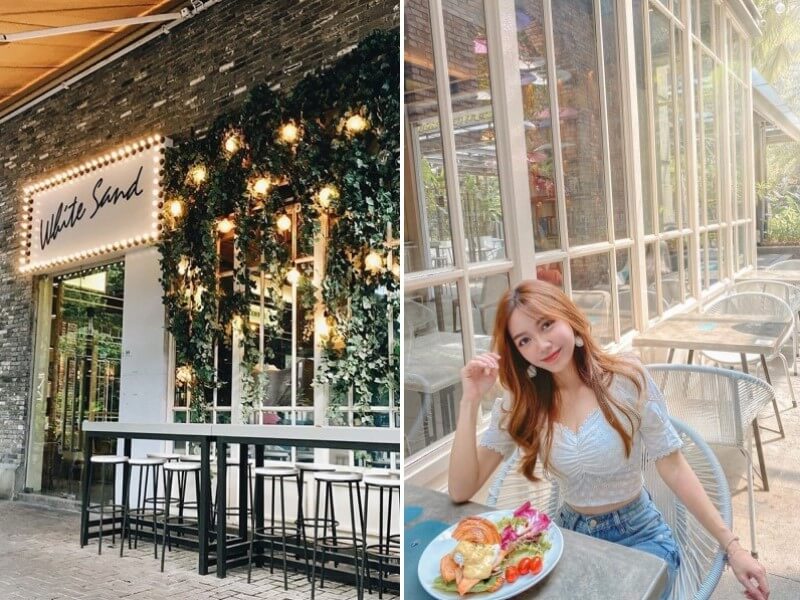 If your IG aesthetic leans towards the clean and minimalist side, you ought to visit White Sand Café. Featuring an interior that's bright and airy thanks to the high ceilings and open space, it's the best spot for taking photos with ample natural lighting. While other Instagram-worthy cafes in KL tend to opt for a colourful palette, this eatery keeps it simple with neutral shades that are subtly complemented with brick walls and a dollop of cascading greenery. Food does not disappoint either, with gourmet breakfast sandwiches and lunch staples on the menu.
Address: Heritage Lane, Ground Floor, Empire Damansara, 47820 Petaling Jaya, Selangor
Contact: 03-7611 0975
Therefore Café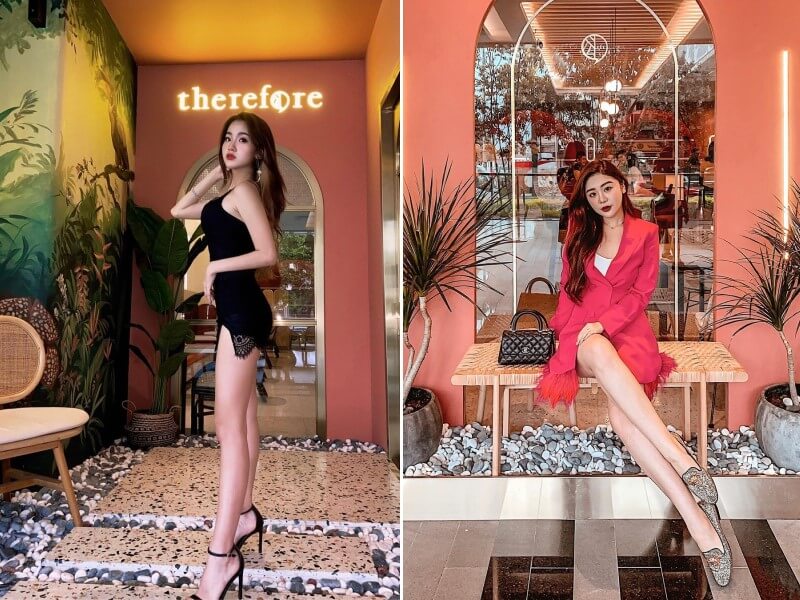 PJ peeps, here's a pink café that's worth a visit in your area. With a slight nod towards Wes Anderson's colour palette and use of symmetry, we can't help but notice a comparable retro quality about this place. From the façade, you'll see warm pink walls and a tropical mural at the entrance. This is where you'll want to pose for nice shots! Step inside and you'll be greeted by the same colour scheme accentuated by brass accents that really deliver a sense of quiet luxury. On their Asian fusion menu, there are interesting Malaysian-inspired items like pandan waffles and a rendang burger.
Address: Lot 02-G, Menara Symphony, No. 5, Jalan Professor Khoo Kay Kim, Seksyen 13, 46200 Petaling Jaya, Selangor
Contact: 03-7652 3119
Muse Eatery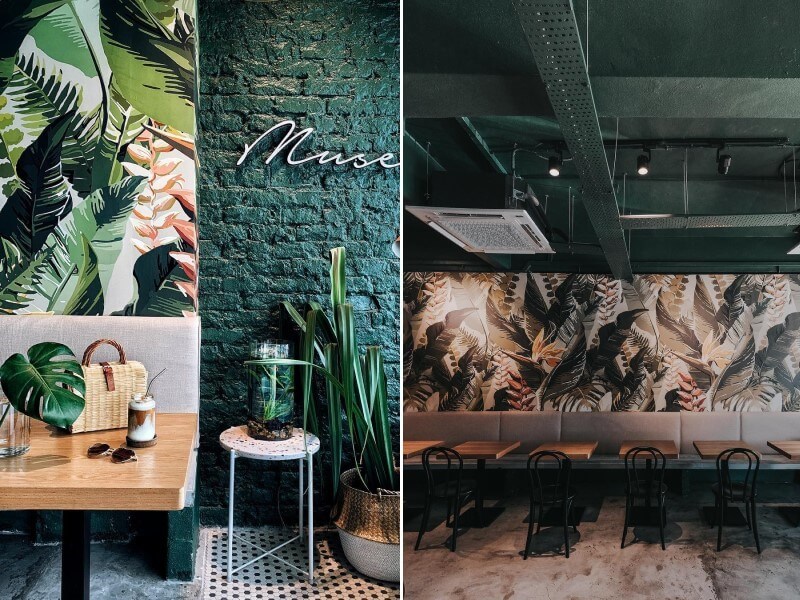 While other Instagram-worthy cafes in KL stand out for its bright and colourful interior, Muse Eatery takes the road less travelled with a darker palette. Case in point: The rich hunter green hue that permeates throughout the restaurant. For a hint of colour, it has a pale pink corner on one end, next to a jungle mural (read: photo-ready backdrop). And then there's a feature yellow brick wall behind the coffee and dessert counter too.   
It's not hard to see why Muse Eatery is an easy meeting point for friends during weekends because besides its Instagrammable interior and a strategic PJ location in Section 17, it's got all our Malaysian favourites: think a nasi lemak and nasi kerabu hybrid dish, Har Jiong (shrimp paste) chicken chop, and White Rabbit bubble tea!
Address: B-G-7, Block B, Happy Mansion, Jalan 17/13, Section 17, 46400 Petaling Jaya, Selangor
Contact: 012-911 6028
Freshen Up Your Feed With Instagram-Worthy Cafes In KL & PJ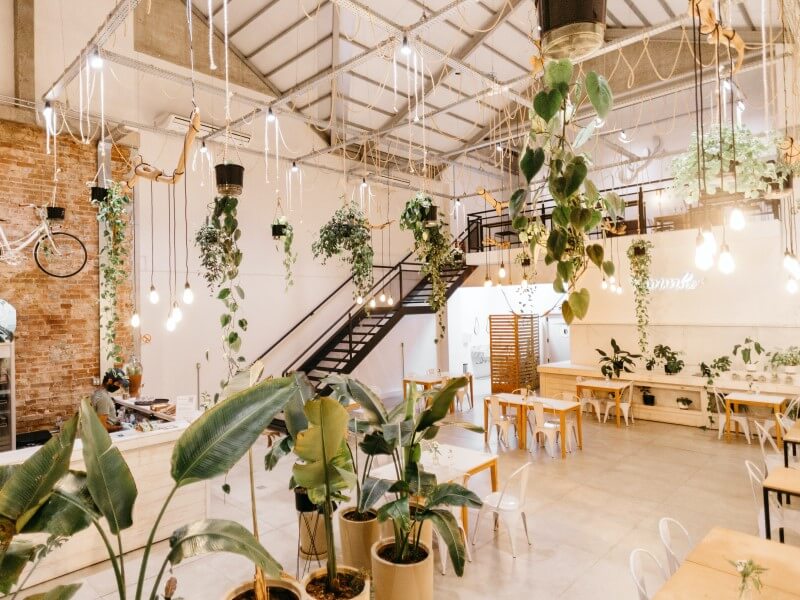 With this many Instagram-worthy cafes in Kuala Lumpur and Petaling Jaya, you can practically visit a new one every weekend to update your social media feed! So, don't forget to bookmark this page for your next café-hopping adventure in the city. Want to eat a healthier brunch or breakfast? Trust these local dishes to fill you up minus the grease. If you're already itching to go for a real adventure out of town, start planning with these ideas on where to go for a short local getaway.