Hari Raya Aidilfitri, or Eid al-Fitr as it's known in other parts of the world, is a joyous and festive occasion celebrated by Muslims all over the world after a month-long fasting period. Young children aren't required to participate in the fast, but a fun way to engage them in learning about Hari Raya is through hands-on art and craft projects. Below, we've rounded up 11 fun and easy Hari Raya art and craft ideas that are perfect for preschool-aged kids, so they can discover the joy and history of Raya.
Simple

Hari Raya Art And Craft

Ideas

 

For Preschool

Kids
With a little help from mum and dad. 
1. Eid Paper Lamp
To start off, here's an easy-as-ABC Hari Raya art and craft idea that's great for preschoolers to try. But if you're not comfortable letting your little one handle a knife, then by all means, take over the cutting duties. The kids will still have plenty to help out with! For a brighter glow, we suggest using a glittery LED tea light in place of a plain one.
Supplies you'll need:
2. 3D Paper Ketupat
It's not Hari Raya without the ketupat, and this three-dimensional version is a cinch to make—so long as you prep the paper strips ahead of time. If it's a little too easy for your kiddo, get them to try the woven (anyaman) version that's a tad more challenging. Both would make great centrepieces for handmade greeting cards!
Supplies you'll need:
3. Ramadan Moon Mobile
There's no Islamic motif more iconic than the crescent and its accompanying star, and this clever Hari Raya art and craft idea references just that. Using only a single paper plate and some creativity, you and your child can recreate this mobile in any colour combination you'd like.
Supplies you'll need:
4.

Doa

Book
The month of Ramadan is a time for spiritual reflection. So why not try this Hari Raya art and craft project for your preschool-aged kids to practise their prayers? They could pen down daily doas plucked from the Quran, then refer to them as they practise reciting them by heart.
Supplies you'll need:
5. Crescent And Star Stamp Painting
Here's a Ramadan art and craft activity that's not just great for introducing shapes to little ones, but also a playful way to train fine motor skills through stamping. If you don't want to add another brush to the collection, root vegetables like potatoes and carrots work like a charm too!
Supplies you'll need:
6. Paper Bag Mosque
Got a bunch of paper bags lying around at home? Repurpose them into these whimsical mosques instead. And while you're at it, why not encourage your little one to think out of the box and use materials they can find around the house for the appliqués? You might be surprised by how creative they can get.
Supplies you'll need:
7. Ramadan Advent Calendar
Kids below the age of puberty don't necessarily need to fast, but that doesn't mean they can't look forward to a treat during iftar, just like the adults! With a little teamwork, this brilliant Hari Raya art and craft idea will hide a little surprise for your kindergartener for every day of Ramadan. Prefer it a little more polished to match your home interior? This tutorial offers some worthwhile inspo.
Supplies you'll need:
8. Pot Of Kindness
Since Ramadan is a month for good deeds and charitable acts, this Hari Raya art and craft project will inspire your preschoolers to be of service to others. Whether it's helping out with chores at home, assisting an elderly, or donating sadaqah to a mosque, it's a fun way to inculcate the spirit of generosity in children.
Supplies you'll need:
9. Simple Hari Raya Card
Now, this Raya greeting card is as easy as it gets. All your little one needs is a piece of white card, some coloured pens, and a little help from ma and pa to carve out a crescent. Then get them to compose a little heartfelt message to whomever they wish to gift the card to.
Supplies you'll need:
10. Mosque and Crayon Minaret
This mosque-inspired Hari Raya art and craft is absolutely easy for preschool and kindergarten kids to pick up. Simply draw, cut, and paste, then roll up a crayon as a soaring minaret—that's it!
Supplies you'll need:
11. Hari Raya Countdown Counter
Get your kiddos excited for Hari Raya with this creative art and craft idea. For a more personal touch, let the kids decorate the countdown counter however they like. You'll want to whip out the coloured pens, crayons, stickers, glitter glue, and what have you, so they'll have 100% creative freedom to, well, create!
 Supplies you'll need:
Teach Kids About

Hari Raya

With These Easy

Art And Craft

Ideas

For Preschoolers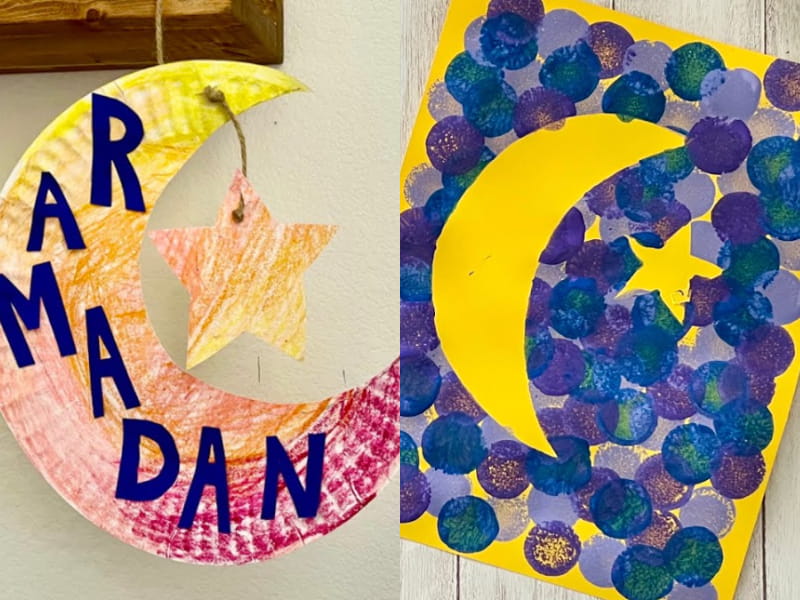 Beyond instilling motor skills, creativity, and hand-eye coordination, these Hari Raya art and craft projects can be an opportunity to teach the kids about the significance of Ramadan and Raya. So be sure to slip in a bunch of fun facts as you work on these activities together!
Want to spend more quality time with your family? Get together for a meal at these best Ramadan buffets in KL then head home and catch a P. Ramlee classic together. And if you're planning to shop for Raya, remember to swing by Salam By Shopee for the best deals, prices, and vouchers. Selamat Berpuasa, dear reader, from all of us at the Shopee Malaysia Blog.