R.I.P. selfie sticks. The retractable handheld device has been both a boon and a bane to humanity at the height (pun intended) of its popularity. Despite having faded into obscurity in this day and age, they are a precursor to the amazing smartphone gimbals we have today. And they are a must-have if you are serious about smartphone videography or vlogging (and you don't fully trust your hands). So, if you're ready to invest in a good one, take your pick from these best gimbal models for phone that come highly recommended.
Who Makes The Best Smartphone Gimbal?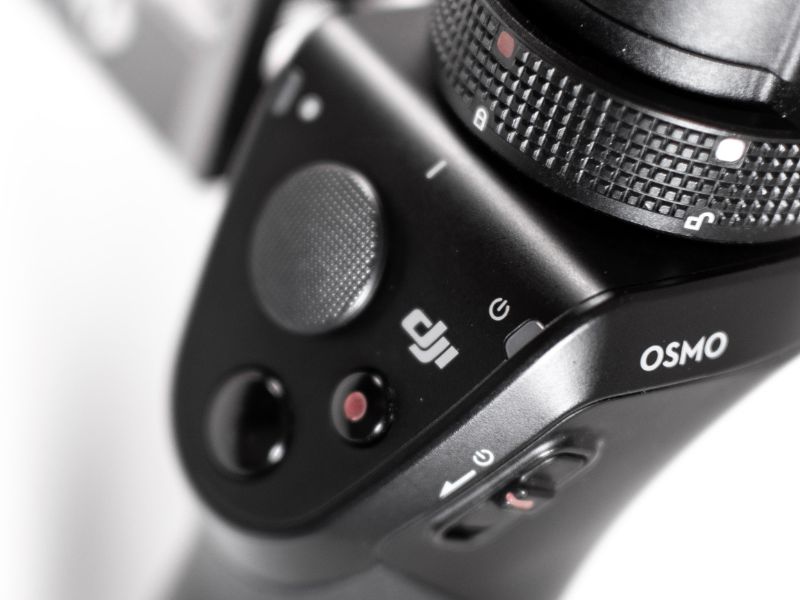 If you are new to the world of phone gimbal stablizers, know that the most popular models are made by Chinese companies such as DJI and Zhiyun.
How Do I Choose The Best Gimbal?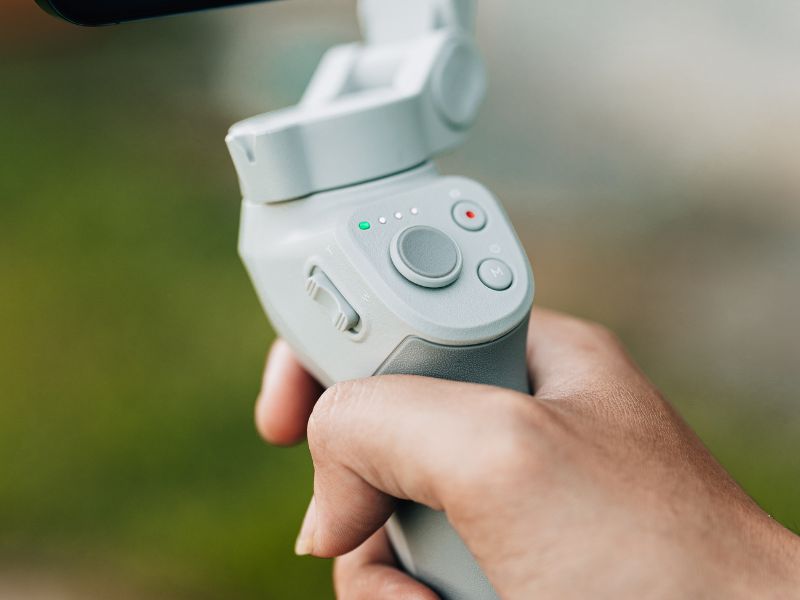 Choosing the best phone gimbal involves a few important considerations, including: 
Compatibility
While most phones will work with the majority of gimbals, some are only compatible with specific phone models, such as iPhones. Always read the product description to ensure you're getting the right gimbal that works best for your phone model.
Axis Stabilization
Gimbals keep your images steady using either two-axis stabilizers or three-axis stabilizers. The former stabilizes the tilt and roll movements, while the latter does an extra job of stabilizing pan shots. If your budget allows it, getting a three-axis gimbal is always recommended to cover more shooting styles.
Battery
Gimbals require batteries to operate. Some models use standard alkaline batteries, while others have built-in rechargeable lithium-ion batteries. Choose a model that complements your shooting routine. For example, if you shoot long hours outdoors, a gimbal with swappable batteries might work more to your advantage.
Weight
The lighter the gimbal, the better! Always factor in the weight when choosing the best phone gimbal that works for you.
7

Best Gimbal Models For Your Phone

To Buy In Malaysia
Go pro with these phone gimbal stabilizers.
1.   DJI Osmo Mobile 6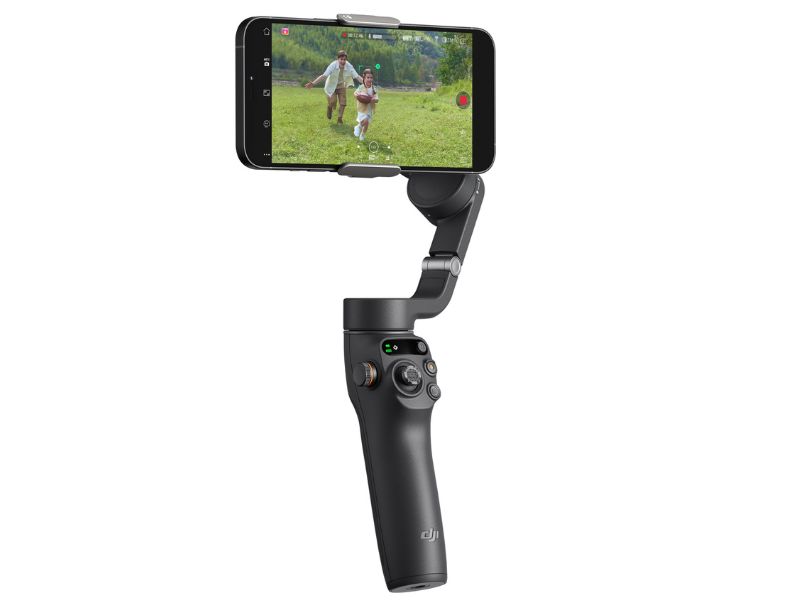 The Osmo Mobile 6 is the latest model in DJI's popular phone gimbal stabilizer line. Released in September 2022, the three-axis stabilizer has a compact, foldable, and pocketable design with a quick-release magnetic phone clamp that takes the hassle out of mounting and unmounting your phone. It also powers on automatically as soon as you unfold it. 
Packed with intelligent features that help you shoot all manners of cool cinematic shots as well as intuitive controls with a new intuitive side wheel, the Osmo Mobile 6 is no doubt one of the best gimbals for phone money can buy today.
2.   DJI Osmo Mobile SE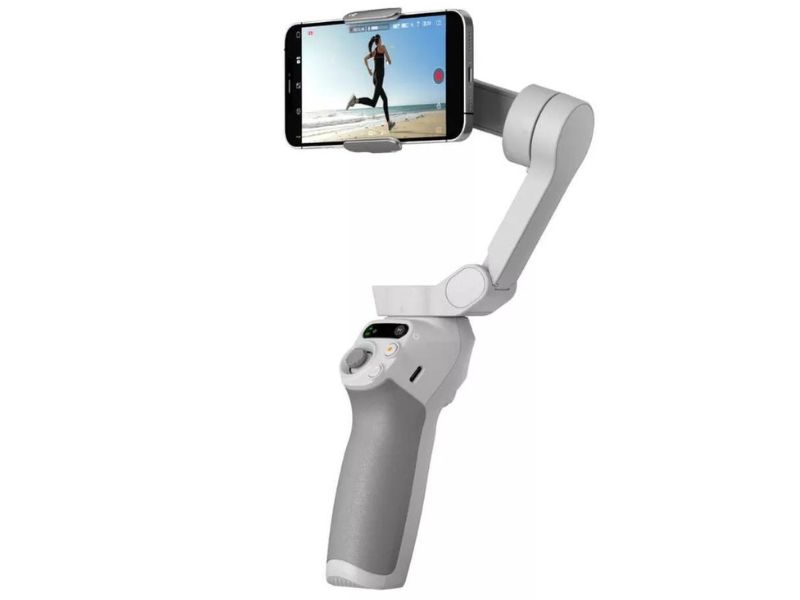 Launched alongside the Osmo Mobile 6, the Osmo Mobile SE comes with a friendlier price tag, albeit with some missing features. It lacks the side wheel and the quick launch feature found in the former, among others. However, the more affordable model is still a fantastic buy that more than meets the needs of casual users.
It still offers smooth three-axis stabilization coupled with a quick-release magnetic design, all in a foldable and more portable package that slips easily into your pocket or bag.
3.   Zhiyun Smooth 5S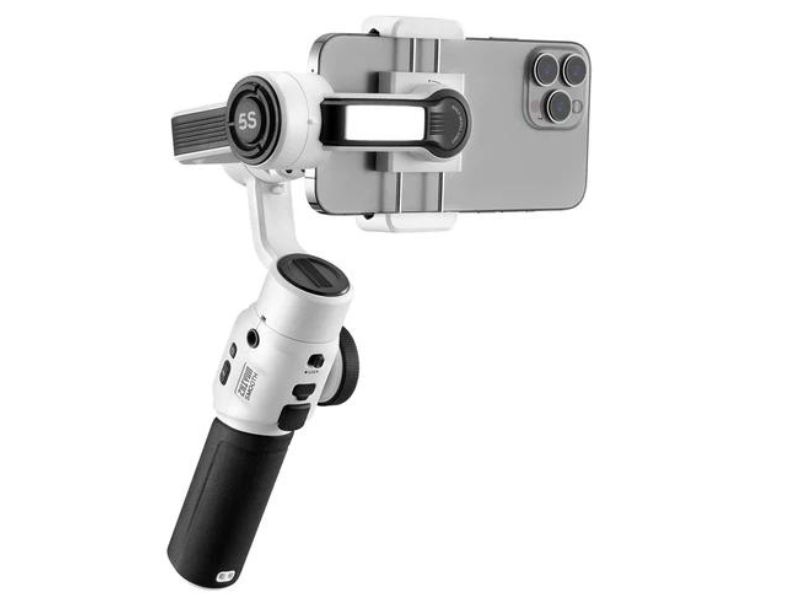 Zhiyun's newest phone gimbal stabilizer in the market, the Smooth 5S, is a feature-packed stabilizer with solid build quality and thoughtful design. Its three orthogonal pivot axes allow users the flexibility to shoot in low and super-wide angles, while its magnetic steel motors support large-sized phones.
If you frequently shoot in dim areas, you will love the fill lights that the gimbal comes with (one built-in and two removable magnetic ones) that can reach up to 2040 lux at its peak.
4.   Hohem iSteady V2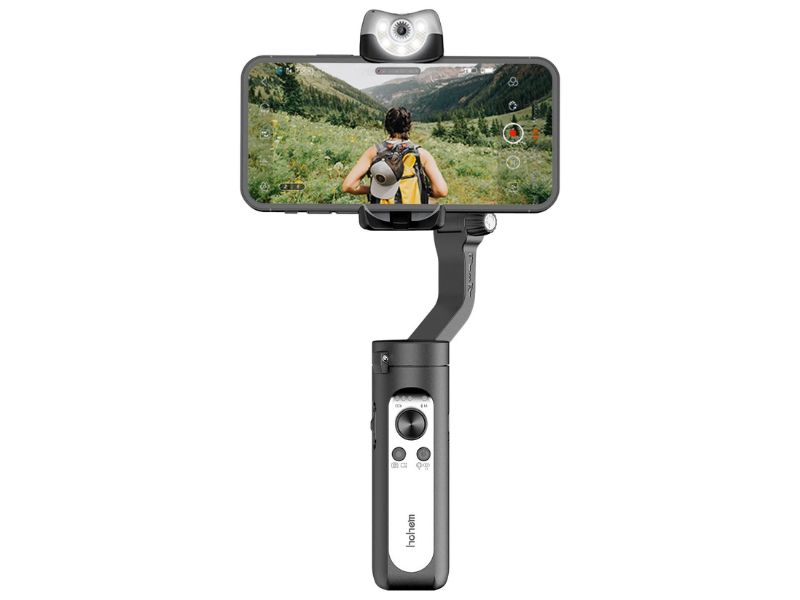 With a built-in AI sensor, the Hohem iSteady V2 has a leg up over conventional gimbals. It has native face-tracking that follows your head around to keep it in the frame, which is an incredibly useful feature to have if you're using the gimbal for vlogging, live streaming, or online calls. And with gesture control, you can change the gimbal holder's orientation (between portrait and landscape) and activate certain features by performing contactless hand gestures.
Meanwhile, a built-in adjustable LED video light with three-level brightness helps bring out your skin's natural glow. 
5.   FeiyuTech Vimble 3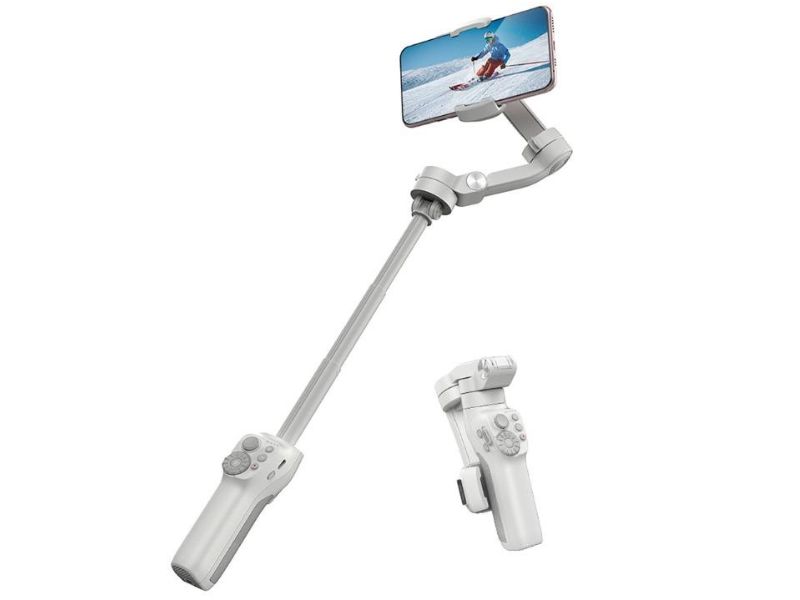 One of the Vimble 3's best features is it's built-in 198mm adjustable extension rod (much like a selfie stick), handy when users want to capture wide-angle selfies and low-angle shots. On top of that, its tracking algorithm keeps the subject in the centre of the frame, making this an ideal gimbal if you love shooting pets, sports activities, and travel vlogs.
6.   S5B Bluetooth Gimbal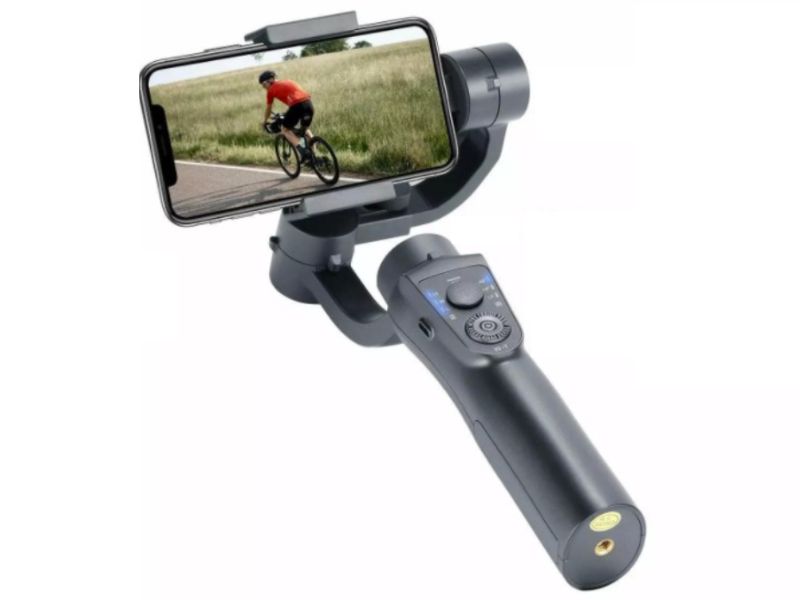 Despite being on the lower end of the affordability scale, the S5B Bluetooth gimbal has more than enough features to satisfy most users. These include three-axis stabilization, three operation modes that offer a combination of pan, tilt, and roll locking mechanisms to achieve a variety of shooting motions, and the Dolly Zoom—an in-camera effect often used in motion pictures that will lend some dramatic visuals to your videos.
7.   Golive L08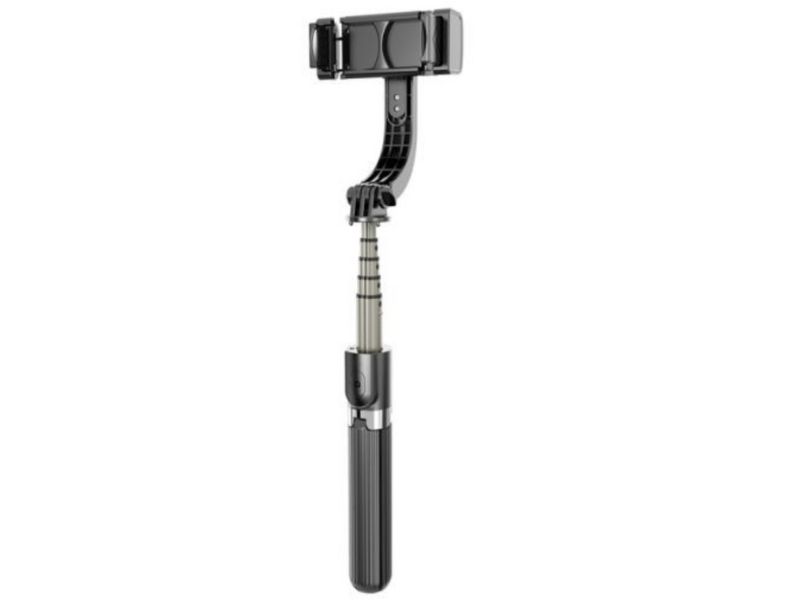 If your budget is short, the Golive L08 is among the best low-cost gimbal models for phone you can buy. Available for less than RM100, don't expect a whole lot of advanced features packed into its small and portable body, but it will get the job done in getting you stabilized shots. The phone holder, which is 360-degree rotatable, supports horizontal and vertical shooting in addition to having an AI object tracking feature.
Make Every Video Recording A Delight To Watch With The

Best Gimbal For Your Phone
Phone gimbal stabilizers are one of those things you never know you need until you try one. The device in our pocket is already capable of taking incredible-looking videos, and you can take it to a whole new level with the best gimbal for your phone. Bid adieu to shaky and jerky videos!
Gimbals are suitable for all occasions, but they may not be the best option to take with you for extreme outdoor adventures. For that, you will be better served with the best action cameras.
Check out Electronics Zone for unbeatable deals on the best smartphones, gadgets, peripherals, and more every Thursday!