Is your baby about six months old and able to sit up on their own? Then it's time to get a baby high chair, which is a must-have for a hassle-free meal time. After all, it allows your little one to join the family at the dining table while mum or dad feeds them with ease. What's more, it's also useful for keeping them safely seated while parents attend to various house chores. Not sure how to pick one? Keep scrolling to learn about the different types available, what features to look out for, and our round-up of the best baby high chairs in Malaysia. 
Types Of

Baby High Chairs
Wooden baby high chairs.

Besides being simple, durable, and elegant, they're also built to last a long time and are fairly easy to clean.

Multifunctional high chairs.

These are popular since they can be adjusted and converted into a booster seat and more, to accommodate a child's growth spurt. 

Booster seats.

Once your baby no longer needs a

feeding chair

, they can graduate to a

booster seat

that's placed on a

dining chair

to boost your toddler up to the right height. 
How To Choose The Best

Baby High Chair

 
Size and portability.

Consider one that folds into a compact size as it's great for saving space and taking with you on-the-go. Larger, sturdier high chairs are better if you're going to leave them at one spot. 

Comfort.

More padding equals better comfort, though it can get warm too. Meanwhile, PU leather and plastic surfaces are more cooling but have no cushioning. 

Safety features.

Take note of the maximum weight a high chair can hold. Also, ensure it has a three- or five-point harness system, and if it has wheels, a lock mechanism too.

Removable parts for easy cleaning.

When the cover, tray, seat, and footrest are detachable, it makes cleaning a breeze! 
The Best

Baby High Chairs

For Feeding, Napping, And More
Best Budget: IKEA Antilop High Chair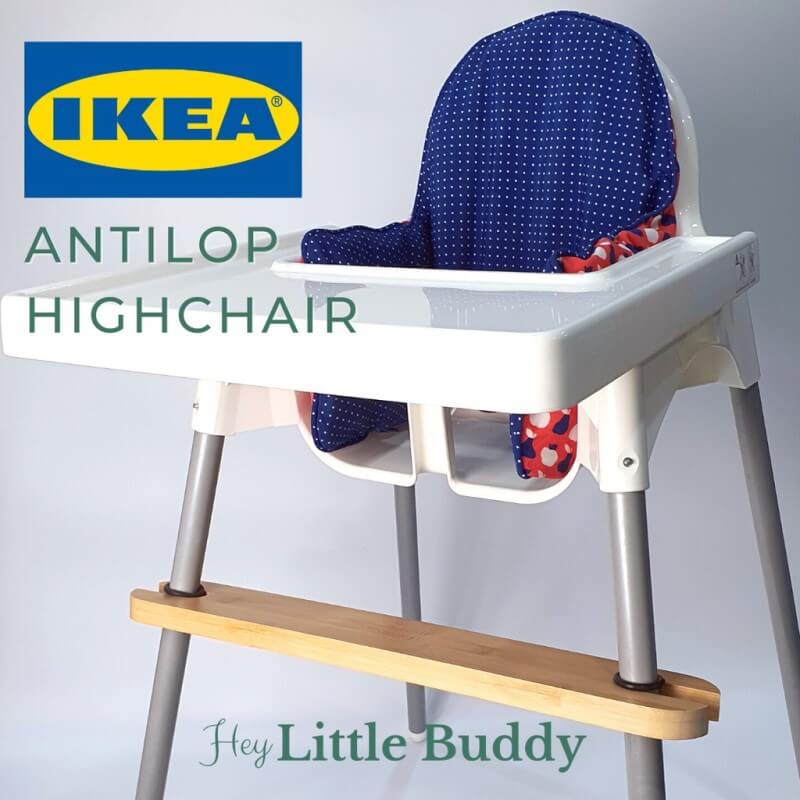 There are a few reasons why this IKEA Antilop high chair is favoured by many parents. Firstly, its minimalist design fits well in any household. Secondly, it's easy on the wallet. And when it comes to cleaning, its combo of polypropylene plastic, steel, and bamboo makes it super easy to wipe down. Plus, you can give it a fresh look with these colourful placemats and printed cushion covers.
Reasons to buy this:
Minimalist design

Budget-friendly

Easy to clean
Best Portability: Prego Elite Multifunctional High Chair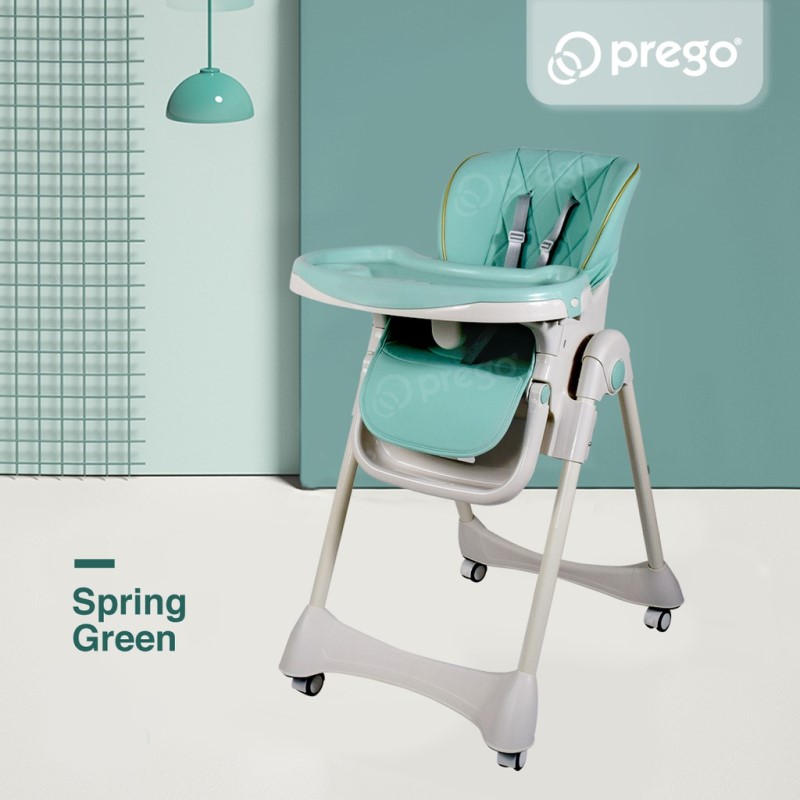 Got limited space or always on-the-go? Then opt for the Prego Elite Multifunctional High Chair for its portability. With a lightweight frame and 360 swivel wheels, you can easily fold it and stow it away to save space at home or in the car. Moreover, up to 7-year-old kids can use this, and it holds up to 30kg max. Adjustability is great too, as it's equipped with five seat heights as well as three reclining and footrest positions. Meanwhile, the five-point harness keeps your little one safe whereas the extra padded seat cushions guarantee comfort. 
Reasons to buy this:
Holds up to 30kg / 7-year-olds

Ultra-compact size when folded 

Comfy seat cushions
Best Adjustability: Quinton Coco Multifunctional High Chair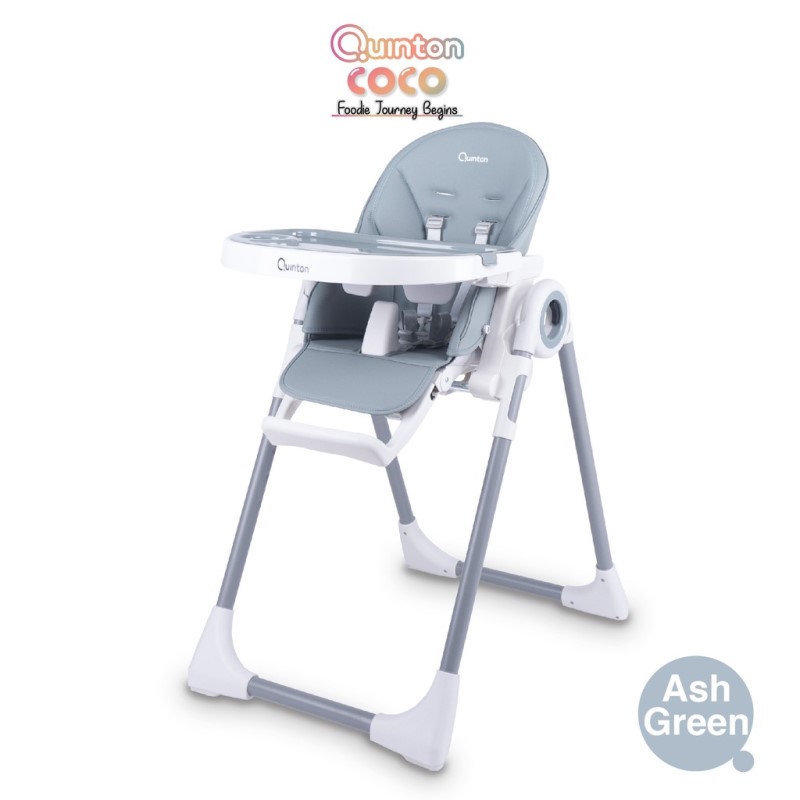 For ample adjustability, the Quinton Coco Multifunctional High Chair ticks all the right boxes. It's got up to seven height levels, five reclining positions, three footrest angles, and two meal tray positions. This makes it perfect for babies to eat, drink, rest, and nap! Safety-wise, a non-slip seat pad and a five-point harness keeps them secure on the high chair. Other features include two hidden rear wheels for convenient mobility, as well as leather seats and detachable trays for easy clean-ups and wipe-downs.
Reasons to buy this:
Up to 7 height levels and 5 reclining positions

Leather seats and removable trays are easy to clean 

Non-slip seat pad and five-point harness for extra safety 
Best Convertible: Akarana Baby Toru II Convertible High Chair 3-in-1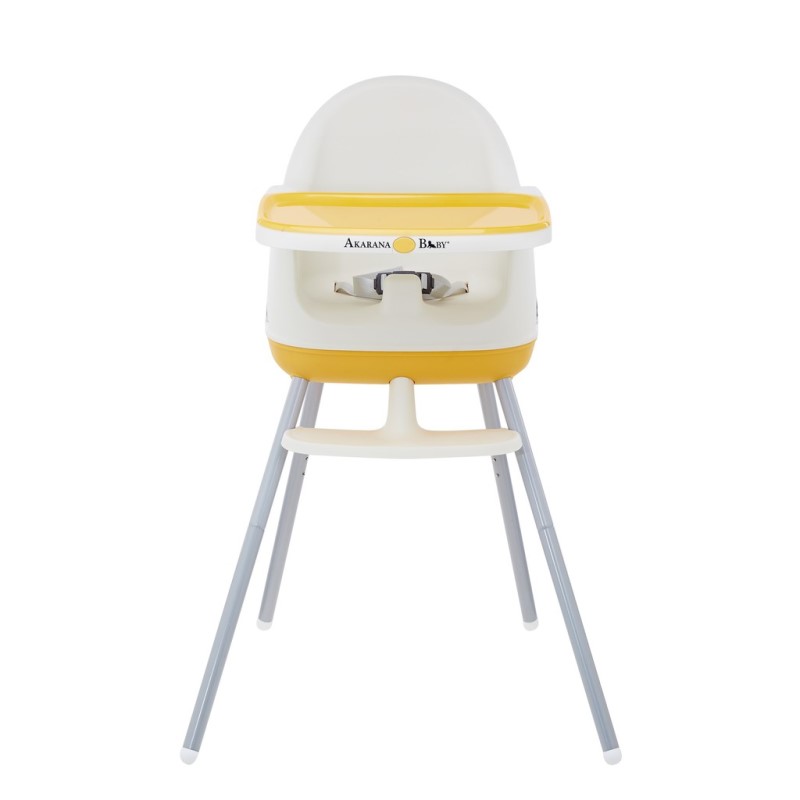 Looking for a baby high chair that does it all? Then consider adding the Akarana Baby Toru II Convertible High Chair to your shopping cart. Why? Because it functions as both a high and low chair, and can be transformed into a portable booster seat and floor seat. Talk about versatility! This lightweight high chair weighing 4.2kg also supports toddlers up to 36 months or 25kg. Other features include an adjustable seat belt, removable tray and tray top, and floor-protecting rubber skids on the chair feet.
Reasons to buy this:
Can be used as a high chair, low chair, booster seat, and floor seat

Lightweight frame at 4.2kg 

Holds up to 25kg / 36 months
Best Splurge: Abiie Beyond Baby Junior Y Chair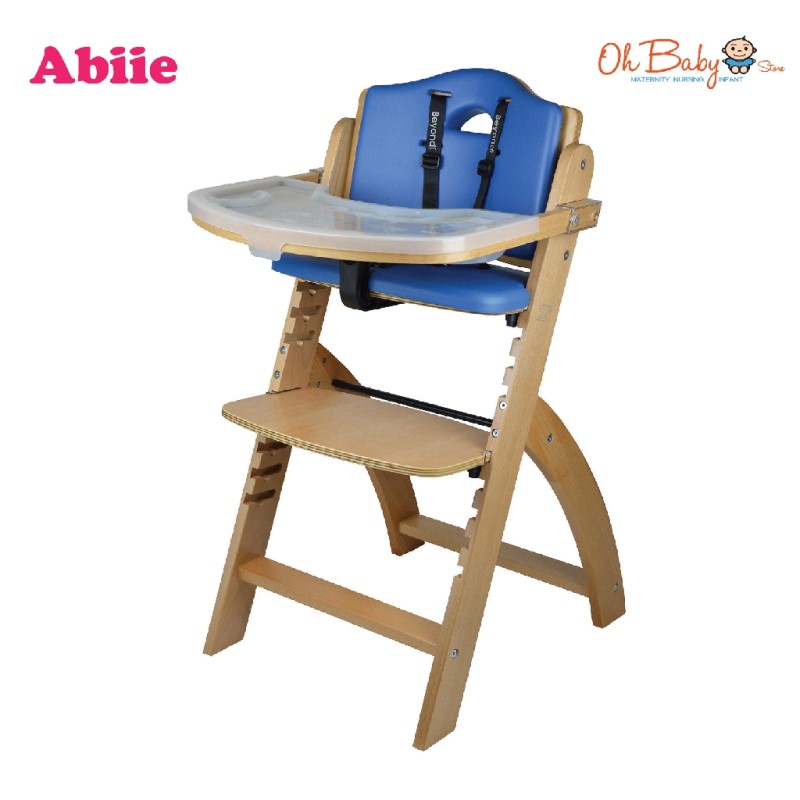 For the best wooden baby high chair that will last for years, splurge on the Abiie Beyond Baby Junior Y Chair. It's made from high-quality beech wood and is designed to grow with your child from infancy to adulthood. That's because it can be converted from a toddler chair into an extra dining chair in a matter of seconds! Other perks include the waterproof cushions for unexpected spills, a dishwasher-safe removable tray cover, and a dual-restraint system (three- or five-point) that keeps your little one secure.
Reasons to buy this:
Can be used from infancy to adulthood 

Eco-friendly and modern wooden design 

Waterproof cushions 
Best Double Duty: 2-in-1 Wooden High Chair & Table Set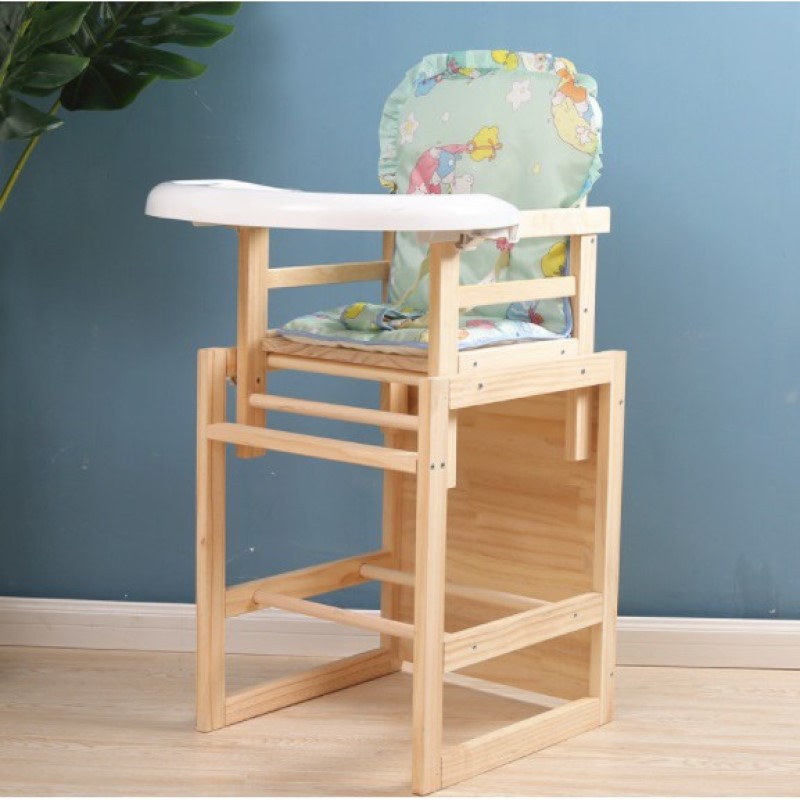 Another great wooden feeding chair option is this 2-in-1 wooden high chair and table set that's made from New Zealand pine. Suitable for newborns up to the age of eight, you can remove the high chair's 'legs' to convert it into a toddler's chair and table set that's perfect for playtime or craft activities. The tray and footrest are also detachable, making cleaning a fuss-free task that won't take up too much time.
Reasons to buy this:
Double function as a high chair, as well as toddler chair and table set 

Durable wooden design 

Easy to clean
Best Safety: Mamakiddies Multifunctional 2-in-1 High Chair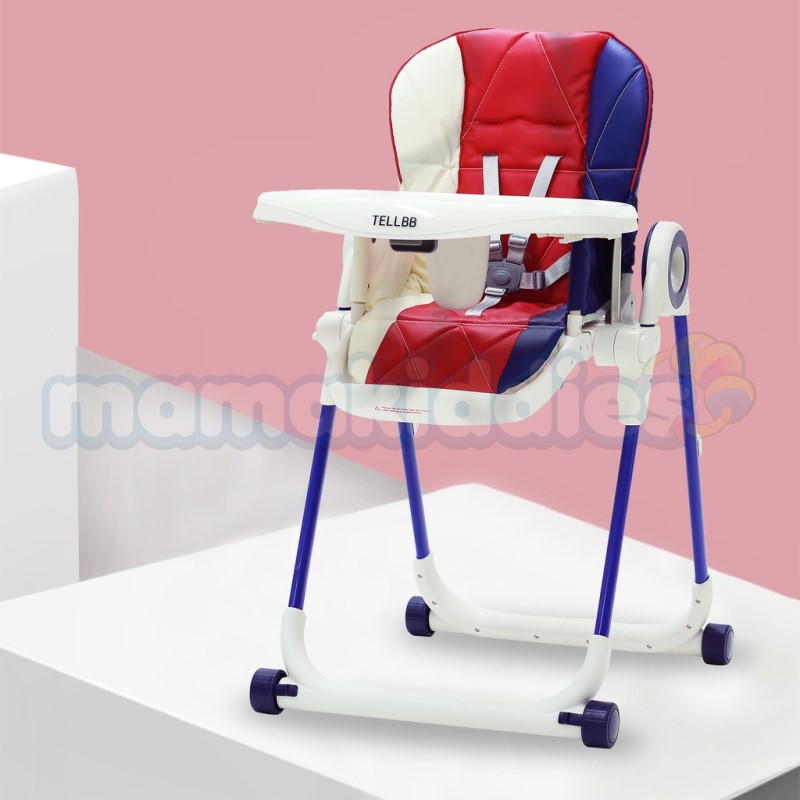 Worried about your kiddo's safety? You can rest assured with the Mamakiddies Multifunctional 2-in-1 High Chair that's equipped with good baby safety features. Besides the adjustable five-point safety harness, this high chair comes with brakes on both the front and rear wheels for added security. Meanwhile, there are three reclining, tray, and footrest positions, plus six height levels to easily transform it from a high chair to toddler chair. It's also foldable and comes with a handy pocket behind the easy-to-clean seat pad. Suitable for toddlers up to 3-years-old or 15kg. 
Reasons to buy this:
Brakes on all four wheels and adjustable five-point harness 

Folds compact for storage 

Can be converted into a toddler chair
Best Booster: Quinton Baby Booster Chair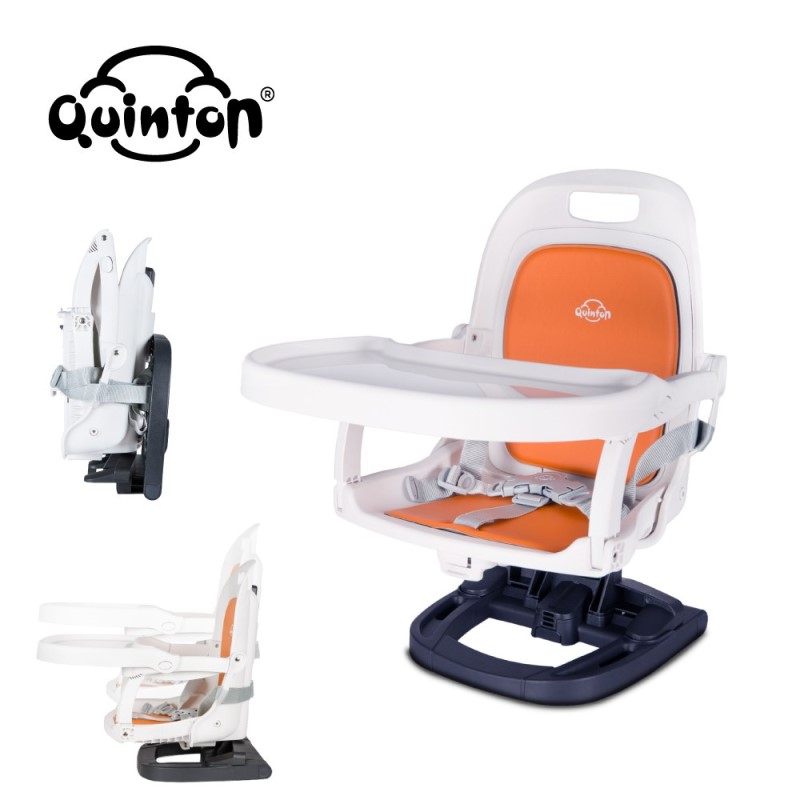 As your child grows, they'll soon need a booster seat to join the adult table for meals, and this Quinton Baby Booster Chair is a perfect fit for most dining chairs. It features six height positions for the right elevation, and a five-point safety belt for security. Plus, it's so lightweight (just 2.8kg!) and folds easily into the complimentary carry bag that's great for dining out trips. It's also made from soft PU leather and food-grade material, making it safe for teething toddlers. Supports up to 15kg or 3-year-olds.
Reasons to buy this:
Light and folds compact into a bag

Six adjustable height positions

Made of soft PU leather and safe food-grade material 
Your Little One Can Join The Family For Meals With The Best

Baby High Chair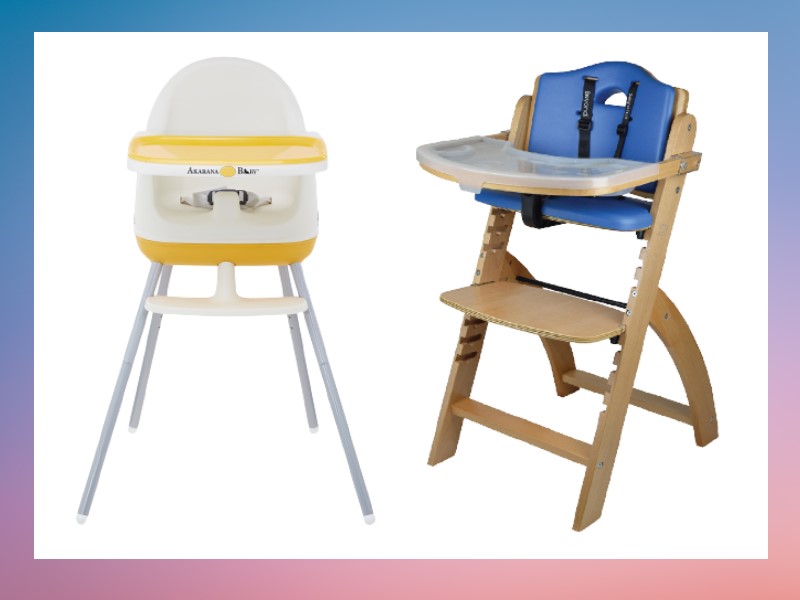 Finding the best baby high chair for your little bub will take time, so it's important to begin the shopping process earlier by getting to know the types available and what features to look out for. At six months old, it's also the right time to introduce your baby to solid food, so check out these best pureed fruits and vegetables to feed them. Want to get exclusive deals and vouchers when you purchase baby essentials online? Then being a Shopee Mum's Club member is worth signing up for!