If you have a baby, then you're likely very familiar with diaper blow-out. FYI: That's when the, erm, grimy contents of said diaper spill out of it. The best diapers in Malaysia can prevent this messy situation from transpiring, but with so many brands in the market and that all babies are different, finding the near-perfect diaper for your little one can be challenging. To help you narrow down the best newborn diapers, we took the time to compile this list of noteworthy brands to keep your baby clean, dry, and happy. 
Which Brand Of Diapers Are The Best In Malaysia

?
Huggies Ultra Natural Soft Diapers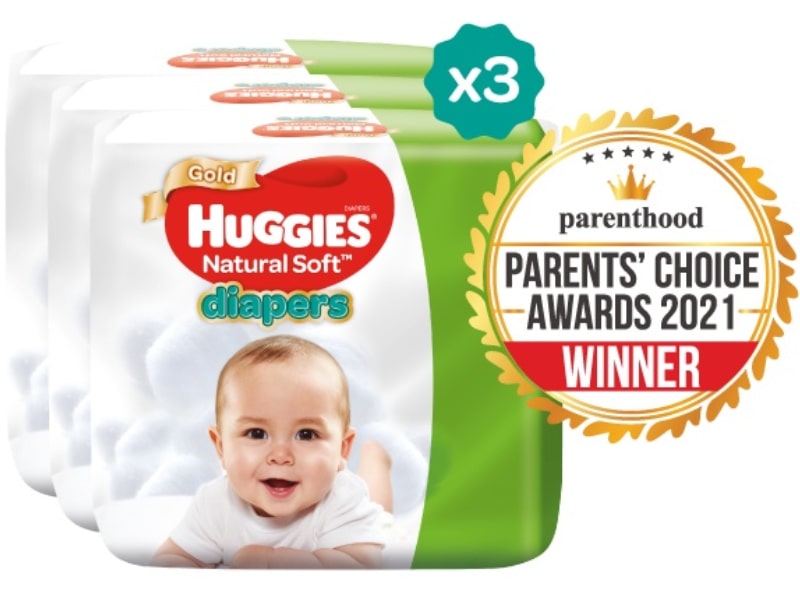 The Ultra Natural Soft range is one of Huggies' best-selling newborn diapers in Malaysia. A Parent's Choice Award winner, it's made out of 100% cotton to quickly lock in bodily fluids. Besides, it provides a snug but not overbearing fit to ensure minimal spillage while a special liner directs runny poop away from your baby's delicate skin. There's even a wetness indicator that turns the diaper blue in the presence of urine.
Good to know:
Made with 100% imported cotton 

Up to 12 hours of absorbency 

Breathable 

Clinically proven to prevent diaper rash

Available in various designs and sizes
AppleCrumby Chlorine Free Premium Diapers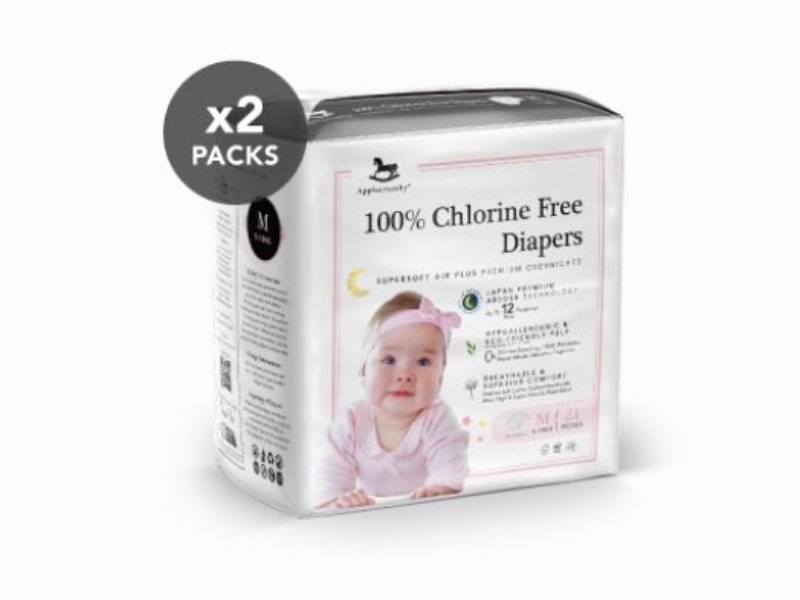 AppleCrumby is Malaysia's leading producer of chlorine-free diapers. Not only that, the pull-up diapers are also free of fragrance, toxic dye, asbestos, phthalates, and chemicals of any kind. Which means they're also gentle on the environment. Other notable features include stretchy waistbands to contain unforeseen blow-outs and up to 12 hours of moisture-free comfort. 
Good to know:
Made with 100% chlorine-free pulp

Soft and dye-free refastenable adhesive tabs

Fragrance-free

Highly-absorbent
Offspring Ultra-Thin Newborn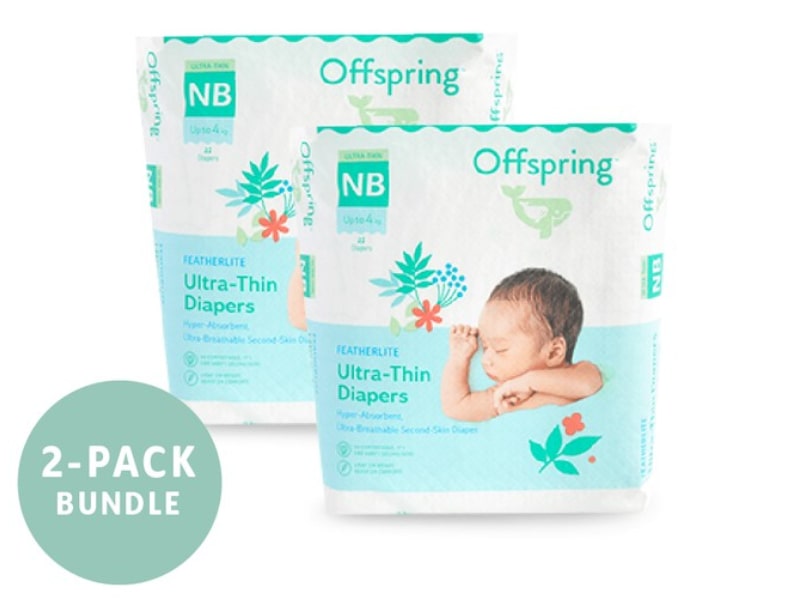 From a cost-saving perspective, Offspring offers great value. They get the job done at the right price point and hold up well against moisture. These featherlight diapers are suitable for the humid Malaysian weather too, offering your newborn ample breathability when the temperature goes up. If you're looking for the best newborn diapers in Malaysia at wallet-friendly prices, don't give Offspring a miss. 
Good to know:
Affordable

Fast absorbency

Thin and light

Vegan, cruelty-free, and eco-friendly
PETPET E-Mega Tape Diaper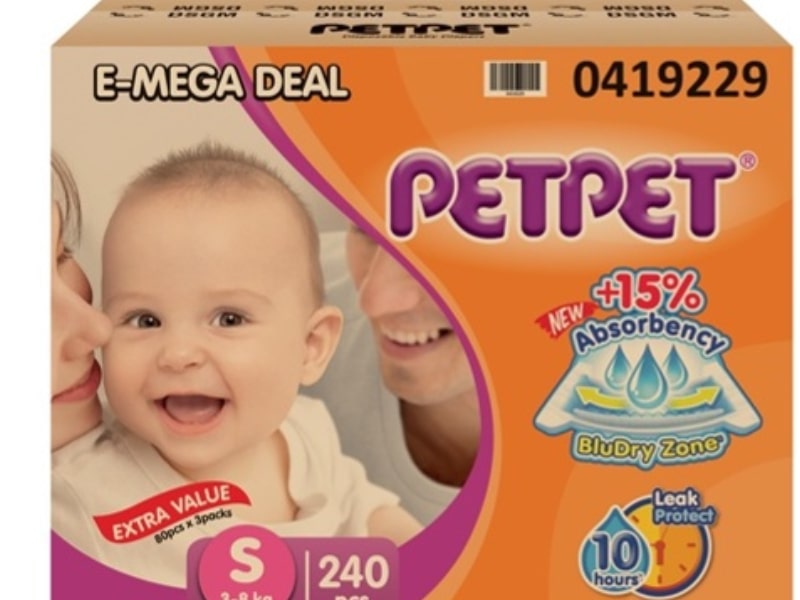 Parents love these PETPET diapers for their absorbency that keeps your little one's bottom dry for up to 10 hours. They're also rather affordable at RM80 for a 240-piece pack—about RM3 per piece. Available in sizes S to XL, parents will find the perfect diaper that fits their little ones to a tee.
Good to know: 
Affordable

Effective absorption 

Free antibacterial

wipes
Diapex Newborn Diapers
Diapers can feel suffocating for newborns, which can disrupt their sleep (and by default, yours). These Diapex diapers come with fully breathable covers for better airflow, so your little one can sleep soundly through the night. What's more, an umbilical cord cutout protects their belly button as it heals. All in all, parents can look to Diapex for one of the best diapers in Malaysia. 
Good to know:
Good airflow and breathability

Leak guards

Umbilical cord cutout 
MamyPoko Air Fit Tape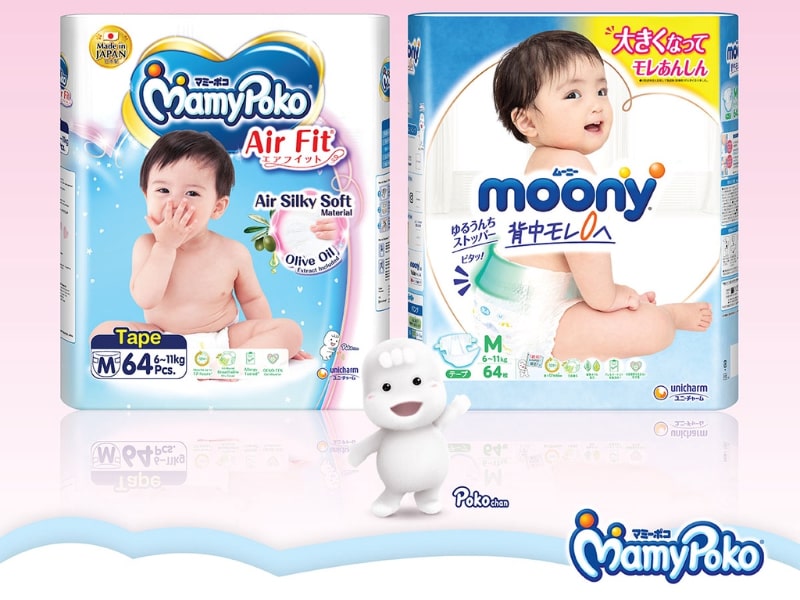 MamyPoko has been regarded as Japan's best diaper brand for the past three years. This recognition is a testament to the quality parents can expect from all MamyPoko diapers, which is apparent in the Air Fit Tape series for newborns. It features 3D-fitted absorb pads that contour to your baby's body and breathable dry covers for optimum airflow. 
Good to know:
Silky smooth softness

3D-fitted pad for instant absorbency

Breathable dry cover for good airflow
Merries Super Premium Tape Baby Diapers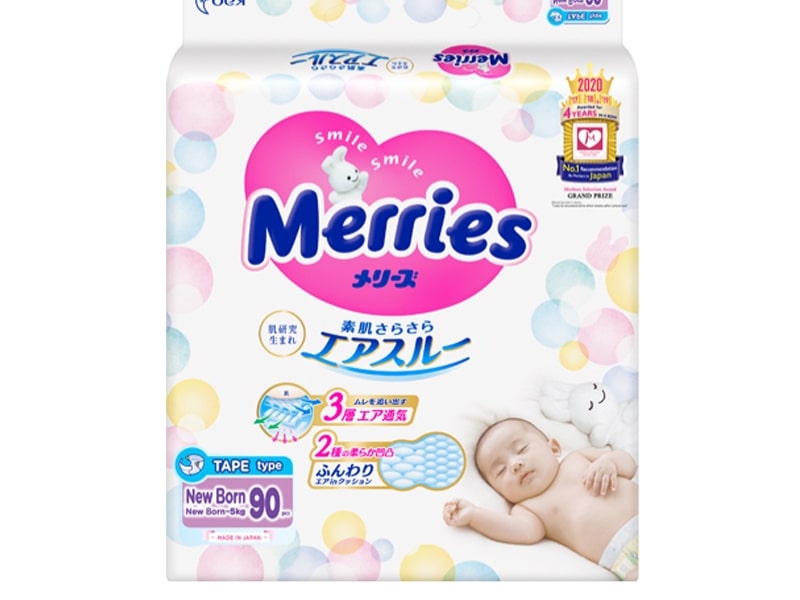 Merries is another Japanese brand that makes some of the best diapers in Malaysia for newborns and toddlers alike. Specifically, parents say the Super Premium—which is on the pricier side—is worth the purchase. They feature effective absorbency, colour-changing wetness indicators, and a soft poop leak guard. Overall, they do an incredible job at keeping everything in and letting you know when a change is overdue.
Good to know:
Soft poop leak guard

Ultra-soft and fluffy surface

Colour-changing wetness indicators

Reusable magic seal 
These

Best

Newborn

Diapers In Malaysia

Prevent Any Unforeseen Spillage And Keep Your Little Ones Clean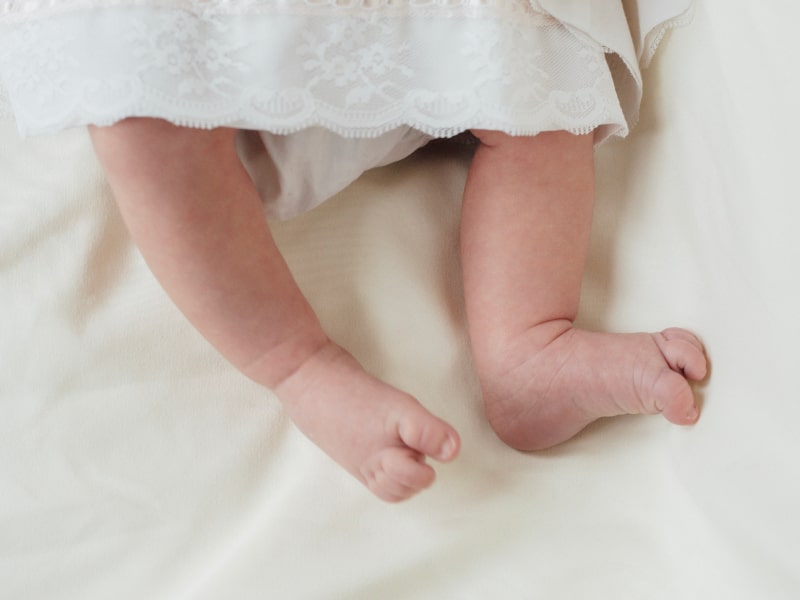 If there's one thing every parent needs in excess, it's diapers. Ultimately, they're the only thing separating your baby's bottom and a messy situation. Before potty training can commence, you'll need diapers to absorb everything (read: pee and poop). The best diapers for newborn in Malaysia also keep moisture away from your skin to prevent diaper rash and protect their clothes from stains and leaks. Ultimately, diapers are very important in the early stages of parenting. 
No matter how careful you are, diaper rash can occur. Here's what to do if you spot red and inflamed spots on your baby's bottom. A baby's skin is delicate and there are steps you can take to ensure it's healthy and supple.