In a way, haircuts are milestones for boys, a rite of passage of sorts. Akin to his run at the park as a toddler, his first trip to the hairdresser signifies emerging independence and decision-making skills. With the days of shaggy moptops long behind us and a plethora of modern looks to choose from, we understand it can get stressful as to what haircut best suits your son. But fret not, parents. If you need inspiration, here are some stylish kids' hairstyles for boys.
These Are The Coolest Kids' Hairstyles For Boys 
The Side-Part
Sleek and preppy. The side-part haircut is one of the few styles that has survived the test of time. Often donned by Hollywood stars and Wall Street bankers, this timeless hairstyle works just as well for kids and boys.

All your son needs is a fine-toothed comb and some pomade to get ready in the morning. When the occasion calls for it, throw on a blazer to dress to impress. One tip, though. While the haircut is universally known as the "side-part", many barbers and hairdressers have different names for it. To be safe, we recommend bringing a photo along for reference.
The Undercut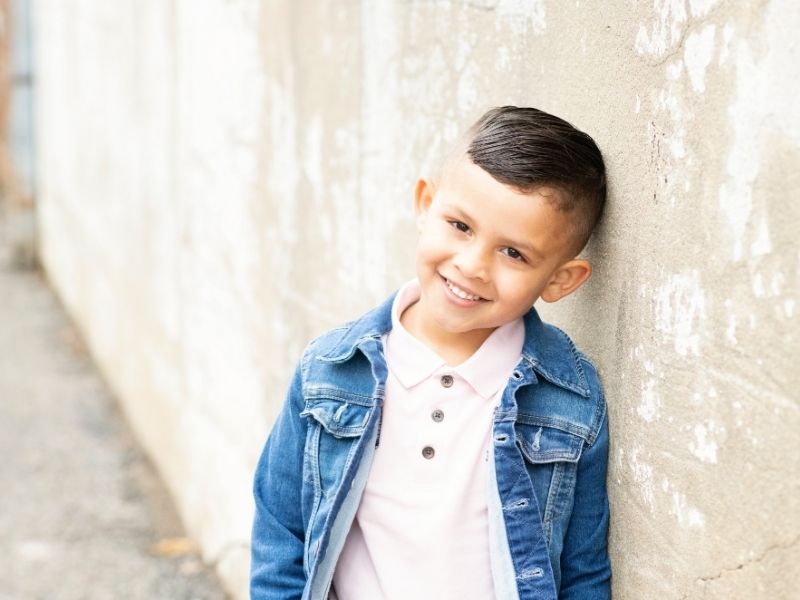 While the undercut has become a staple for the modern man in recent times, the look is also widely popular among parents. It strays away from the conventional kids' hairstyles we're used to seeing for boys. The undercut is as recognisable as it is stylish. To create a stark contrast, the barber cuts the sides short with a clipper while the top is left long, resulting in a hairstyle that also works well for curly, straight, or wavy hair types.

Using styling wax, your son can wear it high as a pompadour or comb it down for a more relaxed look. To ensure it holds up for the day, use some hairspray for good measure.
The Taper-Fade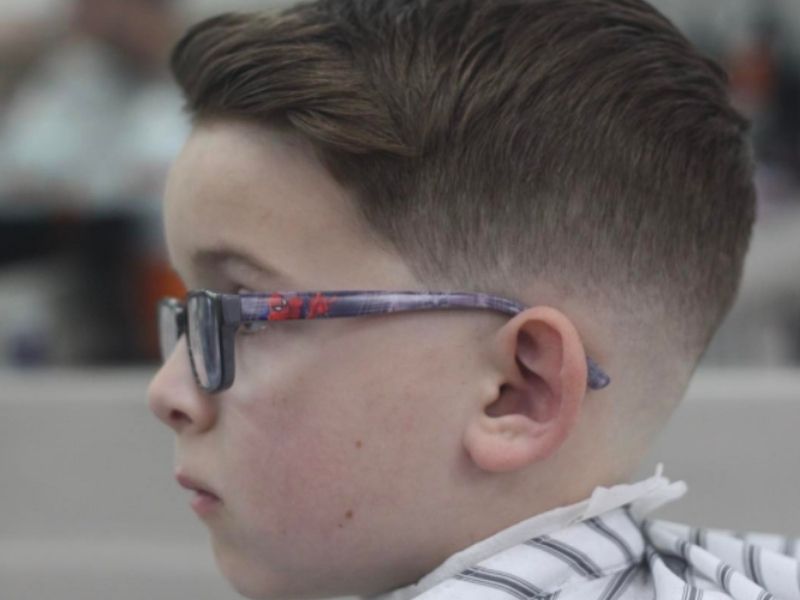 The taper-fade is a subdued version of the undercut. While the sides of the undercut normally blend into the skin, a taper gradually changes from one length to another for a more natural look. It's perfect for a kids' hairstyle, especially if your boy prefers to keep things stylish but also slightly toned down.

To achieve a taper-fade, a barber will first create a design-line starting at where the hair is the thickest before slowly tapering down using either clippers or scissors-over-comb for a clean and flowy style. Use a non-stiff hair cream to further accentuate the hairstyle's versatility.
The French Crop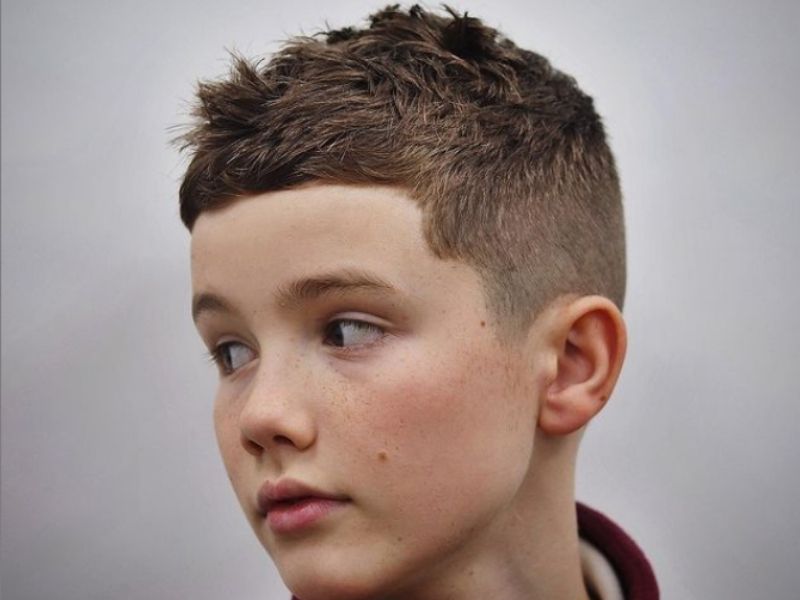 Maybe your son is not one to spend more than five minutes grooming up in front of the bathroom mirror. In that case, the French crop will suit him. It features short hair all around with a noticeable "crop" for a fringe. Known for its versatility and minimal maintenance, the French crop works well with most face shapes and doesn't require frequent trips to the barbershop to maintain.

To style, first, use a hairdryer for volume. Then, apply a small amount of hairstyling clay and finger-comb for an effortless look.
The Crew Cut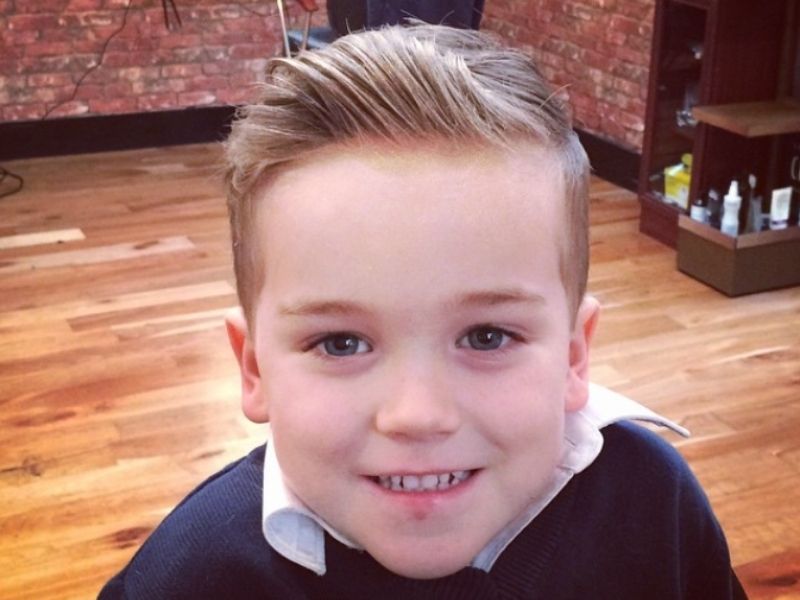 Another timeless classic. Seen on the crowns of both boys and men, the crew cut, also known as the "short pompadour", is one of the simplest hairstyles you can get for your kid. Short sides with the top just a tad longer, styling is purely optional because it looks neat the way it is.

If needed, use a little high-hold wax to add texture or height. You can also opt for a lightweight styling mousse for a flexible hold that lasts throughout the day. 
The Buzz Cut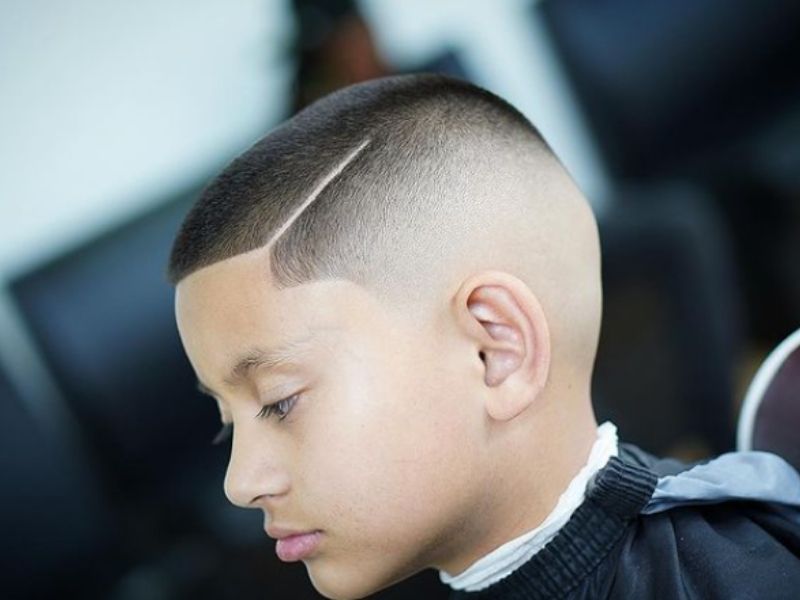 The buzz cut may be steeped in military tradition for its function over fashion sensibilities, but we think it's every bit as fashionable as the other hairstyles on this list. As the name suggests, the buzzcut buzzes the hair with clippers. That's it. It's really easy and straightforward to achieve a buzz cut for your son.

That said, the hairstyle is highly customisable as well. The length can be either short or long, the sides can be a fade or a taper, the lines and edges. The possibilities are endless and when the sun is out, throw on a cap to shade the glare. 
The Ivy League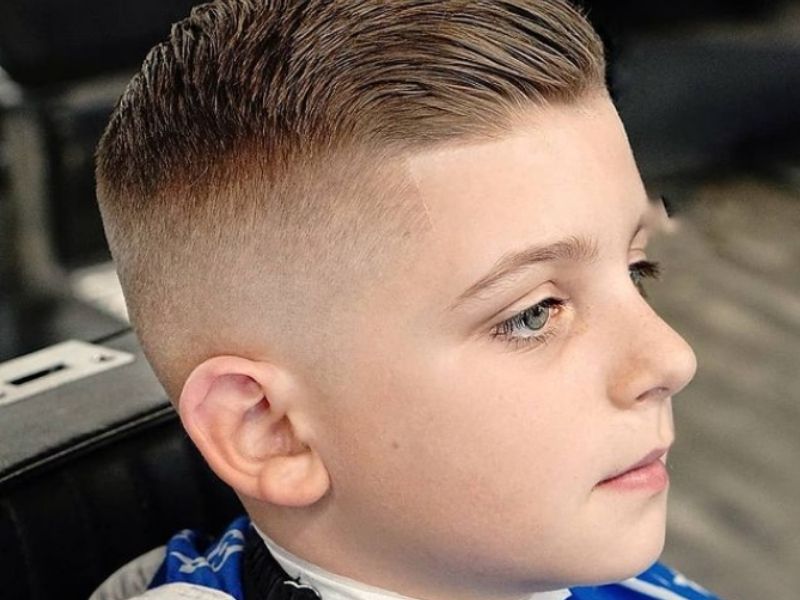 The Ivy League haircut is a combination of two looks: the crew cut and side-part. Also known as the Harvard Clip, this dapper haircut has been around for decades, largely thanks to its preppy yet cool aesthetic. For parents wanting an understated kids' hairstyle for their boys, the Ivy League is the one to go for.

When compared to the crew cut, the Ivy League is generally longer all over by emphasising a flowy top that can be combed into a neat side-part. Styling-wise, you can opt for a texturising paste to achieve a matte finish or a water-based gel to turn your son into a dashing scholar.
The Faux-Hawk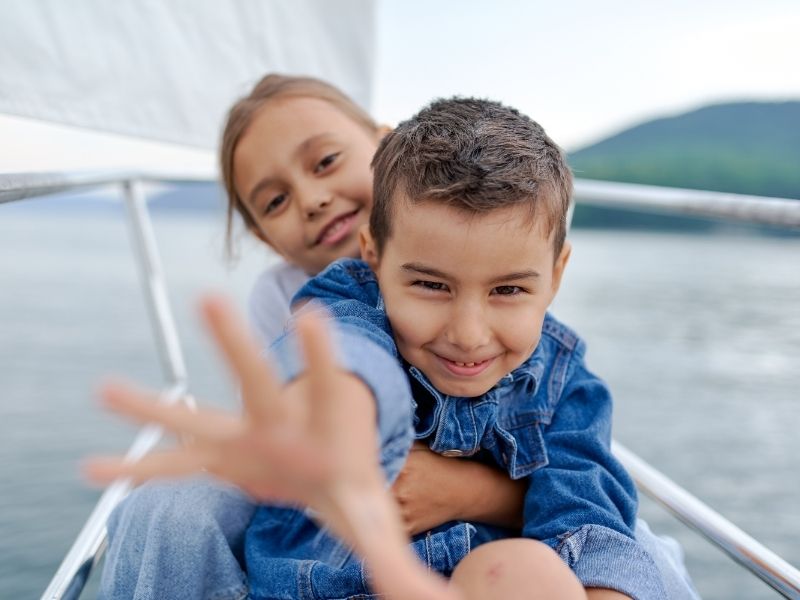 Less intense when compared to the punk-ish mohawk, a faux-hawk blends an undercut with a medium or long top. This haircut serves well during the week. A tidy kids' hairstyle for boys during the weekdays or have your son play the part of a boy rocker on weekends.

Hair products are important to ensure a faux-hawk stays sharp all day. Hairdressers and barbers recommend using pomades for styling. Alternatively, if a more natural look is preferred, a matte wax can be used instead.
The Quiff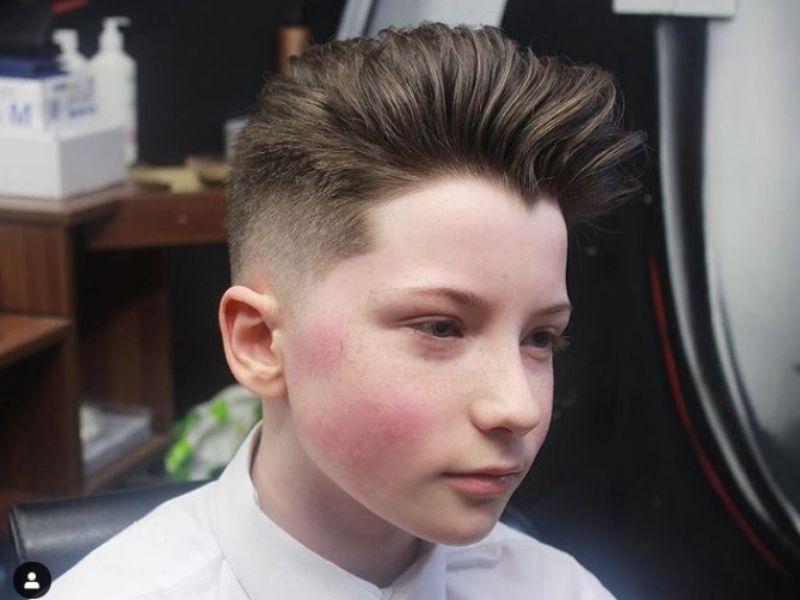 Popularised by pop culture icons like Elvis Presley and James Dean, the quiff is as effortless as it is timeless. Trends come and go, but the quiff has transcended the test of time to solidify its place as one of the most recognisable haircuts in history.

Essentially, a quiff cut is achieved with short sides and a long top. But what makes the hairstyle stand out (literally) is its volume-heavy quiff. Before styling, ensure that your son's hair is towel-dried. After that, apply some heavy-hold pomade, and start blowdrying while pulling the top up with a combing brush to create volume.
The Slick-Back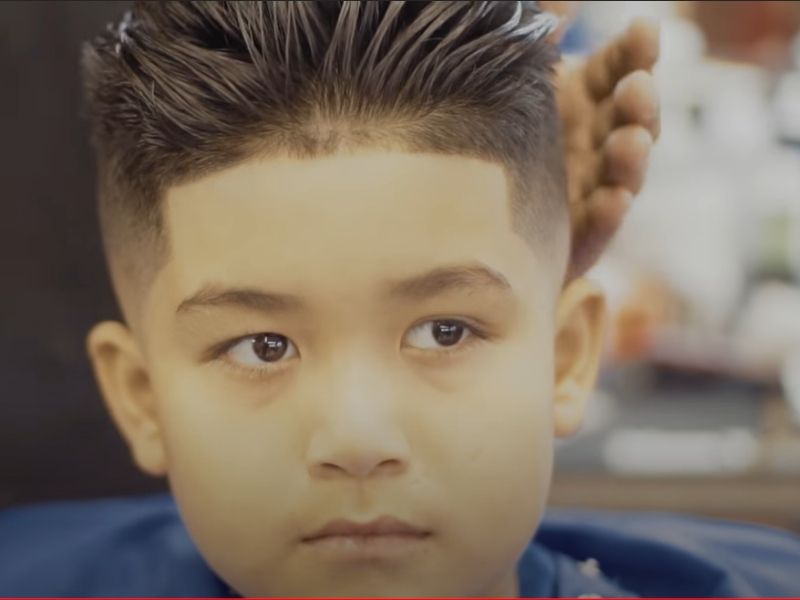 Worn by hipsters and stock traders alike, the slick-back is a quick and hassle-free way to style a cool and sophisticated look. Besides, it's also easy to maintain and offers your son the freedom to freely express his personality. He can opt for an undercut or high fade on the sides while the top can be kept long or at a medium length.

Styling is a breeze. All he needs is a comb and some water-based gel, which can be easily washed off with shampoo. With the variation it offers, this sleek yet neat cut will surely be a hit among parents who are looking for an edgier kids' hairstyle for their boys.
Elevate Your Son's Look With Fashionable Kids' Hairstyles For Boys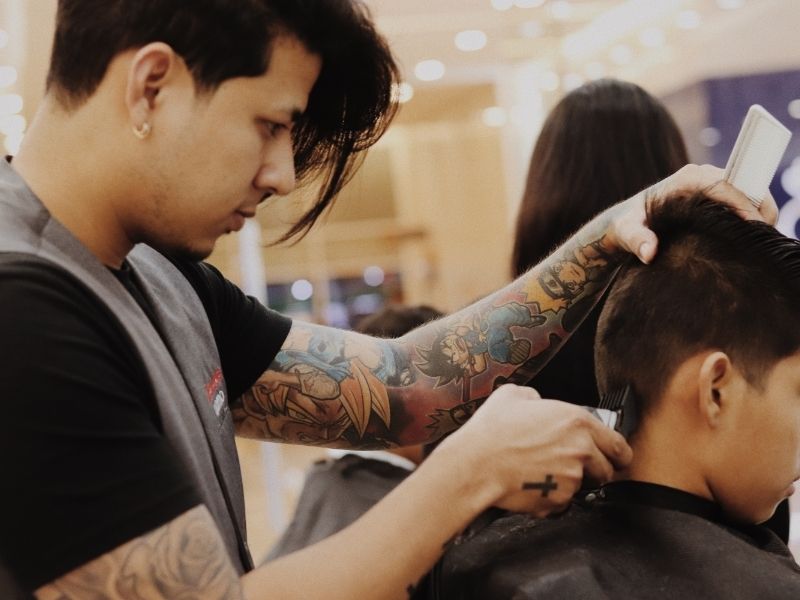 A stylish do is no longer reserved for adults. Young boys want to look good too! Whether it's a flashy undercut or a chic slick-back, today's kids' hairstyles will give your boy a boost of confidence. Discuss with them to find out their preferences and what styles they gravitate to, perhaps over a board game? Once he has settled on a haircut, be sure to stock up on hair grooming essentials to keep him looking prep and polish every day.