3 Variations Available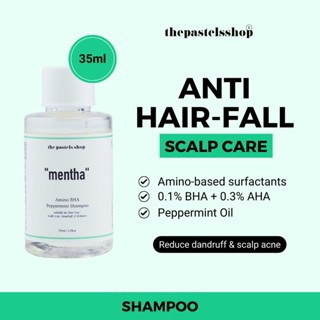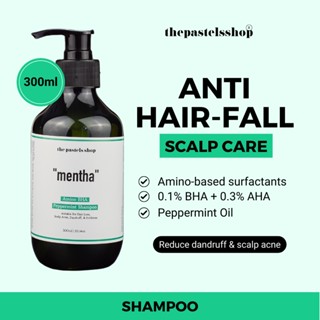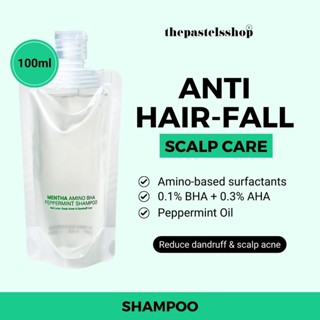 THE PASTELS SHOP "Mentha" Amino BHA Peppermint Shampoo 35ml/100ml/300ml
RM8.50 - RM59.00
RM12.00 - RM59.00
Product Description
THE PASTELS SHOP Mentha Amino BHA Peppermint Shampoo suitable for Hair Loss, Scalp Acne, Dandruff & Itchiness.
1. Uses - to wash hair effectively without causing hair loss or damage in the long run. It also strengthens the hair from its roots as well as promotes hair growth.
2. Contains Salicylic & in a low percentage but sufficient to clean the scalp from itching, bad smell, dry skin and dandruff more effectively.
3. Key ingredient is . It refreshes the scalp, promotes hair growth and controls hair loss problems.
How To Use
Apply to wet hair. Massage gently throughout the hair and scalp. Leave for around one minute and then rinse off thoroughly. For best results, follow up with Hair Conditioner.
**For the stopper in mini Mentha, please remove it before using the shampoo. The stopper is only to prevent leakage during postage.
Ingredients
Water, Ammonium Lauryl Sulfate, Cocamide DEA, Cocoamidopropyl Betaine, Potassium Cocoyl Glycinate, Panthenol, Mentha Piperita (Peppermint) Oil, Menthol, Polyquaternium-7, Polyquartenium-10, Salicylic Acid, Lactic Acid, Benzyl Alcohol, Aloe Barbadensis Extract, Methylchloroisothiazolinone, Methylisothiazolinone, Potassium Cocoate.